David Murphy, Daily News Staff Writer
Pro-tip: Before settling on the spring training games you will attend in between rounds of golf and bottles of beer when you are on vacation here in Clearwater, do your best to check out the pitchers who are scheduled to appear in those games. For example, Monday's home game against Detroit will feature Cliff Lee, Mike Stutes, Phillippe Aumont, Jonathan Papelbon and Raul Valdes, all of whom have at least a decent chance at making the Opening Day roster (except that Papelbon guy -- he might be on the bubble). Tuesday's home game will feature Kyle Kendrick, Aaron Cook, Chad Durbin, Zach Miner and Jeremy Horst. Everything else being equal, I'd pick Monday (no offense to Kendrick and Durbin).
Below is the schedule that pitching coach Rich Dubee has posted for the seven games of the exhibition season.
FRIDAY, FEBRUARY 22 - INTRASQUAD
Philly.com sports
The Daily News' Ryan Lawrence takes your Phillies questions in a live chat, beginning at 2 p.m. on Wednesday.
On a mobile device? Click HERE to follow along and submit questions.
David Murphy, Daily News Staff Writer
I feel like I have written about 10 defenses of Jimmy Rollins over the last calendar year, but the short stop's wherewithall as a leadoff hitter was a topic of conversation again today, so I ended up writing about why he is STILL the proper choice to hit at the top of the lineup in a column that will hit the paper tomorrow (and the website shortly before). Clarification: I actually think Chase Utley would be a pretty darn good leadoff hitter, but that ain't happening.
Anyway, tomorrow you can read all about why Rollins will and should be leading off instead of Ben Revere. Today, I'll leave you with the Jimmy things that did not get into the paper.
My favorite is that Ben Revere is now "Tootsie Pop."
David Murphy, Daily News Staff Writer
At first, I was going to take a principled stand and refuse to write a blog post. But by the time I made that decision, my Twitter feed and email inbox were full of questions regarding a Chris May tweet of a WIP rumor that alleges the Phillies are "aggressively" pursuing Marlins slugger Giancarlo Stanton. So I decided that I had to write something. Then I figured, why not go all out and search engine optimize my headline, since really what we have here is little more than a naked grab for metrics. So, apologies, you will not find any boobs in this post. You will, however, find an explanation of why I wouldn't infer that the Phillies have a shot in hell of acquiring Stanton, even if they are, as alleged, aggressively pursuing him.
First, any general manager who has not at least checked in on Stanton is not doing his job, because right-handed-hitting outfielders in their early-20's who have 40-home-run power and a salary under $750,000 are not exactly an abundant commodity in baseball. Second, if any of those general managers gets the faintest hint that Stanton could be had for anything less than a vital internal organ and does not exhaust himself attempting to make it happen is not doing his job.
The point is, if Giancarlo Stanton is made available, then there will be 29 teams attempting to acquire him, and the Phillies will not be the team that can put together the most impressive package of prospects for him. And it would take an unprecedented package to make it happen, because the Marlins have absolutely no incentive to trade him. He is cheap, he is owed no money beyond this season, he is marketable, and he hits home runs like few others in the majors. In short, there is no downside to keeping him. So if you are going to convince the Marlins to trade him, it is going to take a ridiculous offer to do so. And that's if the Marlins would even think about trading him.
David Murphy, Daily News Staff Writer
The grand daddy of all prospect lists landed today, and Baseball America has kudos for two members of the Phillies' system. Lefty starter Jesse Biddle checks in at No. 89, while shortstop Roman Quinn sneaks onto the list at No. 100.
ESPN's Top 100 prospect list had Biddle and fellow lefty Adam Morgan on it, while MLB.com included Biddle and righthander Ethan Martin.
As for former Phillies, catcher Travis D'Arnaud (Mets by way of Blue Jays) is No. 23, while first baseman Jonathan Singleton (Astros) is No. 27.
David Murphy, Daily News Staff Writer
I have received a few questions about my first attempt at projecting the Opening Day roster, which I posted yesterday morning.
1) Why would the Phillies keep three lefties (Antonio Bastardo, Raul Valdes and Jeremy Horst)?
2) Why Justin De Fratus over Phillippe Aumont or Michael Stutes?
Ryan Lawrence, Daily News Staff Writer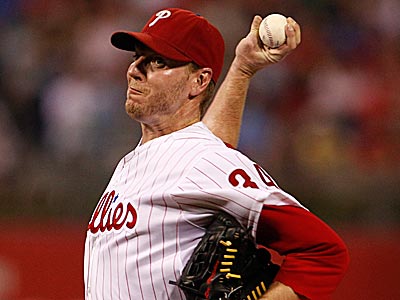 After a week in Clearwater, this much in certain: every step Roy Halladay takes this spring will be scrutinized.
It was this time last year, after all, that Halladay first showed signs that something wasn't right. Not long after he faced hitters in Grapefruit League play, scouts wondered about Halladay's velocity and movement and questioned where the late life went on his fastball.
Flash forward a year later, after Halladay endured an injury-plagued 2012 season an offseason of rebuilding and recovery. For the first time in 2013, Halladay faced hitters this morning at the Carpenter Complex.
David Murphy, Daily News Staff Writer
It is Day 6 of spring training, when, for the first time, hitters will face pitchers in live batting practice sessions. The exercise sounds a lot cooler on paper than in practice. Many of the hitters will not swing the bat, instead using the session to stand in the box and get acclimated to recognizing and timing pitches. The younger guys tend to be less patient.
Throughout the spring, we'll take a stab at projecting what the 25-man Opening Day roster will look like. What follows is our first attempt.
STARTING LINEUP
Jimmy Rollins SS (ODDS OF MAKING ROSTER/DL: 100 percent)

Michael Young 3B (100 percent)

Chase Utley 2B (100 percent)

Ryan Howard 1B (100 percent)

Darin Ruf LF (60 percent)
Domonic Brown RF (65 percent)
Erik Kratz C (95 percent)

Ben Revere CF (100 percent)
STARTING ROTATION
Cole Hamels LHP (100 percent)
Roy Halladay RHP (100 percent)
Cliff Lee LHP (100 percent)
Kyle Kendrick RHP (100 percent)
John Lannan LHP (95 percent)
BULLPEN
Jonathan Papelbon RHP/CL (100 percent)

Mike Adams RHP/SU (100 percent)

Antonio Bastardo LHP/SU (98 percent)
Chad Durbin RHP/MID (100 percent)
Jeremy Horst LHP/MID (75 percent)
Justin De Fratus RHP/MID (50 percent)
Raul Valdes LHP/MID (50 percent)
BENCH
Laynce Nix OF-1B/LHB (95 percent)
Kevin Frandsen 3B-2B/RHB (95 percent)
Humberto Quintero C/RHB (50 percent)
Freddy Galvis SS-2B-3B/SHB (70 percent)
John Mayberry Jr. OF-1B/RHB (80 percent)
DISABLED LIST
Delmon Young - OF/RHB (100 percent)
BREAKDOWN: The Phillies sound as if they expect Delmon Young to begin the season on the disabled list, which takes some drama out of an intense outfield battle. . .Mayberry seems likely to make the team as he is out of options and is one of the few members of the organization who has major league experience in center field, although Laynce Nix has played the position and Rule 5 pick Ender Inciarte will look to make the Phillies make a difficult decision on Mayberry. . .Young starting the season on the DL would leave the last few spots in the bullpen as the tightest roster battle. Mike Stutes, Jake Diekman and Phillippe Aumont would be the last three players off the roster in this scenario.
---
Ryan Lawrence, Daily News Staff Writer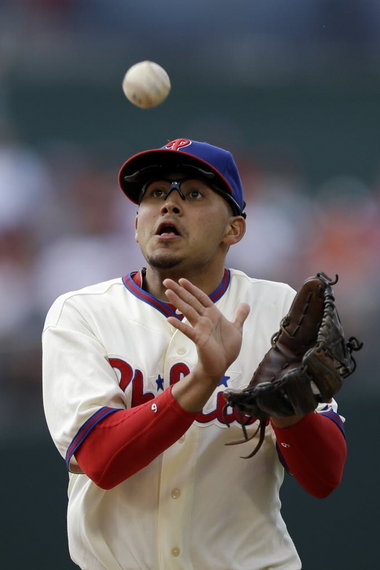 Eleven months ago he was asked to play a new position for the first time in his life. He handled it flawlessly.
Then he was suddenly thrust into the Opening Day lineup and asked to be the everyday second baseman. He may have been the best defensive second baseman in the league.
Then he broke his back.
Ryan Lawrence, Daily News Staff Writer
Delmon Young checked into Camp Clearwater on Friday, the day position players had to arrive before Saturday's first full squad workout of the spring.
Young had a physical as apart of the routine of checking in. Young does not know how much he weighs.
"I don't really go on the scale that much," Young said Friday at Bright House Field. "I just see what clothes fit and see when I can go on the beach."