Ryan Lawrence, Daily News Staff Writer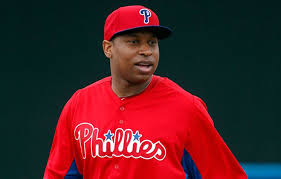 Delmon Young took batting practice before Sunday's St. Patrick's Day tilt with the Baltimore Orioles.
It's beomce a regular activity for the veteran outfielder since returning from getting his surgically-repaired right ankle checked out by a doctor in California nearly two weeks ago. So what's new with Young's rehab?
In addition to hitting on the field with his teammates, Young ran for the second time in as many days and the third time since Thursday. Initially, he was cleared to run on a treadmill, but he progressed to running on flat ground within the last week.
Ryan Lawrence, Daily News Staff Writer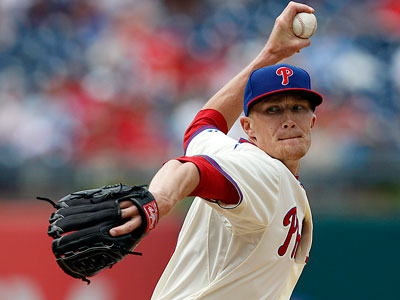 And then there were 16.
Before the clubhouse opened at 8 a.m. on Sunday morning the Phillies sent two of the organization's most promising bullpens arms to minor league camp, and thus, out of the running for major league bullpen jobs.
Lefthander Jake Diekman and right-hander Justin De Fratus were optioned to Triple-A.
Ryan Lawrence, Daily News Staff Writer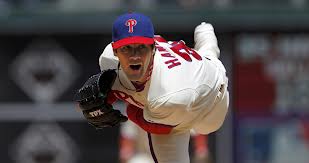 Breaking news in Clearwater: Cole Hamels has been named the Opening Day starter for the 2013 season.
Full disclosure: that sentence was typed with tongue firmly set in cheek.
Hamels has been lined up for the start since the Phillies set up their rotation for Grapefruit League games over three weeks ago, when he penciled in to throw in the first exhbition game down here.
Ryan Lawrence, Daily News Staff Writer
Ender Inciarte might not have a name that rolls of the tongue, but he's been a favorite of Charlie Manuel in his postgame briefings with the press this spring.
The Rule 5 pick continued that trend on Thursday.
Enciarte, who started in center field, went 1-for-3 with a double and also threw out a runner a runner at home to end the second inning. Manuel called it a "tremendous throw," and it was pretty impressive.
David Murphy, Daily News Staff Writer
It is a brisk morning here in Clearwater, but the temperature is supposed to work its way up into the 70's eventually. Roy Halladay just threw a bullpen session, his first work off a mound since his tough outing against the Tigers a couple of days ago. He and pitching coach Rich Dubee had discussion about mechanics after it was over. The topic appeared to be Halladay's cutter, which has been a source of disappointment for the righthander thus far this spring.
Also, Daily News beat writer Ryan Lawrence is reporting exclusively that Chase Utley is making his third straight start.
In other spring training-ish news, Eagles wide receiver Riley Cooper is apparently taking batting practice with the Phillies prior to today's game against the Pirates. Cooper was drafted by the Phillies out of high school but ended up going to the University of Florida and starring with Tim Tebow.
Ryan Lawrence, Daily News Staff Writer
Quick: name the only reliever in camp to have a 2008 World Series ring.
It's Chad Durbin, of course. The veteran reliever, who first arrived to Philly before the '08 season, is back for his second tour of duty with the team in 2013.
Durbin is scheduled to come out of the 'pen tonight in Tampa against the New York Yankees. The 35-year-old Durbin has already pitched in four spring games, with mixed results.
Philly.com Sports
The Daily News' David Murphy takes your Phillies questions in a live chat, beginning at noon on Wednesday.
On a mobile device? Click HERE to follow along and submit questions.
David Murphy, Daily News Staff Writer
There was a serious air in the conference room as Charlie Manuel and Rich Dubee met the media this afternoon. Everybody knew what they had witnessed. In spring training, it is possible for a pitcher to finish with an ugly line that does not match the performance as it appeared to the naked eye. That was not the case with Roy Halladay's outing against the Tigers, which looked every bit unpretty as the seven runs he allowed in 2 2/3 innings. Afterward, you could see the concern on Charlie Manuel's face.
"Yeah, it concerns me," the manager said. "But at the same time, I been in the game long enough to know that if there's nothing wrong with him, you keep working with him. If he's healthy and well and there's nothing wrong with him, then he's gotta get stretched out and everything."
Halladay says there is nothing wrong with him. He said he has been feeling lethargic, that his new workout program and the two bullpen sessions he threw prior to today's start were probably to blame. He is frustrated with his cutter, which he has not been able to locate to the non-glove side of the plate (outside to lefties). But he says he is happy that he does not feel physically compromised like he did last spring, when his body sent him spiraling downward into the most frustrating regular season of his career.
David Murphy, Daily News Staff Writer
Forget about the results. Forget about the seven runs that Roy Halladay allowed, about the 11 baserunners, about the two home runs. The troubling thing about Halladay's rough outing against the Tigers today was the way he looked: bad. He struggled with his location throughout his 2 2/3 innings. His sinker was up in the zone. His slow stuff was wild. He walked four batters and hit another with a pitch. Virtually every ball that he allowed into play was hit hard, including a grand slam by Ramon Santiago that paved the way for Halladay's departure after 69 pitches. As Jeremy Horst trotted in from the bullpen, Halladay and pitching coach Rich Dubee had a long conversation on the mound. You can bet that Halladay did not want to leave.
Scouts had Halladay's velocity sitting in the 86-88 mile per hour range, which is right around the level it was at in his last Grapefruit League outing five days ago. The thing about Halladay is that he usually looks sharp in spring. His four walks today gave him six on the spring, tying a career high for Grapefruit League play. He has only allowed more than four walks in a Grapefruit League season once.
We are three weeks out from Halladay's probable 2013 debut. The Phillies are reaching a juncture when they have some justification for concern.
---
David Murphy, Daily News Staff Writer
Rich Dubee posted the newest pitching schedule today, which essentially declared that the competition for the final few spots in the bullpen is on. Kyle Kendrick, Cole Hamels and Cliff Lee will all me making their next starts in minor league games, freeing up the competing relievers to face major league regulars early in Grapefruit League games.
One of the leading candidates for one of the final three spots in the bullpen is righthander Phillippe Aumont, who returned to camp today after participating in Canada's intense showing in the World Baseball Classic. Aumont had a central role in a dramatic elimination game against the United States, getting Ryan Braun to groundout with the tying run on third to finish a scoreless seventh inning and protect a 3-2 lead.
"I threw that seventh inning and I came in (to the dugout) and I was still shaking," Aumont said.