Archive: February, 2011
David Murphy, Daily News Staff Writer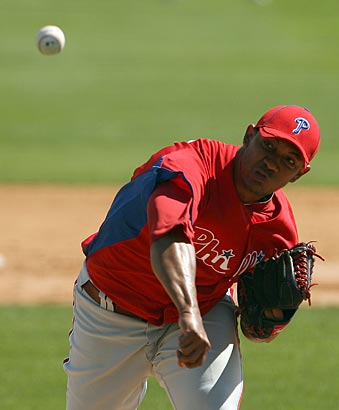 The third game of the Phillies' Grapefruit League schedule is in the books, and for those of you who were not fortunate enough to take in the sunshine and blue skies at Dunedin Stadium during a 6-3 win, here are some of the things that jumped out at me:
1) J.C. Ramirez showed why so many people are intrigued with his raw potential, striking out four in two scoreless innings. Ramirez was throwing a fastball in the mid-90's, but velocity has never been the issue. Instead, he needs to develop his change-up and slider while refining his overall command. For at least one day, though, he was overpowering.
2) If Matt Anderson accomplishes his goal and makes the Phillies' Opening Day roster, it will be one of the more improbable stories of the spring. Not only has the former top prospect been out of the majors since 2005, and out of affiliated baseball since 2008, he isn't even in big league camp. Anderson, who signed a minor league deal this offseason, travelled with the team today as an extra man. Still, he checked in at 95 MPH on the scoreboard gun and retired all three batters he faced. At the very least, he earned himself another look, presumably against compeition better than the type you'll find at the end of a Grapefruit League game.
David Murphy, Daily News Staff Writer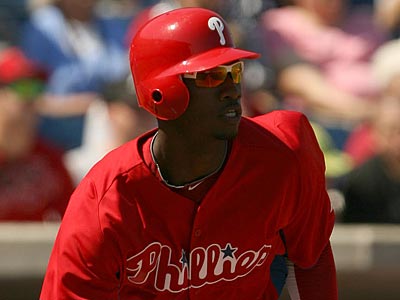 The Phillies must reduce their roster to 25 by March 31, which means there are five Mondays between now and then. We'll celebrate each one by offering our projected Opening Day roster at that point in time.
Here's the first edition:
Regulars (8)
1. Jimmy Rollins SS
2. Placido Polanco 3B
3. Chase Utley 2B
4. Ryan Howard 1B
5. Ben Francisco RF
6. Raul Ibanez LF
7. Shane Victorino CF
8. Carlos Ruiz C
David Murphy, Daily News Staff Writer
As you can read here, Chase Utley was diagnosed with patellar tendonitis after undergoing an MRI yesterday here in Florida.
My first thought upon hearing the news? The big hullabaloo that erupted last June when first base coach Davey Lopes casually mentioned in an interview with Baseball Prospectus that Utley had been "hampered by a little bit of a knee injury."
At the time, Utley was hitting just .257 with a .451 slugging percentage through 62 games. Both of those numbers were well below his career averages, and there was a lot of concern amongst the fan base that Utley might be battling an injury like the balky hip that plagued him throughout 2008.
Paul Hagen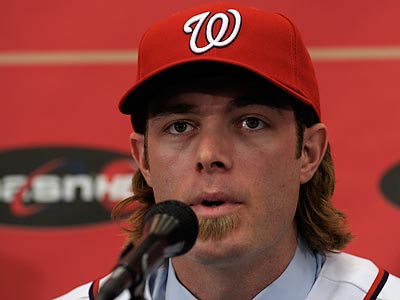 UPDATED:
The Daily News spoke with Nationals general manager Mike Rizzo, who addressed quotes attributed to him in a Washington Post column by Thomas Boswell.
"As far as the quote, yeah, that was either taken out of context or (Boswell) didn't hear it right.
David Murphy, Daily News Staff Writer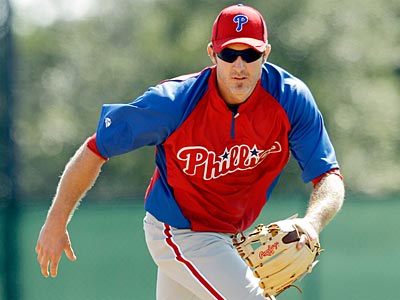 Chase Utley won't make his Grapefruit League debut tomorrow against the Yankees, at least according to the line-up posted in the Phillies clubhouse this morning.
Utley has been given a few days off to recover from what manager Charlie Manuel has called "routine" soreness in his legs and knees.
Manuel said yesterday that Utley is not injured, that he is just going through the type of soreness that a lot of players go through this time of year. Short stop Jimmy Rollins, on the other hand, is back from his attendance at the Motown Tribute at the White House. He is batting leadoff.
David Murphy, Daily News Staff Writer
Video: David Murphy of the Daily News discusses the Phillies first game action, an exhibition vs. Florida State, with CineSport's Jerry Recco.
---
Download our NEW iPhone/Android app for easy access to all of our Phillies coverage, plus app-exclusive videos and analysis. Get it here.
David Murphy, Daily News Staff Writer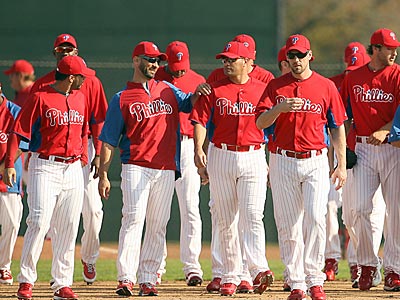 I probably mentioned this last year, but I still find it interesting given the events of this past postseason. Three years ago, during my first spring training on the beat, I found myself standing in the visitor's dugout at Bright House Field chatting with a couple of Florida State players. The Seminoles were in town to face the Phillies in an exhibition, and it was easy to see that they were amped for the showdown. One of the kids I was talking to was a pretty highly-regarded pro prospect, although you would not have known it by standing next to him. He was listed at 6-foot-2, but seemed a tad shorter. Certainly not the bulky frame you would expect out of a catcher. Earlier, he and his teammates had listened to Phillies Hall of Famer Mike Schmidt talk to them in the dugout. I chatted a little bit with him about the college experience and whether he felt like he missed out on anything by not going pro out of high school.
"If I could go back and do it again, I'd come to college," he said. "I love FSU and the whole college experience just has been great. If I could tell everybody some of my friends who did go play pro ball out of college, I wish they did have the opportunity. But that dollar sign is hard to turn down."
The game ended up being rained out, so Buster Posey didn't get to face the Phillies at Bright House Field that day. Three years later, though, he got the chance at Citizens Bank Park, as the starting catcher for the San Francisco Giants in the National League Championship Series. He only hit .217 during the series, with the RBI, but he caught a flawless Giants pitching staff that stymied the Phillies in a six-game victory.
David Murphy, Daily News Staff Writer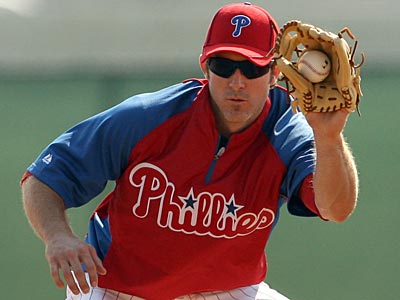 A quick afternoon update. . .
1) The Phils play their first game of the spring tomorrow, when they will host Florida State in an exhibition at Bright House Field.
2) The only two regulars who will not start the game are Jimmy Rollins, who has been excused to attend the Motown tribute at the White House, and Chase Utley, who Charlie Manuel says is suffering from some body soreness due to his intense training thus far.
David Murphy, Daily News Staff Writer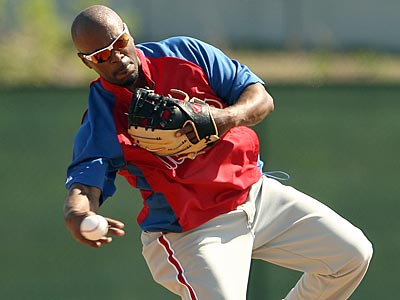 Mike Schmidt spent about 30 minutes fielding questions for a small group of reporters today at Bright House Field, and the Hall of Fame third baseman had some interesting things to say.
I'm in the middle of transcribing the tape, but for right now I'll leave you with his thoughts on the Phillies' offense, which in his opinion has underperformed the last few years. Specifically, he zeroed in on Jimmy Rollins, who he said hasn't played within himself.
"I look for Rollins to push a 200-hit year," Schmidt said. "I look for Victorino to have a 200-hit year. We are talking in those terms. 100 walks. 200 hits. Sort of out-there goal for these guys that you haven't seen in the last few years. They are part of a winning team, don't get me wrong, but I still think they are underachieving as players. Jimmy Rollins can't do what Pete Rose did. Just take a year. Pete Rose had 200 hits 10 straight years. Jimmy's faster, you know.
David Murphy, Daily News Staff Writer
UPDATE: 8:46 p.m.
One of the reasons why a Durbin/Phillies reunion seemed unlikely (other than the fact that the Phillies said it was unlikely) is that the Phillies payroll had swelled to more than $165 million with the signing of Cliff Lee. There was some thought that they would trade Joe Blanton and free up some money that could have been used for a right-handed bat or a bullpen piece, but the Phillies seem content to go into the season with their current starting five.
Durbin could, however, end up signing a minor league deal with a decent salary should he make the major league club.