Archive: October, 2009
David Murphy, Daily News Staff Writer
The Phillies have played 26 postseason games over the last two season. In all 26, they entered with either a series lead or tie. Tonight, that changes.

In a pivotal Game 3 at Citizens Bank Park, the Phillies jumped out to a 3-0 lead but couldn't hold on, as Cole Hamels and the Phillies bullpen allowed the Yankees to score eight runs in the fourth through eight innings en route to a 8-5 loss. Now, the Phillies face arguably their most pressure-packed postseason game since they took the field in Denver in 2007 trailing the Rockies two games-to-none in the NLDS.

Look at it one way, and they are very much alive. After all, one of these two teams was going to finish Halloween night trailing 2-1. In Game 4, they'll face Yankees ace C.C. Sabathia, whom they defeated 6-1 in Game 1.

Look at it another way, and their loss Saturday night gave the Yankees a victory whose importance far outweighs the one-game lead they now enjoy.

True, the Phillies have beaten Sabathia three times over the last two years, twice in the playoffs. But they didn't exactly dominate him in Game 2, scoring two runs in seven innings before the Yankees' bullpen allowed them to put the game out of reach. And they'll have to buck several trends if they are to beat him for the second time in five days.

Sabathia lost eight games during the regular season. He recorded back-to-back losses just once. In the eight starts that followed his eight losses, the big lefty went 7-1 with a 2.15 ERA. The Yankees lost back-to-back games in which Sabathia pitched just twice this season -- on April 27 and May 2 against the Tigers and the Angels, and on June 6 and 11 against the Rays and the Red Sox.

True, Sabathia will be pitching on three days rest. But he did so in the ALCS and held the Angels to one run on four hits and one walk over eight innings. In four career regular season starts on three days rest, Sabathia is 3-1 with a 1.01 ERA.

This time around, he won't have Phillies ace Cliff Lee to suck the life out of his teammates. Sabathia will be squaring off against Joe Blanton, who allowed four runs in six innings in a Game 4 start in the NLCS. Blanton pitched well in the World Series last year, allowing two runs in six innings against the Tampa Bay Rays.

But unless Blanton holds his opponent scoreless, something he did three times during the regular season, the Phillies will have to hit. They did so at times in Game 3 -- Jayson Werth hit two solo home runs and Pedro Feliz doubled with one out in a three-run second inning -- but for the most part they were the beneficiaries of poor command on the part of Pettitte, who walked one run home, and shoddy defense on the part of the Yankees defense (the Yankees failed to field a sacrifice bunt attempt that would have represented the second out of the second inning, loading the bases to set-up Jimmy Rollins' bases loaded walk and Shane Victorino's sacrifice fly.

The Phillies' three lefty sluggers, Chase Utley, Ryan Howard and Raul Ibanez, combined to go 0-for-12 with seven strikeouts. Utley and Howard struck out with a man on second in the first inning. Utley struck out looking with men on first and second to end the second inning.

Had the Cole Hamels pitched his entire outing the way he pitched his first three-plus innings, the offense would have been enough. But after cruising through the early part of the game, retiring 10 of the first 11 batters he faced, Hamels ran into one of the walls that have so often plagued him during this disappointing season. After a borderline 3-2 fastball to Mark Teixiera was called a ball with one out in the fourth inning, he struggled. He threw a fastball down the middle that Alex Rodriguez hit to the opposite field for a two-run home run. Hamels got out of that inning, but imploded in the fifth against the bottom of the Yankees order. A curve ball that he threw just twice during the first four innings proved to be his undoing. Four of the first 10 pitches he threw in the fifth were curves, one of which Nick Swisher crushed for a leadoff double, and another of which Andy Pettitte hit into center field for an RBI single that set the stage for a big inning.

Manuel lifted Hamels after just 69 pitches -- after Pettitte's single, he allowed a single to Derek Jeter and a two-run single to Johnny Damon, then walked Teixeira.

A solid bullpen effort might have staunched the bleeding. But J.A. Happ and Brett Myers allowed solo home runs and Chad Durbin allowed one run in one inning of work.

For one of the few times this postseason, none of Manuel's moves seemed to work.
Veteran righthander Chan Ho Park, the Phillies most dominant multiple-innings reliever during the regular season, did not appear in the game.
In the sixth inning, with two out and a runner on first, he pinch-hit Eric Bruntlett instead of Ben Francisco, who was 2-for-5 with a walk in his career off of Pettitte.
In the ninth inning, he allowed the right-handed hitting Pedro Feliz to face Yankees set-up man Phil Hughes, rather than the left-handed hitting Greg Dobbs, whom the team said had shaken his flu bug and was available for work. Feliz grounded out. The next batter, Carlos Ruiz, hit a solo home run that proved to be meaningless.

For the first time in this series, the Yankees were clearly the better team. As a result, the Phillies trail 2-1.We have heard countless times about the mental fortitude that exists in the home clubhouse. On Sunday night, it will face perhaps it's biggest test yet.
David Murphy, Daily News Staff Writer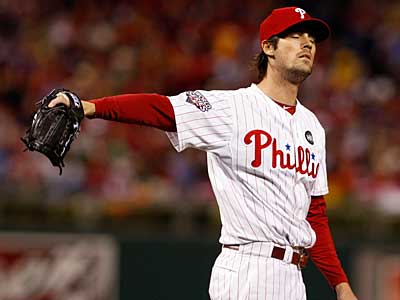 They were cruising.
Cole Hamels, the Phillies -- everybody.
Then came a close 3-2 fastball down and in that home plate umpire Brian Gorman called a ball, putting Mark Teixeira on base with a walk. Up to that point, Hamels had been lights out. He'd retired 10 of the first 11 batters he faced, allowed no hits, and been staked to a 3-0 lead by an offense that took advantage of Andy Pettitte's lack of control. One inning later, the Yankees led 5-3, Hamels was out of the game, and the sell-out crowd of 46,000-plus was attempting to digest what exactly it had just witnessed.
David Murphy, Daily News Staff Writer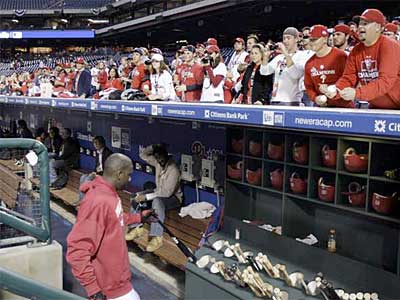 The Yankees may have just ratcheted up the pressure on the Phillies tonight in Game 3. Manager Joe Girardi just told reporters that ace lefthander C.C. Sabathia will indeed start Game 4 on three days' rest. So instead of another Sabathia-Cliff Lee match-up, it will be Sabathia-Blanton. Meanwhile, A.J. Burnett could start Game 5 on short rest against Lee, while Pettitte could start Game 6 on short rest if necessary, although Girardi said he hasn't made any decisions yet.
Both Sabathia and Burnett have pitched well on short rest in their careers.
Burnett has started four games in his career on three days rest and is 4-0 with a 2.33 ERA, allowing 19 hits and two home runs while striking out 24 and walking 10 in 27 innings.
Daily News staff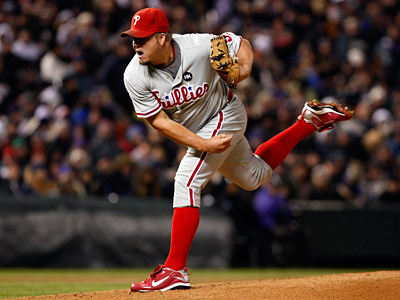 Cliff Lee will not come back to pitch Game 4 on three days' rest.
Instead, Joe Blanton will get the call on Sunday night against the Yankees at Citizens Bank Park.
Lee has never pitched on three days' rest in his career, but seemed confident he could. He threw 122 pitches in his masterful Game 1 victory on Wednesday night at Yankee Stadium.
David Murphy, Daily News Staff Writer
Seeking to avoid a team-wide outbreak of the flu, the Phillies have sent utlity player Greg Dobbs back to Philadelphia, although the team is optimistic that he will be available to play on Saturday. Dobbs is the second member of the Phillies' traveling team to be stricken with the flu -- reliever Tyler Walker, who is not on the World Series roster but has traveled with the team throughout the playoffs, was previously sent home.
Dobbs obviously will not be able to play tonight. Veteran Matt Stairs, who has hit two home runs in his career off Blue Jays righthander A.J. Burnett, is in the starting line-up.
Amaro said the Phillies' training staff is optimistic that Dobbs will be available for action in Game 3.
David Murphy, Daily News Staff Writer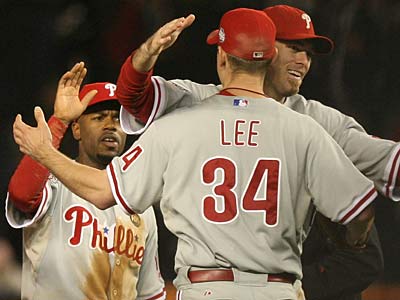 Change speeds, change locations, throw strikes. It sounds simple, and Cliff Lee made it look that way last night. Already, some in the media are calling it one of the best starting pitching performances in World Series history: Nine innings, six hits, no walks, 10 strikeouts, one unearned run. He struck out previously untouchable Alex Rodriguez three times. He held both A-Rod and Mark Teixeira without a hit.
What makes Lee so effective?
1) A cutter/slider he commands like his fastball. In many ways, Lee's fastball/slider combo is like Cole Hamels' fastball/change-up. The slider isn't a secondary pitch. It is more a matter of No. 1 and No. 1A. Last night, he threw 34 of them, using it to record 10 outs, five of them strikeouts. He threw 23 out of 34 of them for strikes. He allowed just one hit. He threw it in every imaginable count: 10 times on the first pitch (compared with 19 fastballs), six times while ahead 0-1 (compared with six fastballs), and nine times when trailing in the count 1-0, 2-0, 3-0 or 3-1 (compared with 10 fastballs).
Daily News staff
After the Phillies' 6-1 victory over the Yankees in Game 1 of the World Series tonight, manager Charlie Manuel talked about Chase Utley, who hit two home runs, and the second baseman's ability to hit with two strikes.
"He takes a lot of pitches," Manuel said. "He has nice balance and rhythm. His weight shift creates a lot of bat speed. He has good hands. He's very simple [at the plate]. His bat is in a nice, comfortable position. He's had good coaching."
Manuel also talked about the Phillies' 1-0 margin in the World Series. "We won a game tonight. We got one win," Manuel said. "When we get back to the hotel, or on the bus, we'll think about tomorrow. We'll come to the ballpark tomorrow, we're coming to win."
David Murphy, Daily News Staff Writer
The line-ups for Game 1 have been posted. For the Phillies, Raul Ibanez will DH with Ben Francisco in left field.
Phillies
Jimmy Rollins SS
Shane Victorino CF
Chase Utley 2B
Ryan Howard 1B
Jayson Werth RF
Raul Ibanez DH
Ben Francisco LF
Pedro Feliz 3B
Carlos Ruiz C
Yankees
Derek Jeter SS
Johnny Damon LF
Mark Teixeira 1B
Alex Rodriguez 3B
Jorge Posada C
Hideki Matsui DH
Robinson Cano 2B
Nick Swisher RF
Melky Cabrera CF