Millennials: they're the largest living generation and the frequent target of Gen X and Boomer-led derision (to say nothing of Generation Catalano). If we're not chiding them for eating too much avocado toast, we're worried that they're going to tank the auto industry. Naturally, we're starting to worry about their home ownership prospects too.
A study out of Apartment List makes the bold claim that millennials may be waiting at least a decade to buy the homes they say they wish to buy. A survey conducted by the—you guessed it—apartment rental agency revealed that 78 percent of millennial renters in Philly want to buy a home someday, but 72 percent can't afford it. The agency pins blame on a lack of savings as well as a dearth of affordable starter properties.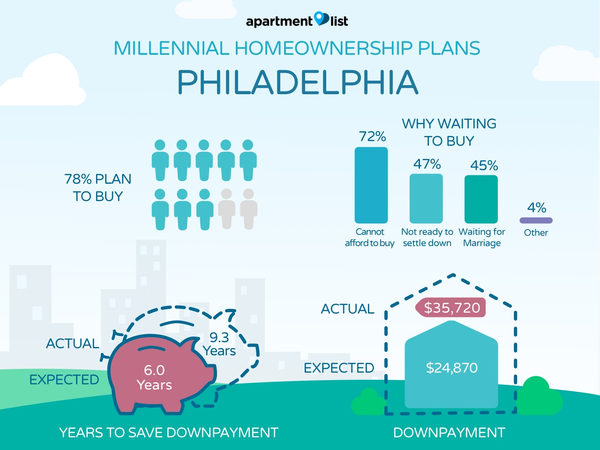 In Philadelphia, the report goes, millennials would need 9.3 years to save the recommended 20 percent for a down payment on the average condo. In Philly, the report pegs that down payment as $35,720 and dings millennials for underestimating the funds necessary for down payment.
It's worth noting that the same millennials may have merely discovered FHA loans designed to help first-time buyers who can't afford a full 20 percent down payment, or remembered their generation's crushing student debt load.
---
Know of an interesting property in the Philadelphia or South Jersey region? E-mail us!
Browse Philadelphia Recent Home Sales »