According to Zillow, kid-friendly cities require listings that include more "finished basements" and playrooms, and less "stainless steel" and nearby nightlife. Which might account for the 215's conspicuous absence from the real estate behemoth's list of top cities for children.
Corpus Christi in Texas, Wisconsin's Madison and Fort Worth, Texas rounded out the top three. North Carolina, Oklahoma and Kansas dominated the rest of the top 10. Inexplicably, Anchorage is the ninth best city for kids, according to Zillow's findings.
The agency examined the percentage of residents younger than 10 years old (12.8 in Philadelphia, but 14 in Corpus Christi), the percent of listings with "kid-friendly" terms like "game room" and "big yard" (3.6 in Philly and 6.7 in Corpus Christi), the number of parks for every 10,000 people (3 in Philadelphia but 7 in Corpus Christi) and median yard size in square feet (653 in Philadelphia and 5,913 in Corpus Christi).
The list also accounted for the number of theme parks per 10,000 people. Theme parks! In Corpus Christ, they have .07 theme parks for every 10,000 Texans. In Philadelphia, we'll just have to settle for museums and being the birthplace of our nation's democracy. But enjoy Schlitterbahn, Texas.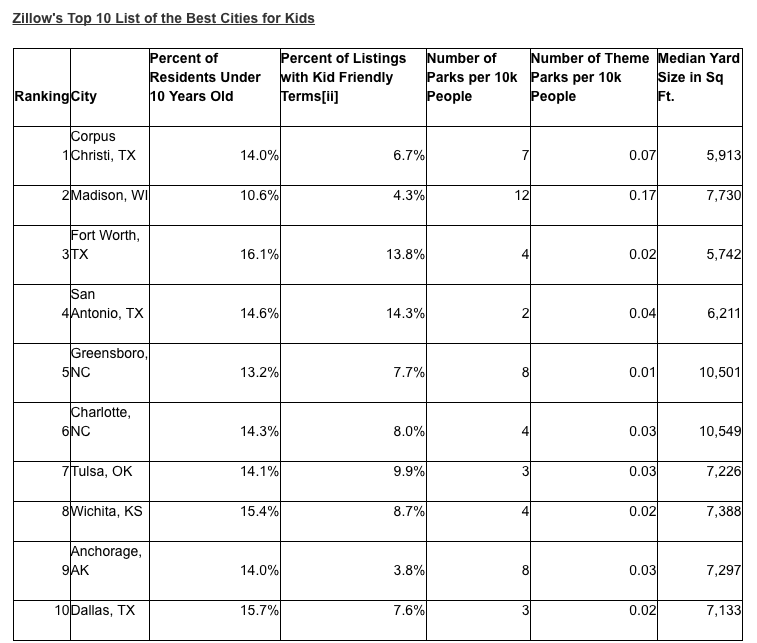 ---
Know of an interesting property in the Philadelphia or South Jersey region? E-mail us!