According to Zumper, Philadelphia was the 14th most expensive rental market in the nation this fall, with median rental rates for single bedrooms at $1,300. Number crunchers there determined that two-bedroom units fell 0.7 percent to $1,390. The Zumper National Rent Report analyzes rental data from active listings in the Philadelphia area and aggregated on a monthly basis to calculate median asking rents.
At $1,850 a month, Logan Square is the most expensive neighborhood in town to find a one-bedroom apartment, as reported by the real estate listing agency. Belmont is the biggest bargain, coming in at $500 a month.
We would, however, quibble with Zumper over their neighborhood distinctions (or conflations). Of particular questionability: anything between Avenue of the Arts and No/Libs Fishtown is known as "West Kensington" and everything from Strawberry Mansion through Manayunk is called "North Philadelphia West."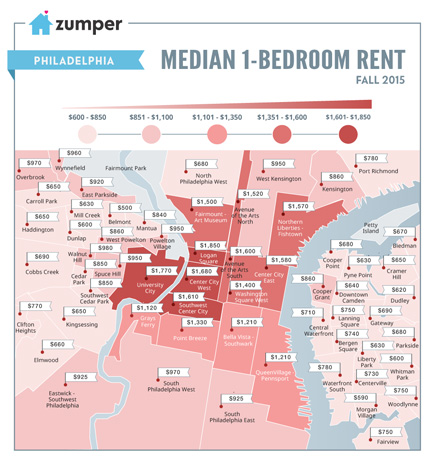 The group simultaneously released the October rental report for the nation, which is topped by San Francisco, New York and Boston in that order. If you're sweating your $1,300 a month in Philly, at least you're not paying $3,620 a month in San Francisco.
---
Know of an interesting property in the Philadelphia or South Jersey region? E-mail us!
Browse Philadelphia Recent Home Sales »