Olympics
Phil Sheridan, Inquirer Columnist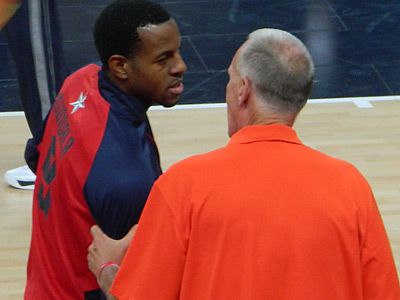 LONDON -- Sixers coach Doug Collins was broadcasting the Olympic semifinal between Spain and Russia when it became official. The NBA office had approved the stunning four-team deal that brings center Andrew Bynum to Philadelphia.
To say Collins was happy would be understating it. The only possible negative is that he has to wait a couple months to get his radically rebuilt team on a basketball court.
Collins had a lot to say. Here's some quick hits. There will be more in The Inquirer and here on philly.com tomorrow.
Phil Sheridan, Inquirer Columnist
LONDON -- Here's a little numerology for you.
Carli Lloyd grew up in Delran. Jordan Burroughs is from Sicklerville. Those two towns are about 25 miles apart.
Wembley Stadium is about 20 miles from the ExCeL Center, where the wrestling competition is being held.
Phil Sheridan, Inquirer Columnist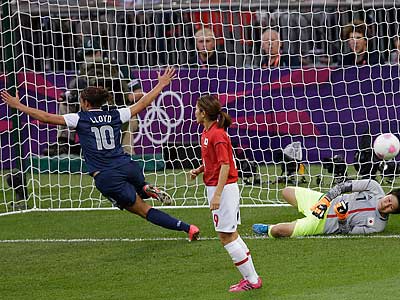 LONDON – Put an Olympic gold medal on the table and watch Carli Lloyd go.
Four years after scoring the gold-winning goal in Beijing, Lloyd of London outdid herself. The Delran native scored both U.S. goals in a thrilling 2-1 victory over Japan. The win earned the U.S. women a gold medal and payback for Japan's victory over them in last year's World Cup final.
On Wednesday, Lloyd was asked about teammate Abby Wambach's prediction that somebody "will become a legend" with a big goal in the final.
Phil Sheridan, Inquirer Columnist
LONDON – South Jersey made its presence felt right away in Northwest London tonight.
Delran's Carli Lloyd scored the only goal of the first half of the gold medal game between the U.S. and Japan. Point Pleasant's Christie Rampone helped make it stand up for an intense 45 minutes.
Lloyd, who scored the game-winning goal when the U.S. won gold in Beijing four years ago, cut in front of teammate Abby Wambach right in front of Japan's goaltender. She leaned forward like a sprinter at the finish line, heading in a crossing pass from Alex Morgan in the eighth minute.
Phil Sheridan, Inquirer Columnist
LONDON – It feels like nothing less than the hour before a Super Bowl starts. A sea of people flowed from Wembley Park tube station to the 83,000-seat stadium – festooned for the evening with Olympic banners and flags. The press box was packed early with some of the best-known sports writers in the U.S. (and probably Japan, too).
Abby Wambach wasn't exaggerating when she said the Olympic gold medal soccer game was going to be a "great night for women's sports."
Why these same athletes can't draw enough fans to sustain a major soccer league in the States is a story for another time. For tonight, it's just a treat to be here, keenly anticipating a promising sporting event that happens to involve women.
Phil Sheridan, Inquirer Columnist
LONDON – Without shame, I admit it: I have a bad case of subway envy. It is pretty common in Philadelphia, and for good reason.
Lord knows what our civic leaders were doing in the decades when the world's great cities were digging intricate tunnels for massive subway systems. Probably the same not-much they're doing nowadays. You can't grasp how lame the Broad Street and Market-Frankford lines really are until you travel a bit.
You only have to go as far as New York to get the idea. Getting around Boston on the T is a blast. Washington's Metro puts Philly to shame. Ditto Chicago's system. It even had a band – they were the Chicago Transit Authority before they shortened it to Chicago – named after it.
Phil Sheridan, Inquirer Columnist
LONDON – They are the unsung heroes of every Olympics: the volunteers.
Thousands of them, all issued the same shirts (purple, in this case) and khakis and a pair of gray Adidas shoes. You just know, when they signed up to work the Olympics, they envisioned themselves leading Usain Bolt to the starting line or making sure Jessica Ennis had a fresh bottle of water handy. Most of them, alas, end up like Mohamed and Mark.
They were assigned to man the bus stop outside the University of East London. All day, they check credentials and make sure only accredited media get on the buses to the Olympic Park.
Phil Sheridan, Inquirer Columnist
LONDON – Glenn Ochal has a lot on his mind. He is in his first Olympic rowing competition. He and his teammates in the U.S. four have raced twice this week, earning a spot in Saturday's gold-medal race.
His parents, Lee and JoAnne, are in London, checking out the sights and catching a night at the swimming venue. Oh, and the Phillies traded away Hunter Pence and Shane Victorino while he was here.
"It's good," Ochal, a Roman Catholic High grad and huge Philadelphia sports fan, said after Thursday's semifinal. "Keep the pitching and build the bats. They need some youthful bats. Nate Schierholtz gives them a little bit of life."