Phil Sheridan, Inquirer Columnist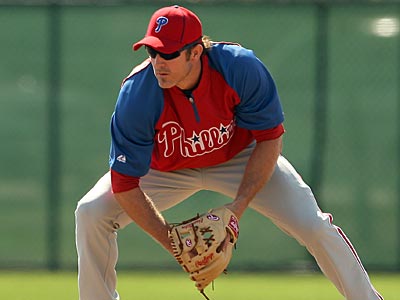 CLEARWATER, Fla. -- Chase Utley should have surgery as soon as possible – yesterday would be better – and rush back to action for the Phillies.
Easy for me to say. Easy for anyone except Utley to say.
Look, it's part of the dynamic in Philliesworld these days to fret over every issue and to want immediate solutions to every problem. The baseball team's recent run of success has raised the temperature up to where the Eagles have operated for years. Maybe even higher.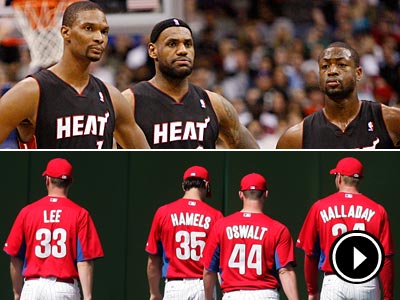 CineSport's Noah Coslov asks the Inquirer's Phil Sheridan if the Phillies can learn anything from the adversity and criticism the Miami Heat have faced.
Phil Sheridan, Inquirer Columnist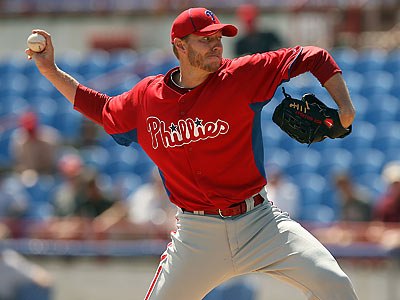 DUNEDIN, Fla. – Before he took the mound against his former team, Roy Halladay had a brief unpleasant flashback. He had walked into this minor-league ballpark under some pretty unpleasant circumstances when he was a Blue Jays prospect.
"I got sent down four times in the (manager's) office back here," Halladay said Monday. "The last time was to A ball. I'll be glad to get out of here today."
It was that last time, when his career was in grave jeopardy, that Halladay found Harvey Dorfman. He has long credited the sports psychologist with turning him into the focused, poised pitcher who has won two Cy Young awards. Earlier this year, Halladay even gave all the Phillies' young pitchers copies of Dorfman's book, The Mental ABC's of Pitching.
Phil Sheridan, Inquirer Columnist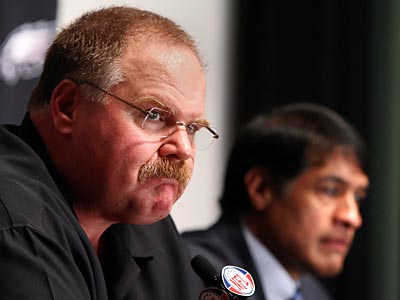 It seemed odd when the Eagles hired Juan Castillo, a former linebacker and defensive assistant, to be a low-level offensive assistant coach under Ray Rhodes.
Odd, but not that big a deal. It doesn't matter that much who breaks down film for the real coaches to pore over. And no one ever loses a game because the tight ends coach isn't good enough.
But this? This is a bizarre and possibly job-threatening move by Andy Reid. Moving Castillo to the defensive side, to coach the linebackers or something, would make some sense. But putting him in charge of running the defense for a team that desperately needs a great defensive coordinator is just beyond understanding.
Phil Sheridan, Inquirer Columnist
OK, it's time to come right out and say it. This is officially the most Metrosexual Super Bowl matchup of all time.
I've covered 13 or 14 Tuesday media days. They devolved into idiocy years ago, with gimmick-media acts showing up to draw attention to themselves rather than the game. And that's fine. You go to the stadium on media day knowing it's going to be ridiculous.
But this one really stood out for the focus on … hair, "long beautiful hair -- shining, gleaming, steaming flaxen waxen."
Phil Sheridan, Inquirer Columnist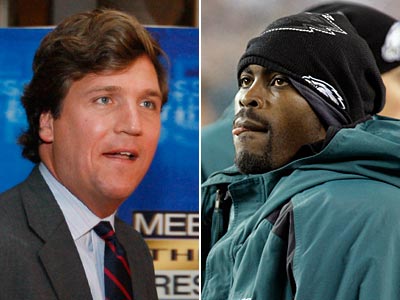 Well, Michael Vick now has even more in common with Donovan McNabb than just his old job under his former coach. Just as McNabb was frequently blindsided by off-the-wall attacks (Rush Limbaugh, Bernard Hopkins, etc.), Vick last night took an unlikely shot from Fox News commentator Tucker Carlson.
Guest hosting Sean Hannity's show, Carlson noted that President Obama had praised Eagles owner Jeff Lurie for given Vick a second chance after his incarceration on charges related to a dogfighting ring.
"I'm a Christian," Carlson said, a preface that is often followed by un-Christian remarks. I've made mistakes myself. I believe fervently in second chances. But Michael Vick killed dogs and he did in a heartless and cruel way. I think personally he should have been executed for that. He wasn't."
Poll: Were Carlson's comments out of line?

(2010 votes)
Phil Sheridan, Inquirer Columnist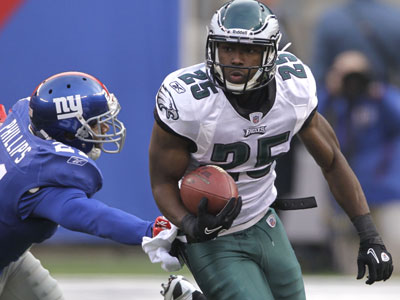 LeSean McCoy is living the same reality that Brian Westbrook was less than thrilled to endure for a couple of very, very productive years with the Eagles: Playing running back for Andy Reid puts you at a distinct disadvantage for honors such as the Pro Bowl.
McCoy is third among NFC running backs in total yards, but he is at the No. 5 spot in rushing yardage. Since most people vote for the Pro Bowl based on a quick look at the stat leaders and name recognition, it was no real surprise that McCoy was not one of the top three vote getters. Atlanta's Michael Turner, Minnesota's Adrian Peterson and St. Louis' Steven Jackson are all better-known and have more rushing yards. Simple as that.
Phil Sheridan, Inquirer Columnist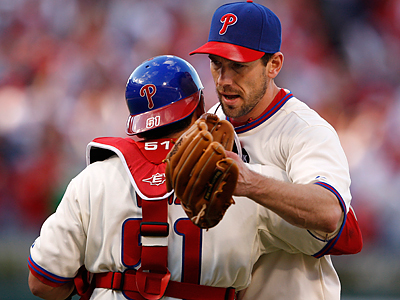 Well, this just doesn't happen anywhere, but certainly not in Philadelphia.
Poll: Is this the Phillies' boldest move yet?

(9491 votes)