It got worse for Eagles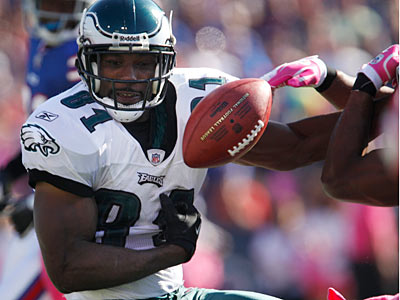 Eagles find new, more appalling way to lose in Buffalo.
It got worse for Eagles
Phil Sheridan, Inquirer Columnist
ORCHARD PARK, N.Y. – It turns out we were all wrong about the Eagles after last week's collapse against the San Francisco 49ers.
It could get worse. And it did.
After another week of tinkering by Andy Reid and his staff, the Eagles turned in a truly lousy performance against the Buffalo Bills. They avoided another blown fourth-quarter lead by turning the ball over, falling behind early and failing again and again to make tackles.
Then they added a fourth-quarter knife-in-the-gut by rallying from 31-14 down to 31-24. But a possible game-tying touchdown drive ended when Jason Avant coughed the ball up for a final, game-clinching turnover.
The wheels are off. The Eagles are 1-4 and reeling. They have one more game, on the road at Washington next Sunday, before staggering into their bye week.
The bye has often provided Reid an opportunity to tweak his team in preparation for a playoff push. At this point, the goal has to be fielding a competent offense and defense. There was neither on display at Ralph Wilson Stadium Sunday afternoon.
Quarterback Michael Vick took another pounding and responded by throwing three first-half interceptions. The man who boasted that no defense could be devised to stop him and this potent offense was right. The Eagles do a good enough job of stopping themselves.
The defense was no better. Fred Jackson ran freely through the Eagles secondary, and quarterback Ryan Fitzpatrick had no trouble finding open receivers. The Bills were able to take advantage of the Eagles' mistakes, and the Eagles generously gave them plenty of chances.
There were a couple of real howlers. After an interception by linebacker Jamar Chaney, the Eagles had the ball at midfield with 39 seconds left in the half. It goes without saying that they had no timeouts left. After one completion and a Vick scramble, the Eagles spiked the ball to stop the clock with 13 seconds. They were at the 26.
Vick underthrew an open DeSean Jackson on second down. The clock stopped with 8 seconds left. Reid decided to take another shot at the end zone. Vick dropped back, held the ball a few beats and threw it out of the end zone. The clock showed zeroes and the Eagles had squandered a chance for a field goal.
To open the second half, the Eagles tried a daring onside kick. Unfortunately, they failed to wait until the referee signaled that the ball was in play and they had to kickoff again.
The Eagles' second-half comeback attempt, though thwarted, showed what some desperation can do. Vick broke off a 53-yard run to set up a 10-yard touchdown run by LeSean McCoy. He found DeSean Jackson for a fourth-quarter TD, then drove the team down for a 35-yard field goal.
The defense, which offered little resistance early, clamped down. The Eagles took the field with a chance to drive for the game-tying score. But Avant turned it over one last time.
For the final insult, the Bills faced a fourth-and-inches at midfield with 1:23 left. They lined up as if going for it, but everyone in the stadium knew they were just trying to draw the Eagles into a penalty before punting. Everyone except defensive end Juqua Parker, who jumped offside and killed the Eagles' final hopes.
It was a bad, bad loss in a string of bad losses.
But no worries. Reid and his staff will get back to work this week. Things can't get worse.
Right?