Archive: September, 2009
Amy Worden

, Inquirer Staff Writer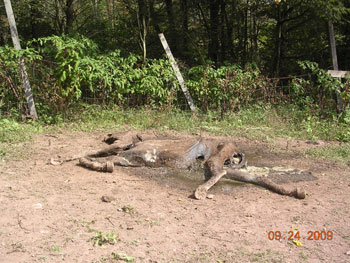 State police seized five horses from a farm in Schuylkill County, where they were living in filth and starving, and charged the owner with animal cruelty.
Witnesses called police late last week after seeing the emaciated horses, some kept in a weed-filled pasture with no shelter, others were standing in trash and manure-filled stalls. The property owner, who has not yet been identified by police, reportedly had an unusually high number of horses die on his Orwigsburg farm in recent years, including the one shown here left to rot in the field. The Pottsville Republican Herald has more on the story.
The Equine Protection Network is caring for the horses - mostly paints and quarter horses and all of them young - and is in need of donations to offset the cost of their extensive medical care, board and feed. They will also be available for adoption soon. Donations are being accepted at Equine Protection Network, P.O. Box 232, Friedensburg, PA 17933.
Amy Worden

, Inquirer Staff Writer

Is a mass downsizing underway in Pennsylvania kennels?

Nearly 400 breeding dogs from Pennsylvania's largest commercial kennels are scheduled be shipped west to be auctioned in Ohio next week, in a move that animal welfare activists say is likely the result of tougher standards under the new state dog law.

Key provisions of new law (Act 119) take effect on the first anniversary of the signing of the legislation on Oct. 9, among them: larger cage sizes, restrictions on cage stacking, access to outdoor exercise and regular veterinary exams for breeding dogs.
Amy Worden

, Inquirer Staff Writer

A 19-year-old faces jail time for body-wrapping a cat in duct tape and tossing her over a North Philadelphia fence into a backyard where it lay for at least 12 hours. Humane agents arrested James Davis who confessed he wrapped the cat on impulse after it wandered into the yard of his home.

The female tabby cat, now affectionately known as Sticky, has been unwrapped and is in the care of the Pennsylvania SPCA where officials report people are pounding down the doors to adopt her [Note to potential adopters: there are plenty more needy, if not sticky, cats that would love a nice lap to curl up on at the PSPCA and other area shelters].

More on Sticky's saga from my colleague Peter Mucha here.
Amy Worden

, Inquirer Staff Writer

Michael Vick returned to the gridiron for his first regular season NFL game in almost two years today and the New York Times delivers its opinion in an editorial on the still-swirling controversy off the field, the rising number of dog fighting in Philadelphia and what the newspaper called Vick's unconvincing rehabilitation effort.

Meanwhile, anyone following the case of Sticky the duct-taped cat will be pleased to learn that the Pennsylvania SPCA has arrested a 19-year-old for wrapping the little tabby from head to paws and dumping her in a yard, according to local news reports. More details are expected to be released in the morning.
Amy Worden

, Inquirer Staff Writer

Contrary to Internet reports, the animals are a-ok at the Montgomery County SPCA. A panicked email cut a blazing path through cyberspace earlier this week, stirring up nationwide concern of an alleged mass euthanasia at the three shelters the SPCA runs in Montgomery County. Turns out it was Montgomery County, Texas. But the buzz did have a positive effect for animals in both locations. My colleague Peter Mucha reports.

Murdered over a mouse. Remember the touching scene in "Shawshank Redemption" when the elderly inmate frees his beloved pet rat on the eve of his release? A prisoner at Allenwood federal correctional facility in central Pennsylvania felt the same way about his mouse. Tommy Meeks spent eight months caring for his pet mouse, Amadeus - even building him an exercise wheel - only to find him crushed behind a mattress one day. He concluded his cellmate had committed the crime and bludgeoned him with a rock. For more read the story in the Patriot-News of Harrisburg.

Looking for something to do tonight while supporting a good cause? Head on over to the Water Works Restaurant where they are throwing a fundraiser for the Pennsylvania SPCA's Second Chance program for homeless and abused pit bulls. The party is being held in honor of River, the feisty female pit bull who was swept over the falls on the Schuylkill right outside the restaurant and saved by officers with the Philadelphia Police Marine Unit. River has found her forever home with Derek Abram, a bartender at Waterworks who witnessed River's brave battle to survive the swirling waters by the dam. The amazing episode was captured by a Channel 6 Action News camera as was the happy uniting of Derek and River after dog was nursed back to health by the PSPCA staff. The event runs from 8 p.m. to 11 p.m. at the Water Works Restaurant at 640 Water Works Dr. There will be appetizers, wine, music and dessert. Donation is $25. RSVP at hrussel@pspca.org

object id="otvPlayer" width="400" height="268">
Amy Worden

, Inquirer Staff Writer

Attorney General Tom Corbett and the Humane Society of the United States are hoping a little cash will help crack down on dog fighting in Pennsylvania.

Corbett and several animal welfare groups on Monday will announce a program to reward tipsters up to $5,000 for information leading to the arrest and conviction of anyone engaging in dog fighting or the fighting of other animals.

A Corbett spokesman said the effort is not specifically related to the arrival of Michael Vick in Philadelphia, but is part of HSUS's national anti-dog fighting campaign. Vick, who admitted to torturing dogs as part of a fighting ring, is working with HSUS as part of his rehabilitation.
Amy Worden

, Inquirer Staff Writer

Lehigh County dog breeder Derbe Eckhart has pleaded guilty to animal cruelty after SPCA agents raided his
kennel last year and found hundreds of dogs crowded together in filthy conditions.

Eckhart, 41, pleaded guilty today in Lehigh County Court to two misdemeanor counts of animal cruelty and five
violations of the state's dog law, the Associated Press reports. Eckhart faces a maximum sentence of three years in prison and a maximum fine of $7,500 when he is sentenced Nov. 16. Chief Deputy District Attorney Jay Jenkins says Eckhart treated the dogs with "wanton neglect."

In June, the state Bureau of Dog Law Enforcement removed 216 dogs from the kennel after Eckhart lost an emergency appeal of his kennel license revocation.
Amy Worden

, Inquirer Staff Writer

It's a scramble every day for the 14 humane officers of the Pennsylania SPCA to keep up with the sheer volume of dogfighting complaints in Philadelphia.

My Inquirer colleague Troy Graham reports today that the PSPCA is logging 1,000 animal cruelty calls a month, an increasing number of them relate to dogfighting. Graham looks at the intersection of dog fighting, gun trafficking and drug dealing, the role of Michael Vick in raising awareness and the difficulties for prosecutors, who say state law may be tough, but judges often impose only light penalties on offenders.

In New Jersey, a police officer and her husband have been charged with cruelty in the death of a bomb sniffing dog. Agents with the New Jersey SPCA say Mt. Holly officer Kara McIntosh left the five-year-old Golden Retriever, Patton, in her Ford Explorer in mid-July for at least two hours and it died of heat stroke. McIntosh says she left the car running and the air on and that her husband Robert was supposed to pick up the vehicle and the dog.