Archive: July, 2009
The embattled Chester County veterinarian whose medical license has been suspended pending the outcome of a trial on animal cruelty charges is now in trouble with the IRS.
In a federal complaint filed July 7, the U.S. Justice Department asked the U.S. District Court to secure $489,418 in back taxes owed by Thomas Stevenson, operator of Twin Valley Veterinary Clinic in Honey Brook.
The complaint says Stevenson failed to pay federal income taxes between 1994 and 1999 and that his son "acquired his purported interest" in Stevenson's house "for the purpose of assisting Tom Stevenson to evade his federal income tax liabilities."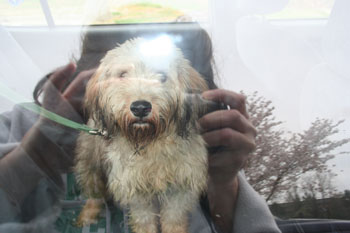 Every weekend, hundreds of volunteers from Boston to Bakersfield rev their engines in a giant, moving human chain to help drive homeless dogs from high-kill shelters to the safety of new homes. I discovered the world of dog transporting five years ago when I came upon a Yahoo forum on the subject. I read through scores of pleas from shelters seeking help getting animals to safety. Dogs were matched with adoptive families in cyberspace and volunteer drivers stepped up to fill legs of journeys lasting hundreds of miles or more.
Watching this amazing volunteer network take shape inspired me to write about Buster, a death row dog from West Virginia. He was bound for a good home in the Philadelphia suburbs thanks to the persistence of the staff at Wetzel County Animal Shelter, the wide reach of the Internet and a few dozen good-hearted drivers willing to take a few hours out of their day and a few gallons of gas out of their tanks to save him.
And now there's a documentary about what is informally known as "the canine underground railroad" that will begin airing on PBS stations next month "Fifteen Legs" (or "When all that stands between a death and freedom is a ride") was produced by Emmy-award winning producer and writer Bonnie Silva and Russ Barry, who spent three years following the dedicated volunteers who help keep the "freedom trains" running. There also is a companion book with the documentary and the Web site offers suggestions for those who want to get involved. I spoke with WHYY in Philadelphia and, alas, they have no plans to air the program. But check the "Fifteen Legs" Web site for more information about other stations which may carry it.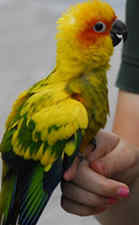 A young parrot who went AWOL from the Philadelphia Zoo last week is now back with his flock. After a four-day flying spree that included a tour of Fairmont Park and a detour to Chester County, the sun conure is home safe at Bird Lake thanks to the help of a Phoenixville family. My colleague Tom Infield has the story.
The Pennsylvania state House approved a bill to increase penalties for wildlife poaching. The vote was 196 to 3. The bill toughens penalties for a range of wildlife crimes including killing endangered species and operating commercial poaching operations. It elevates habitual poaching to a felony crime and establishes jail time as a penalty for many wildlife crimes. The bill now goes to the state Senate for approval. Pennsylvania now has among the lightest penalties for poaching in the country. In an occurrence that happens only slightly more often than comet sightings, the Humane Society of the United States and the National Rifle Association were on the same side of the legislation.
Matchmaking is the theme of the first bill introduced by the newest member of the U.S. Senate. Sen. Al Franken (D., MN) wants to make it more affordable for wounded veterans to get service dogs. In an op-ed piece Franken said he was inspired by the story of Iraq War vet Luis Montalvan, who suffers from post-traumatic stress syndrome and says he's been saved by a Golden Retriever named Tuesday. Now he'd like to set up a pilot program that would provide service dogs - which can cost $20,000 to train - for hundreds of veterans.
Who can forget Nora, the rescued gray tabby cat from Philadelphia with a knack for tinkling the ivories.
Apparently Nora made an impression, not only on the millions of people who caught her act on YouTube, but also on a Lithuanian conductor who decided to write a concerto in her honor.
Mindaugas Piecaitis wrote "Catcerto" which premiered June 5 at the Klaipeda Concert Hall in Lithuania, The performance featured video of Nora on a giant screen behind the orchestra. (That's a long way from the mean streets of Cherry Hill, NJ, where her owners plucked her from obscurity at a shelter.)
In November 2006, for reasons unknown, Tioga County kennel operator Scott Fay destroyed 58 of his hunting dogs. Were these dogs - hounds of various breeds - shot while chained to their plywood boxes or taken to the vet to be euthanized? We don't know. What we do know is that the act was legal and noted matter-of-factly in a kennel inspection report for Bear Creek kennel that month. In early 2008, after repeatedly failing kennel inspections, Fay's kennel license was revoked. Under terms of an agreement, he was to keep no more than five dogs, even though he could legally keep as many as 25 dogs without having a kennel license.
Fast forward to 2009. Fay was advertising nine dogs for sale on the Gun Dog Breeders Website. Pictures show a woman posing with the dogs on the back of a flatbed truck. In the background is a field of crude plywood boxes, some not even sitting flat on the ground with dogs clearly chained to them. When the Bureau of Dog Law Enforcement is alerted to this two weeks ago they sent wardens out who discovered Fay had 33 dogs in his possession.
Fay forfeited 18 dogs to the state, all of which appeared to be in good health, according to Chris Ryder, a spokesman for the Bureau of Dog Law Enforcement. (He and two other individuals listed on the agreement were allowed to keep five dogs each). Fay immediately posted a notice on the Website saying he no longer had dogs for sale and suggesting the state was going to destroy the dogs they took.
There will be no jury trial in New Jersey for Lancaster County puppy broker Joyce Stoltzfus, her husband Raymond and Chester County veterinarian Tom Stevenson. The parties reached a settlement in Cape May County Court on Monday, the day jury selection was to take place in the consumer fraud trial. Plaintiffs Lewis and Stephanie Ostrander, who live in New Jersey, sued the Stoltzfuses after purchasing a sick puppy in 2006. The puppy, a Labrador-poodle mix, later died from parvo virus. The Ostranders spent thousands to save him and additional money to replace bedding and rugs that had to be thrown out because of the highly contagious nature of the disease. Stevenson was named in the suit because he was the veterinarian for CC Pets and provided health certificates for almost 2,000 puppies sold that year. All parties were ordered not to divulge details of the settlement. "It was resolved in amicable terms," said Garen Meguerian, a Chester County attorney who represented the Ostranders. In unrelated action, CC Pets (formerly known as Puppy Love) was ordered closed for six months by a Commonwealth Court judge in April who also fined the Stoltzfuses $166,000 for violating terms of a 2005 consent petition with the Attorney General. Stevenson, of Twin Valley Veterinary Clinic in Honey Brook, had his veterinary medical license suspended by the state pending the outcome of his trial on animal cruelty charges in Lancaster County Court.
Also in New Jersey, SPCA officials yesterday raided a home in Middletown and rescued 80 dogs, many of them sick. Dog breeds included Basset hounds, a blue-nose pit bull terrier, a handful of Dachshunds, and mainly Chihuahuas. Authorities told the Asbury Park Press that the house was "a nightmare inside" and "littered with dog feces and urine." They said one dog was found in the oven. Marlene Sandford, 56, was charged with 85 counts of animal cruelty, with each count liable to a $1,000 fine, though her charges may be reduced because she signed over the dogs to the SPCA.
An 8-week-old kitten is recovering at the Delaware County SPCA after being shot by a bb gun. Concerned neighbors in Chester spotted the kitten hiding under bushes and called animal control. An x-ray showed the bb pellet lodged in her neck. The kitten was too young for it to be removed right away, SPCA officials told WPVI-TV, who added she have some vision loss, but otherwise is expected to recover. Meanwhile Delaware County SPCA is asking anyone with any information on the incident to contact them at www.delcospca.org.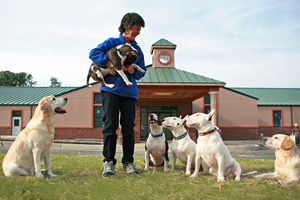 Mary Remer is the founder of What a Good Dog, a dog training and behavioral facility. She is an internationally renowned and widely respected Certified Pet Dog Trainer, breeder, and licensed American Kennel Club judge, and has trained more than 20,000 dogs in her 30-year career.
She is also the founder of What a Good Dog that has been operating for over 25 years. Soon, What A Good Dog will be expanding to an 18,000 square-foot facility that provides a full complement of pet services, including training, boarding, day care, grooming, and rehabilitation—all held to Remer's impeccable standard of tailoring to a dog's body and mind.
Remer, a Bull Terrier aficionado, is the President of the Bull Terrier Club of America, and has been awarded more than a dozen "Best of Breed" wins at the Westminster Kennel Club show, as well as multiple ribbons in the competitive terrier group.
Have you ever stumbled on a random Internet forum and gotten swept up in a discussion so intriguing you can't click the page away?
That's what happened to me a few months ago on Alex Brown Racing and Fans of Barbaro, a Web site devoted to saving ex-race horses and ending horse slaughter. One of the regular forum participants was a York County woman with limited income who had her eye (and heart) on a Pennsylvania Thoroughbred. Watching his fortunes fade at the track - and his vet bills mount - she felt sure she would be able to convince the owner to let her have him at a discount price.
But, try as she might, she got nowhere. She reported her efforts regularly to members of the forum who chimed in with words of encouragement and offers of support. She wasn't giving up. It was like watching a soap opera unfolding before me. How was this story going to end?