Archive: June, 2013
Amy Worden

, Inquirer Staff Writer

UPDATE: Pennsylvania Senate approves cost of care bill, 47-3.

Two bills with major implications for animal welfare are poised to take great leaps forward in the General Assembly as it meets in a rare Sunday session, the last day of the fiscal year, to finish the budget.

First, the Senate is expected to approve a bill to require anyone charged with animal abuse to pay for the cost of the care of their animals for the duration of the court proceedings - or surrender them to a shelter.
Amy Worden

, Inquirer Staff Writer
A pit bull and her seven puppies belonging to Philadelphia Eagles running back Bryce Brown were among the animals seized in a suspected dog fighting operation in Wisconsin.

A county judge on Friday ordered the dog Eilis returned to Brown after it was removed May 21 from a pit bull breeding kennel near Eau Claire, according to the Leader Telegram.

The owner of Northland Pits, Joseph A. Sudbrink was arrested and charged with mistreating animals and running a breeding kennel without a license.
Amy Worden

, Inquirer Staff Writer

In a move that stunned horse lovers across the nation, the U.S. Department of Agriculture has granted a permit to a New Mexico company to open the first commercial horse slaughter house on U.S. soil in since the last plant closed 2007.

The Valley Meat Co. plans to produce horse meat at its Roswell plant for export to other countries. such as Belgium and Japan, where people consume it.

The USDA said it could grant permits to plants in Iowa and Missouri early next week. Congress effectively banned horse slaughterhouses by stripping out funding for USDA inspectors in 2007.
Amy Worden

, Inquirer Staff Writer
Leigh Siegfried is an Associate member of the International Association of Animal Behavior Consultants and is a Member of the Association of Pet Dog Trainers. She conducts private behavior counseling sessions, group training classes in basic and advanced manners and agility, and a variety of workshops. Opportunity Barks classes are held in Philadelphia and Quakertown, PA. Visit www.opbarks.com for more info.
On a mobile phone? Click HERE to join the chat!
Amy Worden

, Inquirer Staff Writer
March marked a triple win for dogs in the Commonwealth.

The Dog Law Enforcement Office surpassed its goal to license 100,000 dogs that month.
Amy Worden

, Inquirer Staff Writer
Lucas, a toffee-colored pit bull, cheated death many times.
First he had the misfortune to end up as one of Michael Vick's fighting dogs.
Amy Worden

, Inquirer Staff Writer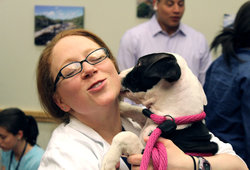 Finding a way to relieve the stress in the life-and-death world of the hospital used to mean grabbing a quick smoke break.
Now doctors, nurses and other staff at the University of Pennsylvania (HUP) can turn to something healthy for them and guaranteed to bring a smile on.

Amy Worden

, Inquirer Staff Writer

Animal welfare advocates today are celebrating the defeat of the massive Farm Bill.

Buried deep in the $940-billion bill, was an amendment that they say would have obliterated state laws protecting production farm animals.

The King amendment (sponsored by anti-animal protection Republican Rep. Steve King of Iowa) would nullify state laws involving animals, among them efforts to provide more humane housing for hens and pigs.