Archive: June, 2009
Amy Worden

, Inquirer Staff Writer

The Humane Society of the United States today released the results of a follow-up investigation into allegations that the largest pet store franchise in the nation supports puppy mills.

It found that 95 percent of Petland stores buy puppies from out of state brokers and 80 stores buy exclusively from the Hunte Corporation, the largest dog broker in the country. The investigation also found that Petland stores bought puppies from kennels run by individuals convicted of animal cruelty, kennels that had repeated violations of the federal Animal Welfare Act and kennels that did not have required U.S. Department of Agriculture licenses.
Amy Worden

, Inquirer Staff Writer

A Department of Agriculture official tells me that the ten days granted to kennel owner Derbe Eckhart to disperse his dogs after his license was refused and his appeals exhausted, had in fact, expired at the time of the raid. In normal circumstances where the lives of the dogs were not at risk, the official said, they would give the kennel owner a "few days" grace time to remove their dogs.

The 216 dogs seized from a Lehigh County kennel were barely settled in at the Farm Show area in Harrisburg last week when naysayers from dog breeding circles started blasting the raid in Internet chat rooms, questioning its legality and whether dogs were truly "abused." One member of a forum hosted by the Pennsylvania Federation of Dog Clubs asked: "What kind of protection do any of us have from a trumped up search and seizure?"

Here are the facts about the raid: The state Bureau of Dog Law Enforcement, with the help of the Humane Society of the United States, entered Almost Heaven kennel in Emmaus last Tuesday after owner Derbe Eckhart's license revocation appeal process had been exhausted. Under the new dog law, a kennel owner in similar circumstances would have 10 days to disperse their dogs, but Jessie Smith, special deputy secretary for Dog Law Enforcement, said the bureau moved swiftly without notice because Eckhart had threatened a dog warden that he would kill his dogs before anyone took them away.
Amy Worden

, Inquirer Staff Writer

*A York County man shot three of his dogs in his kitchen on Saturday - apparently in a drunken rage over their barking - killing two and wounding the third. Carl Kline, 49, was charged with discharging a firearm inside an occupied structure, state police told the York Daily Record. Police found two deceased dogs behind Kline's home and they found rifle shells and a wounded dog in a pet crate in the kitchen. The dog was taken to a vet hospital where it was expected to survive. A fourth dog, a Beagle, described as a hunting dog that Kline "took pride in," was found unharmed. It was unclear if Kline faces any animal cruelty charges. Shooting your dog is legal in Pennsylvania except for licensed kennel owners with 60 or more dogs. That provision was made part of the dog law last fall after a commercial kennel owner in Berks County shot his 80 dogs in August after he was ordered by state dog wardens to get flea treatment for some of them.

*Volunteers with the local chapter of Best Friends Animal Society have launched a pet food drive to help Philadelphia families in need. Until August 31 volunteers with the First Home Forevever Homes Four-Legged Food Drive will be collecting sealed and unexpired pet food for the Loaves and Fishes Food Pantry at the pantry in Prospect Park and Langguth's Gift Shop in Ridley Park. The food pantry serves families in Delaware County. The First Home Forever Home campaign, sponsored by the Utah-based Best Friends Animal Society, focuses on helping people make and honor a lifetime commitment to their pets. To volunteer contact Volunteer Project Leader and PA Team Leader, Nicole Saunders, at coley0502@aol.com.

*A bill approved by the New Jersey Assembly would prohibit the sale of any coat, jacket or other clothing item made of fur without a clothing label. The sponsor, Sen. Jeff Van Drew (D., Cape May), said the bill would give consumers the right to determine what they put on their bodies. The label would specify the type of animal or animals that produced the fur, as well as the name of the country of origin of any imported fur used. Van Drew said his legislation is aimed at helping end the torture of animals in China where a Humane Society of the United States study found many coats contain fur from dog, raccoon dog and fox that are skinned alive in the processing.
Amy Worden

, Inquirer Staff Writer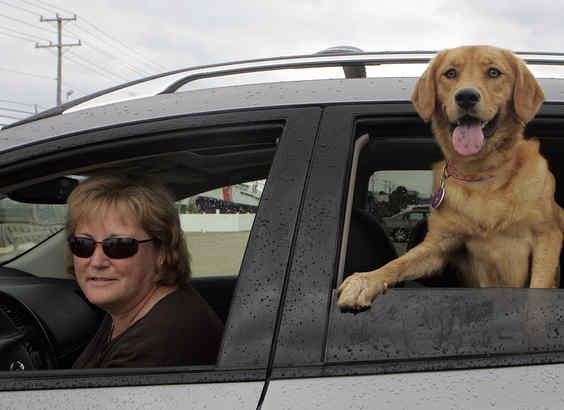 The New Jersey shore may be the popular vacationing spot for Philadelphians in the summertime, but it has never been very welcoming to their canine pals.
From Atlantic City beaches on down to Cape May, the sight of dogs frolicking on the sand is not just frowned on, but owners could be fined for the offense. That's slowly changing as some seaside municipalities are turning the tide on long-held dog bans.
Amy Worden

, Inquirer Staff Writer
Cartoonist Pat McDonnell, who pens the popular comic strip "Mutts," paid tribute recently to puppy mills dogs and one of their heroes - Scotlund Haisley of the Humane Society of the United States.
Haisley, chief of the Animal Rescue Team for HSUS, has in 18 months on the job led raids on 13 puppy mills and freed 4,000 dogs from lives of misery. And that was before the events of last week, when HSUS, along with the state Bureau of Dog Law Enforcement, raided one of Pennsylvania's most notorious kennels, Almost Heaven in Lehigh County, rescuing 216 dogs. The kennel has been permanently closed by the Department of Agriculture which revoked owner Derbe Eckhart's license in January.
Amy Worden

, Inquirer Staff Writer

A Hamilton, New Jersey pet shop was issued a temporary license to reopen after state and local health officials shut down the store for a week citing filthy conditions. Pets & Supplies Unlimited was closed after an inspection revealed food contaminated with rodent feces and a dirty refrigerator and freezer where medicines and pet supplies are stored. The store also was found to be dispensing antibiotics without a prescription and had no veterinarian-approved disease control plan. The conditional license allows the store to sell the animals they have before a hearing in two weeks.

Meanwhile, New Jersey Consumers Against Pet Shop Abuse confirmed yesterday with New Jersey state officials that Pets & Supplies Unlimited buys exclusively from Pennsylvania kennels, but the store is not listed on the Pennsylvania Bureau of Dog Law Enforcement's out-of-state-dealer list. Last year NJCAPSA received a complaint regarding the purchase of a sick puppy from Pets & Supplies Unlimited that died within a week from pneumonia and an intestinal disease known as coccidia. The breeder was listed as Sam King of County Lane Kennel in New Providence, who has a long history of dog law violations.

The Times of Trenton has the full story:
Amy Worden

, Inquirer Staff Writer

The loss of seven show dogs left in a van in Missouri this week is a reminder that vehicles can become death traps in hot weather in a matter of minutes.

Tragedy struck Monday when a handler left eight dogs in a van for several hours overnight, seven perished, likely from heat stroke, including the top female Akita in the nation. The surviving dog was suffering from kidney failure and it was uncertain whether she would live. For more from the St. Louis Post-Dispatch click here.

Pet owners should remember leaving an animal in a hot car is not only dangerous, it's also grounds for animal cruelty charges to be filed.
Amy Worden

, Inquirer Staff Writer

Canines and wine. What a fine pairing.

Tomorrow dog lovers in the Philadelphia area can meet Valor, a 2-year-old black Labrador retriever guide dog, and enjoy samplings of fine wine at the Premium Collection PA Wind & Spirits Store in the Swede Square Shopping Center in Norristown.

Valor and his owner will be on hand to promote Dog House Winery, a California vintner, and guide dog programs. Sales of the wines will benefit Guide Dogs for the Blind, a non-profit group that helps those with vision impairments gain mobility and a better quality of life through lifelong partnerships with dogs.