Archive: May, 2009
Amy Worden, Inquirer Staff Writer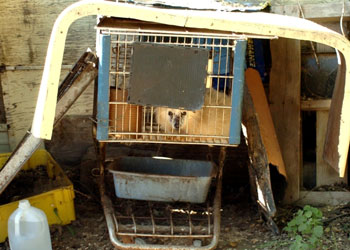 Another week, another big animal rescue operation led by the Humane Society of the United States.
This time, it was a puppy mill in Kennewick, Washington where nearly 400 dogs were living in plywood boxes, chicken wire cages and shopping carts.
It was a case, described by Benton County Sheriff Larry Taylor, of "heartbreaking cruelty."
Amy Worden, Inquirer Staff Writer
Note to aspiring robbers: Don't think the local animal hospital is an easy mark - you never know who their clients might be.
Here's how the Daily News reported a foiled hold up in Philadelphia:
Police said yesterday that an off-duty Philly cop captured a robber seconds after the man held up a Northeast Philadelphia animal hospital last Thursday. Police said Lt. Andrew Napoli was with his dog at the Radball Animal Hospital, on Bustleton Avenue near Tomlinson Road, about 6:15 p.m. when he heard an employee yell, "Help, we are being robbed!"
Amy Worden, Inquirer Staff Writer
The state has pulled the plug on two of Pennsylvania's most notorious puppy mill operators.

Agriculture Secretary Dennis Wolff recently upheld the state Bureau of Dog Law Enforcement's decision to deny a 2009 kennel license to Aaron Burkholder of Kutztown and Daniel Esh of Ronks.
The bureau refused the 2009 license applications of both ken kennels in February following a string of inspections revealed appalling conditions at the kennels.
"These kennels are being shut down because they have put profits above the welfare of the dogs," said Jessie Smith, the state's special deputy secretary for dog law enforcement. "The secretary's decision to uphold their license refusals will hopefully mean a quick and final resolution to the problems we've seen in these kennels."
Amy Worden, Inquirer Staff Writer
Chalk one up for the Obama administration's new era of transparency.

Beginning today the U.S. Department of Agriculture is expected to make available its large database of commercial dog kennel inspection reports. That means for the first time the public can easily access details of the conditions inspectors find at all the kennels that sell to pet stores throughout the United States.

The USDA will post inspection reports on its Website (though not yet as of 6:30 a.m.) for thousands of kennels, along with catteries, exotic animal breeding operations and, soon, research facilities. Until now, virtually all of the reports were available only through Freedom of Information Act requests that took months to fulfill.

A USDA spokeswoman told me while the agency had long wanted to put inspection reports online, it was the Obama administration's "new emphasis on transparancy" and the addition of more computer database experts in the agency that finally made it happen. Reports will be posted dating back to 2006.
Bob Baker, an investigator with the ASPCA said the database will help advocates track problem kennels but would offer little for the average dog buyer.
"It could be misleading to consumers if they are relying on it to purchase a dog," he said. "We know USDA does a poor job enforcing the Animal Welfare Act, so a prospective buyer shouldn't interpret a kennel that passes inspection as necessarily being a good kennel."
Amy Worden, Inquirer Staff Writer
On this Memorial Day fellow pet blogger John Woestendiek brings us the tale of the unique bond between Lex, the bomb-sniffing German Shepherd, and his Marine partner Dustin Lee who served together in Iraq and the fight to make Lex a part of Lee family. Click here for the full story.
Lex - who won the Purple Heart for his valor - and thousands of other military hero dogs who have served the nation with honor and without recognition over the last century will one day be immortalized at the National War Dogs Memorial in Washington.
Amy Worden, Inquirer Staff Writer
With summer upon us, here are a pack of pet survival tips from the the Matthew J. Ryan Veterinary Hospital at the University of Pennsylvania, the ASPCA and the Humane Society of the United States:
* Hot cars: Do not leave your pet alone in your car – vehicles heat quickly in the sun, and animals left in them can succumb to heat stroke in a very short time. Heatstroke is life threatening for both dogs and cats. Signs to watch for are: heavy, loud breathing, a staggering gait, and a bright red tongue or gum tissue. If heat stroke is suspected, get the animal to a cool place or wet him down. This is a medical emergency – take him to your veterinarian as quickly as possible. Also if you see a dog left in a parked car in extreme temperatures, call the police. It is illegal.

* Exercise: Prevent overheating, don't let your dog exercise in hot weather. If you want to run with your dog, do it in the cool hours of the early morning or late evening.

Amy Worden, Inquirer Staff Writer
A Maryland horse rescue that specializes in draft breeds has stepped up to help a humane society in northwestern Pennsylvania overwhelmed with the seizure of 30 farm animals from a negligent owner.
Volunteers with Gentle Giants Draft Horse Rescue in Mt. Airy, Md., drove 300 miles to Warren County, Pa., last week to pick up six of the 13 horses found starving and in ill health in March.
They went home with seven horses, including Belgians and a Percheron, all of them in bad shape. Among their problems: parasite infestation, mange, lice and hoof issues. They were all underweight and one young horse's growth was stunted by poor health. A two-year-old Belgian colt was the size of a healthy 8-month-old, said the rescue's found, Christine Hajek.
Amy Worden, Inquirer Staff Writer
Does your Labrador have love handles? Has your Persian put on an extra pound or two? Nearly 50 percent of the pet population is considered obese. That can lead to health problems like arthritis, diabetes and heart disease.
Maybe it's time to power walk with your pet. Celebrity fitness trainer Gunnar Peterson and the Alliance for Healthier Pets (a partnership between the American Veterinary Medical Association and Hill's pet food) are encouraging people and their pets to hit the "Training Room" this summer. Available at www.PetFit.com, the "Training Room" is a virtual fitness destination that features a people and pet fitness video as well as downloadable weight management tools for cats and dogs.
In Britain, one pet owner learned the fitness lesson the hard way: he was taken to court. Ronald West was convicted of neglect for letting his five-year-old Border collie Taz, balloon to 88 pounds - twice the normal weight of a dog his size. West said he had a bout of the flu and couldn't walk Taz, but a judge determined that West's behavior - doling out too many treats and not enough exercise - amounted to "killing the dog with kindness."