Archive: March, 2012
Amy Worden

, Inquirer Staff Writer
It's spring and animals - wild and alas, domestic - are on the move again.
Some mornings, like today, the roadway on my 25-mile commute is awash in blood and fur.
Amy Worden

, Inquirer Staff Writer

In what is being touted as a major victory for animal lovers, a bill that would forever ban the use of gas chambers in Pennsylvania shelters was unanimously passed by the state Senate on Wednesday.

"This is a good day for dogs, cats and the people of Pennsylvania," said bill sponsor Sen. Andy Dinniman (D., Chester) on the Senate floor. "Because the way we treat our pets is indicative of the way we treat each other, and when we stand up for all God's creatures, we stand up for our own humanity."

But advocates say the Senate-approved version of SB 1329 is a shell of its original self.
Amy Worden

, Inquirer Staff Writer

There are so many cases of animal abuses that occur every day in Pennsylvania, it would take a team of reporters to stay on top of them all.

But every now and then one rises to the top of the outrage meter.

Today it is the vicious shooting and mutilation of a male python found dumped by the Susquehanna River in York County.
Amy Worden

, Inquirer Staff Writer
Tourists know Puerto Rico for its white sand beaches and crystal blue water.
New Yorker Christina Beckles, a former Golden Gloves boxing champion, and a handful of stalwart volunteers, know the dark side of life on the island for thousands of unwanted dogs.
Amy Worden

, Inquirer Staff Writer

A blistering New York Times investigation blows the lid off the horse racing industry in the United States.

"Mangled Horses, Maimed Jockeys," published in today's edition, lays out in exhaustive detail the jaw-dropping numbers of horses who give their lives to the sport every year, breaking down during races, most often because they are overworked, not properly conditioned, drugged or crippled - and the real threat those catastrophic incidents pose to hundreds of jockeys every day.

A staggering 24 horses a week die on U.S. racetracks every week.
Amy Worden

, Inquirer Staff Writer

"If you have men who will exclude any of God's creatures from the shelter of compassion and pity, you will have men who will deal likewise with their fellow men."—Francis of Assisi
Amy Worden

, Inquirer Staff Writer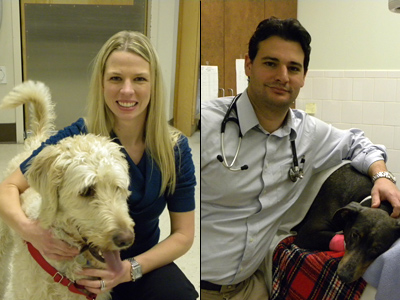 Join Board Certified Veterinary Dermatologist Dr. Noel Radwanski of Center for Animal Referral and Emergency Services in Langhorne and Dr. Marc Roblejo of Bree's Animal Hospital in Philadelphia as they take questions on your pet's health. The chat begins at 1 p.m. Thursday, March 22.
On a mobile device? Click here to join the chat
More about our chatters:
Amy Worden

, Inquirer Staff Writer

Cole Warminsky, a Pennsylvania dog warden recognized for improving the welfare of thousands of canines in the state, died on March 18 in Bethlehem. He was 28.

Warminsky, of Palmyra, had battled cystic fibrosis for several years, but continued to work despite his condition, said Jessie Smith, the former deputy secretary of the Bureau of Dog Law Enforcement who hired Warminsky in 2007.

Smith said Warminsky was awaiting a lung transplant at the time of his death.