Archive: February, 2009
Want to pick up some training tips for your filly or just soak up the excitement of equine competitions and browse the horsy offerings of 500 vendors?
Then head to Harrisburg this weekend for the annual Horse World Expo which opened today at the Farm Show Complex.
The expo - which runs through Sunday - features the nation's leading equestrian clinicians and entertainers, hosting educational seminars and other programs.
At first it looked like the First Family had reached a decision on their dog breed - if not the exact dog - to bring into their new home at 1600 Pennsylvania Ave.
Reports earlier today, based on a People magazine interview with Michele Obama, suggested it was a Portuguese water dog that got the family's nod. She told the magazine she liked the water dogs for their medium build and their temperment. But it wouldn't be Washington without some backtracking. Later Mrs. Obama's press secretary told the Chicago Tribune:
"They have not selected a breed," said her spokeswoman Katie McCormick Lelyveld. "Mrs. Obama likes the Portuguese water dog, but she is only one of four votes."

Four months after the passage of the new dog law, the state has agreed to suspend enforcement of a core provision of the law until a federal lawsuit is decided.
In an order filed Feb. 18 in U.S. District Court, the state will allow commercial breeders appealing their license revocations to continue to operate pending the outcome of the case. In exchange, the Professional Dog Breeders Advisory Council, which is suing the Department of Agriculture on constitutional grounds, agreed not to seek an injunction to stop the enforcement of the entire law.
Under the law, the department has the right to issue cease and desist orders restricting breeders from selling or buying more dogs while their revocation cases are on appeal. It has issued such orders on two occasions since Jan. 10 when the law went into effect, officials said.
"Throw me a home mister!" Pennsylvania SPCA animals are celebrating "Mardi Paws" and "Fat Cat Tuesday" by riding their party float (aka, The PSPCA RV) to Doggie Style pet boutique in Olde City. Adoptable dogs and cats will be on parade outside the store at 315 Market St. on Tuesday, Feb. 24 from 12:00 to 2:00 p.m. – but they're not looking for Mardi Gras beads, they'll be looking for new homes. Two special pooches will be crowned "Mardi Paws King and Queen" and take a spot in the "Smooch-a-Pooch" kissing booth, parked outside the store.
A new study from University of Pennsylvania that surveyed dog owners who use confrontational or aversive methods to train aggressive pets, found that most of these animals will continue to be aggressive unless training techniques are modified. The study, published in the latest issue of Applied Animal Behavior Science, also showed that using non-aversive or neutral training methods such as additional exercise or rewards elicited very few aggressive responses.
Pet crime of the week - Police have charged a Gettysburg man with disorderly conduct after they say he reacted belligerently to a person who told him to stop beating a seeing-eye dog. The charges against 66-year-old William E. Bowers were filed after police say he "went off the deep end" when someone tried to intervene on behalf of the dog. Police referred a cruelty complaint to the Adams County SPCA.
More than four months after Pennsylvania SPCA agents raided a Lehigh County kennel where 800 animals were living in filth, operator Derbe Eckhart defended himself, saying the state had no serious issues with his operation until the raid.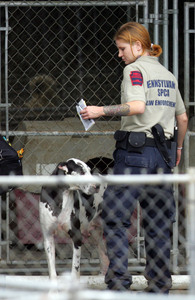 Speaking publicly for the first time since the raid, Eckhart told a hearing officer with the Department of Agriculture that during dozens of inspections prior to the October raid, and as recently as last August, dog wardens had found only minor violations that were corrected.
The Wilkes-Barre area woman who pierced the ears, tails and necks of kittens and tried to sell them as "Goth" accessories will stand trial for animal cruelty.




That's what a Luzerne County District Judge ruled yesterday.

Dog groomer Holly Crawford was charged with six counts of animal cruelty by the SPCA of Luzerne County after the agency received a tip she was selling the maimed kittens on eBay for hundreds of dollars.

Defense attorney Demetrius Fannick said there was no violation of existing state law because there was no malice or intent to disfigure the kittens.

"She pierced their ears and their necks," Fannick said. "She chose to pierce them because it was 'neat,' or to beautify them; other people buy gold collars, or dress their pets in clothes and hats and have birthday parties."

Crawford will be arraigned in Luzerne County Court of Common Pleas on Apr. 24. Charges against Crawford's boyfriend, William Blansett, were dropped after Crawford admitted she was the solely responsible for piercing the kittens.

One of the three kittens lost its tail and another was in the process of losing its tail because of a rubber band wrapped tightly around it.

The charges were filed after humane officers and state troopers, searched Crawford's home on Dec. 17 and seized the kittens with ear, neck and tail piercings.

Luzerne Count Assistant District Attorney David Pedri said the kittens had been pierced multiple times. "That constitutes cruelty," Pedri said. "It inflicted pain and caused infections."

The district court judge, John Paul Hadzik, called the case a "gray area of the law" that needs to be decided by a trial judge or a jury.




The following were some of the recent cases investigated by the Pennsylvania SPCA. Headquartered at 350 E. Erie Avenue in Philadelphia, the PSPCA operates six branches throughout the state. For more information, call (215) 426-6300 or visit www.pspca.org. To report animal cruelty, call the PSPCA's 24-hour hotline at 1-866-601-SPCA.

Bullet Removed from Hanged Dog
RENOVO ST. 1900 block, Jan. 23. Animal control officers responded to a call and found the body of a dog hanging from a fence. When conducting a necropsy, a forensic veterinarian found a bullet in the dog's skull. PSPCA humane officers are searching for the dog's owner. Anyone with information is urged call the PSPCA's anonymous cruelty reporting hotline.

Cat Hoarder Sentenced
NORTH ST., 1800 block, February 3. A woman pleaded guilty to unsanitary confinement of cats. In September 2008, the PSPCA removed 21 cats from the woman's flea-and roach-infested home. The cats were taken to the PSPCA for medical treatment. The woman was ordered to pay court costs and restricted to owning no more than two animals.

Rescued Pony Gallops Off to Greener Pastures
February 5, Philadelphia Fletcher, a pony rescued by PSPCA humane officers on January 23, is now residing in his new home in Chester County. Fletcher, estimated to be between five and seven years old, was emaciated and had a badly matted coat when agents found him in a dilapidated stable.

A horse and a pit bull also were removed by PSPCA officers from the stables in the 2600 block of Fletcher Street on January 23. The owner, who surrendered all of the animals, was cited for lack of veterinary care and unsanitary confinement. The horse will be transported to the PSPCA's Danville branch for adoption. The dog will be available for adoption at the PSPCA's Philadelphia branch.

The Danger of Changing Pet Food Too Frequently
February 4, Philadelphia. A woman fearing that her cat was severely ill, brought him to the PSPCA's animal hospital. The cat was suffering from gastrointestinal discomfort. Upon examination of the cat and questioning of his owner by PSPCA staff, it was determined that she had changed the cat's food frequently in the three weeks since she had adopted him. PSPCA vet staff prescribed an enzyme and ordered the woman to monitor the cat's eating and litter box habits over the next few weeks. He is expected to make a full recovery.

Urban Puppy Mill Operator Convicted
KENSINGTON AVE. 3300 block, February 3. A man who had been keeping puppies at an abandoned house was found guilty in absentia on one charge of unsanitary confinement and one count of lack of veterinary care. He was ordered to pay a fine for each count and court costs. In September 2008, animal control officers removed one adult pit bull and six puppies from the property. The dog's owner had sold one of the littermates at just four weeks of age. The law at the time required dogs to be at least seven weeks old when they were sold. (The new dog law increases the legal age for selling a dog to eight weeks.) Because it was taken away from its mother too soon, the puppy did not survive.


A Sullivan County kennel operator is facing multiple counts of animal cruelty after State Police found as many as 30 dead animals, including the decomposing bodies of 21 dogs during two raids last week, according to the Pennsylvania State Police.

Five surviving dogs were sent to the SPCA of Luzerne County where they are being treated for parasite infestation.

Troopers and state dog wardens obtained a search warrant Thursday to investigate conditions at Autumnbriar kennel owned by Laura Antretter in Dushore and found the bodies of six dogs. At that time Antretter surrendered 27 dogs, mostly Jack Russell terriers, who were sent to a shelter in neighboring Wayne County. Authorities said they returned Friday with a search warrant to conduct a further investigation and found 15 more dead dogs. Antretter had fled the property.

The dead dogs were found in various states of decomposition strewn about the wooded property and in wood crates, said Chris Ryder a spokesman with the Bureau of Dog Law Enforcement. The cause of their deaths is under investigation, he said.

At the time of the last state inspection in November, there were 91 dogs in the kennel. It was unclear how many dogs, if any, Antretter took with her when she fled.

There were as many as nine other dead animals, including cats on the property, police said.

State police Trooper Thomas Blair said he had not yet met with the district attorney to file charges and there was no warrant issued yet for Antretter's arrest.

On her Website, Antretter said she was committed to "the preservation of old world canines" and had been breeding dogs, Jack Russell terriers, Atlas Terriers and Lurchers, for 22 years. Autumnbriar was the only licensed kennel in Sullivan County, located in a remote region of northeastern Pennsylvania.

Antretter, who was also known as Lauren Wolfe, received a kennel license in 2007 after she was cited by dog wardens for operating illegal kennel. Conditions went downhill in 2008 which led to the revocation of her license, Ryder said.

Court records indicate Antretter received 15 citations for unsafe and unsanitary conditions and failure to produce rabies vaccination records between 2005 and December 2008.

Four inspection reports in 2008 reveal widespread problems at the kennel, including pens with sharp wire edges, filthy water and food bowls, feces-filled cages, poor drainage and no health or sales records. Inspection reports also indicate Antretter housed unneutered and unspayed dogs together which can provoke fighting and indiscriminate breeding.

Pictures posted on Antretter's web site depict pastoral scenes of dogs, goats and horses around a pond, while another shows rows of cages of Jack Russells stacked three high with dogs crammed inside. Television footage of the property taped after the raid show rows of wood crates outside a house.

Vincent Sweeney, executive director of the SPCA of Luzerne County, said the five surviving dogs are "loaded with worms" but are otherwise doing well. One dog suffered from lacerations on his leg, likely from standing in an undersized cage, he said. Sweeney said Antretter contacted the shelter by cell phone today and that he is hoping she will surrender the dogs in his shelter's care and any others in her possession.