Archive: December, 2012
Amy Worden, Inquirer Staff Writer
Authorities have removed five dead horses and five starving horses from a farm near Harrisburg in a suspected case of equine hoarding.
Cruelty charges are pending against Rebecca Roberts, an attorney, and breeder of Morgan horses, according to the Patriot-News of Harrisburg.
The five dead horses were discovered at Roberts' Palmyra farm Friday, and five emaciated horses are in the care of veterinarians after being removed by the Humane Society of Harrisburg Area.
Amy Worden, Inquirer Staff Writer
The debate over the use of drugs in race horses has made it all the way to Capitol Hill where Congress has held hearings on banning substances used to dull pain in equine athletes allowing them to run faster.
Far less well known is the use of a wide array of drugs, including cocaine and anti-psychotics, to do the opposite in the show ring: calm horses so they perform better in classes where an easy rocking horse pace is expected.
A report in Friday's New York Times reveals widespread drug use in equestrian sports right up to the Olympic level. In dozens of random tests since 2010 it found dozens of instances where horses had been drugged before competitions.
Amy Worden, Inquirer Staff Writer
Pennsylvania state police say a Harrisburg-area woman who owned a food service business starved her horses.
Janie L. Jeskey, 60, a food service truck operator and sometime thoroughbred horse breeder was charged with two counts of animal cruelty after police seized two malnourished horses on Dec. 19, according to the Patriot-News of Harrisburg.
Amy Worden, Inquirer Staff Writer
More than $9 million.
That's how much ASPCA donor money will not go into supporting animal welfare causes in the future.
Instead that money - $9.3 million - will be deposited into the coffers of the operators of Ringling Bros. and Barnum and Bailey Circus - the result of a settlement in a decade-long legal battle that started over the treatment of elephants.
Amy Worden, Inquirer Staff Writer
Do you brake for turtles?
I do, all the time. I have no problem stopping traffic to help a turtle cross the road (Tip: put her in the brush in the direction she was headed.)
Amy Worden, Inquirer Staff Writer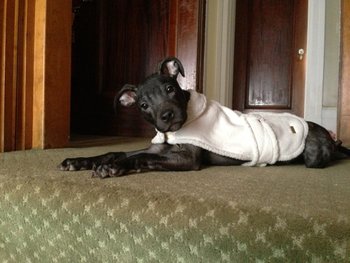 Late last month, on a cold upstate New York night, a starving puppy was dumped at a veterinarian's office in Buffalo. The story caught our attention because an employee of the vet clinic left the puppy out in the cold and called the local shelter.
(The vet later defended the employee, a janitor, saying the dog - about five months old and unable to stand - could have been vicious or diseased.)
Before the shelter staff arrived, though, a team of paramedics who happened to be passing by, saw the shivering bundle and whiskered her to the Erie County SPCA.
Amy Worden, Inquirer Staff Writer
Looking for a last minute gift for the dog lover in your life who has everything, or not?
How about a DNA test?
If you've ever looked at your Heinz 57 pup and said, "I wonder what Max is made of?" you will find the $74.99 well spent to get answers.
Amy Worden, Inquirer Staff Writer
Conflict not compassion dominates the political landscape in Washington this Christmas season.
But animal lovers can celebrate one breakthrough agreement that got little attention amid the partisan budget battles, but will save thousands of lives.
Earlier this month, animal welfare groups and manufacturers of antifreeze and engine coolant announced a deal to curb deaths from this highly toxic product.