Archive: December, 2009
Amy Worden

, Inquirer Staff Writer

The state Supreme Court ruled late yesterday that the Pennsylvania SPCA is not a government entity and therefore did not have immunity from a lawsuit filed by a woman whose dogs were seized and later euthanized. The SPCA appealed after a Philadelphia jury awarded Laila Snead about $155,000 in a case that began with the January 1999 seizure of about a dozen dogs from what court records described as an abandoned home. More from the AP here.

Philadelphia police are looking for the wife of a man believed to have conducted numerous animal sacrifices in his Feltonville house. A grisly scene of animal bones and feathers was discovered by PSPCA agents executing a search warrant involving two emaciated dogs on Sunday. More from the Inquirer here.

A Haddonfield man who shows champion Rhodesian Ridgebacks is being charged with owning a vicious dog after one of his dogs bit the ear off a 4-year-old visitor. It's not the first time his dogs have gotten him in trouble with the law. Read more in the Inquirer.
Amy Worden

, Inquirer Staff Writer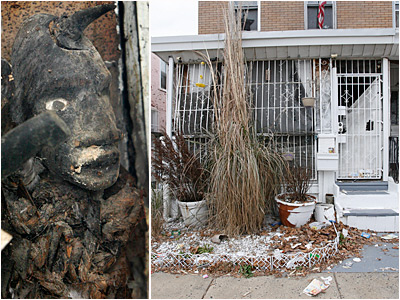 Humane agents responding to a report of two dogs living in unsanitary conditions in the Feltonville section of Philadelphia found the live dogs and the remains of dozens of animals believed to have been sacrificed in a religious ritual.
George Bengal, the Pennsylvania SPCA's chief of law enforcement, said agents found a house "covered in feathers" and a blood-splattered altar. The skeletal remains are believed to be of dogs, cats, farm animals and possibly primates, he said. More from Inquirer and Daily News.
Amy Worden

, Inquirer Staff Writer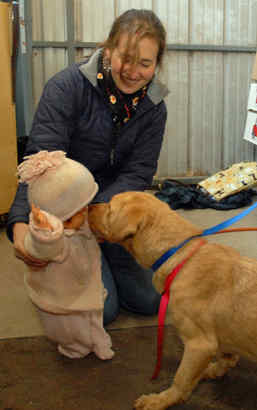 Everyone's heard of online dating services and personal shoppers. Now two suburban Philadelphia women have found a new niche that combines the two: matchmaking for hopeful pet owners. The two dog trainers who run Main Line Mutt Match will trundle to animal shelters in search of the perfect pooch for your family. My Inquirer colleague Kathy Boccella has their story.
One commentor suggests if you can't afford the service, check www.petfinder.com for adoptable foster pets. Experienced foster moms and dads will be able to give you a accurate profile of your dog-to-be.
Amy Worden

, Inquirer Staff Writer
Amy Worden

, Inquirer Staff Writer

Michael Vick: a model of courage? Yes, indeed. His Eagles teammates recently voted to give him the Ed Block Courage Award. The annual honor is given to NFL players who best represent the values of Block, a World War II purple heart recipient, who as an athletic trainer for the Baltimore Colts advocated for trainer education and was involved with charitable causes. Inquirer columnist Phil Sheridan has a hard time understanding how Vick, who threw away a life of good fortune to operate a brutal dog-fighting ring for which he received a federal prison sentence, embodies Block's values of sportsmanship and courage.
Some of Vick's victims on the other hand... are demonstrating great courage in their back-from-the-brink recoveries. Hector, described as a "battle-worn pitbull," suffered abuse along with scores of other dogs in Vick's Bad Newz kennels. But, under the care of an adoptive family in Rochester, Minn., Hector has made a remarkable comeback. The Minneapolis Star-Tribune reports that Hector - now a registered therapy dog but still bearing the scars of years in the dog fighting ring - spent a recent day getting some love from a class of third-graders.
The human census is conducted every 10 years, but some New Jersey communities have, um, embarked, on a dog census every two years, the Inquirer's James Osborne reports. The biannual dog count and license check started with legitimate rabies concerns back in the 1950s, but now it's seen as a controversial revenue-raiser for townships. In revenue-hungry Pennsylvania, state dog wardens have conducted license checks in random neighborhoods, leaving warning notes posted to doors if they hear dogs barking inside. Some critics have labled the sweeps gestapo-like and imagine scofflaws forced to spirit their furry friends - Ann Frank-like - to the attic.
Amy Worden

, Inquirer Staff Writer

Ask the average dog owner who they rely on more, their dog or a human friend, and many will say their dog.

Now there's a study to prove that four-legged friends are more reliable than two-legged ones.
University of Missouri researchers found that people who walk dogs are more consistent about regular exercise and showed more fitness progress than those who walked with a human companion, according to the New York Times.
Amy Worden

, Inquirer Staff Writer

In Pennsylvania we know what a dog is worth - or at least we know the worth of the puppies you buy from a pet store or breeder: the price on his sale tag. The state's Puppy Lemon Law says that you are due back the purchase price of the dog should the dog get sick during your first 10 days of ownership or be found to have genetic defect in the first 30 days.
But what about the dog who's been curled up next you on the sofa for as long as you can remember? Your running partner? The one who saw you through your divorce? Your best friend? Priceless right?
The Vermont Supreme Court is poised to answer that question. The case stems from a 2003 incident involving a Maryland couple visiting friends in Vermont. Their mixed-breed dog Shadow ran into a neighbor's yard and was shot. Now the couple is asking the court to establish a legal doctrine that dog owners can sue for emotional distress and loss of companionship as a parent can for the loss of a child.
Amy Worden

, Inquirer Staff Writer

Pennsylvania SPCA board president Harrise Yaron resigned suddenly early this week, saying she it was "time to move on." Yaron had served on the board for seven years and presided during the turmoil over PSPCA CEO Howard Nelson's departure earlier this year and the hiring of the organization's current CEO Sue Cosby. She spoke to Stu Bykofsky at the Daily News.

The PSPCA is looking for animals lovers to give a homeless dog or cat a comfy home to cuddle up in for the new year. To help speed their journey home, the PSPCA is offering reduced rates on senior animals and long-time residents. See all the cute faces at www.pspca.org. When you stop by to look at the pups and kittens take a new or gently-used blanket along to help keep the residents warm this winter.
The ace veterinary surgeons at the University of Pennsylvania's New Bolton center in Kennett Square are credited with saving the life of a Lancaster mascot. Duke, a beloved equine member of the Lancaster City police mounted unit, suffered an intestinal blockage on Wednesday, according to the Lancaster Intelligencer Journal. Surgeons performed an emergency operation on the 9-year-old Percheron/thoroughbred cross to remove the blockage. His surgery is expected to cost between $6,000 and $10,000. Donations are being accepted by the Lancaster City Police Foundation. (Photo courtesy of the Lancaster Intelligencer Journal)