Archive: November, 2012
Amy Worden

, Inquirer Staff Writer

Fiscal cliff, what fiscal cliff?

The one and only Bo Obama, looking like he just stepped out of the salon, seems unconcerned about the holiday standoff on Capitol Hill, as inspects the White House Christmas decorations.

Take a tour with him.
Amy Worden

, Inquirer Staff Writer

UPDATE - The Erie County (NY) SPCA reported on Friday that the puppy, named Metro, was in guarded condition. Here is the update from SPCA chief veterinarian Dr. Helene Chevalier: "This morning, the puppy's temperature is within normal limits. She is brighter, can stand, and is eating well on her controlled diet. We will continue to monitor through bloodwork the functioning of her internal organs. She continues to be supported medically through heating pads, IV fluids, vitamin supplements, and a diet particularly for starvation cases. She is severely emaciated, scoring only a 1 out of 9 body score. Over the weekend, we will attempt to remove support systems to find if she is able to thermal regulate and remain hydrated on her own. We are hopeful."

SPCA animal cruelty investigation officers are currently investigating the case. Anyone with information on Metro is encouraged to contact SPCA Director of Animal Cruelty Investigations Jeff Eyre at 716-629-3525. The SPCA also welcomes donations for Metro's care. Click here for details.

The SPCA also said the individual from the clinic did call to report the dog on Wednesday, but that he identified himself as a maintenance worker not authorized to care for an aniimal (and he didn't call clinic operator Dr. Hector Anderson why?)
Amy Worden

, Inquirer Staff Writer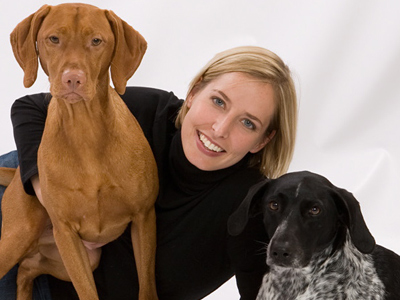 Leigh Siegfried is an Associate member of the International Association of Animal Behavior Consultants and is a Member of the Association of Pet Dog Trainers. She conducts private behavior counseling sessions, group training classes in basic and advanced manners and agility, and a variety of workshops. Opportunity Barks classes are held in Philadelphia and Quakertown, PA. Visit www.opbarks.com for more info.
On a mobile phone? Click HERE to join the chat!
Amy Worden

, Inquirer Staff Writer

A Monroe County show dog breeder was convicted on seven counts of animal cruelty in October, two months after humane agents raided her kennel and found sick and starving animals on the property.

Julie Forsyth, of Anamolink, also faces 100 counts of violating the state dog law for keeping dogs in unsanitary conditions, failing to get rabies vaccinations, failing to obtain individual dog licenses and failing to have a kennel license.

Her associate, Dan Sweeny, was convicted on two counts of cruelty. The convictions bar both of them from obtaining a kennel license in Pennsylvania for ten years.
Amy Worden

, Inquirer Staff Writer

A Harrisburg judge heard arguments Monday in a case that pits the state's ex-dog law chief against animal welfare advocates.

Jessie Smith, who served as the special deputy secretary for dog law under Gov. Rendell, is suing three activists, saying they "engaged in a relentless campaign of systematic defamation" through various electronic communications.

The suit alleges they accused her of engaging in a range of misconduct, including giving passing inspections to a dog breeder in exchange for sexual favors.
Amy Worden

, Inquirer Staff Writer

Little piggy falls off livestock truck.

She is found lying unconscous by the side of a road in Kansas by a kind-hearted family.

They happen to own a loveable yellow Lab who immediately bonds with the piglet.
Amy Worden

, Inquirer Staff Writer

A pet treat manufacturer is recalling packages of bullstrips after a lot tested positive for salmonella, but no illnesses have yet been reported.

Carolina Prime Pet Inc., a manufacturer and distributor of dog treats, announced it is voluntarily recalling the following product:

Priority Total Pet Care All Natural Bullstrips in a 5-count package UPC: 0-21130-42080-3 Lot Code: 20082712 S 3195 and Lot Code: 20090312 S3195
Amy Worden

, Inquirer Staff Writer

UPDATE - Lehigh County humane investigators confirm puppies were in fact "skinned to the bone." Reward offered in the case. Read the latest from the Morning Call here.

Authorities believe a serial animal killer is behind multiple gruesome attacks in northeastern Pennsylvania.

The latest incident was reported Friday outside of Allentown where someone found a bag containing 11 dead puppies, all with their fur shaved by the side of the road, according to a report tonight on WFMZ-TV.