Archive: November, 2010
Pennsylvania dog owners, it's that time of year again, time to add a new dog license to your Christmas list.
State law requires that all dogs three months or older be licensed by Jan. 1 each year.
If the animal is spayed or neutered, the annual fee is $6.45 and lifetime is $31.45. An annual license is $8.45 and a lifetime license is $51.45. The fee went up by 45-cents to cover the cost of postage involved with licensing.
By Amy Worden
INQUIRER HARRISBURG BUREAU
HARRISBURG - With animal shelters closing their doors to homeless dogs and other shelters facing financial pressures, the question plaguing animal-welfare advocates is this: Where to put the thousands of stray dogs found roaming throughout state each year?
No freedom for ex-kennel owner and convicted animal abuser Derbe Eckhart.
Authorities denied a parole request by the former owner of Almost Heaven Kennel in Lehigh County, according to the Morning Call of Allentown.
Court records said Eckhart's "assaultive conduct" while in prison for animal cruelty "does not support consideration for parole at this time."
Sad news to report from New Jersey. Prince Chunk, the once homeless feline who gained national fame for his prodigious girth, has died. Chunk, formerly known as Princess Chunk, was 10 when he succumbed to heart disease. More from the Inquirer's Bob Moran here.
The Philadelphia Water Department is launching a new campaign aimed at reducing the amount of dog waste in the city's waterways. My Inquirer colleague Sandy Bauers reports the agency is in the process of picking a "spokespup" to reach out to pet owners and remind them to scoop the poop. Targeted areas include Roxborough, Manayunk, and East Falls (home to the state's leading dog advocate, Gov. Rendell.) No word on whether First Dogs Maggie or Ginger auditioned for the role.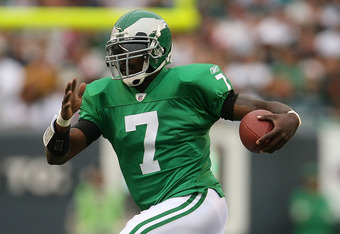 My Inquirer colleague Amy Rosenberg today takes a thought-provoking look at Michael Vick's explosive return to the ranks of superstar and the questions it raises among those who may love sports - particularly the Eagles - but who are also animal lovers.
Many fans remain deeply disturbed about the atrocious acts of cruelty running a dog fighting ring that led to the end of his days as the Atlanta Falcons quarterback and a stint in federal prison.
In keeping with presidential Thanksgiving tradition, President Obama yesterday granted an official pardon to two turkeys, Apple and Cider. At a quip-filled ceremony with his daughters by his side, Obama said he hoped the spare someone from a "shellacking this November" - a reference to the steep losses Democratic ranks on Election Day.
Obama said the audition to be chosen as the White House turkey and his backup was no unlike "Dancing with the Stars," only the winner gets a bigger prize: life.
In what were his strongest words yet about his years as an animal abuser, Michael Vick reflects with students in New Haven, Conn., about the day God told him "what he was doing was wrong."
Here's the report from the Daily News:

NEW HAVEN, Conn. — Michael Vick looked out at the assembled high school students, some of whom were football players, many of whom come from a background similar to his, and he asked them to calm down.
Fresh off another win for the Eagles, quarterback Michael Vick turns his attention to animals today.
Vick is scheduled to address nearly 4,000 students at two high schools in New Haven, Conn., as part of the Humane Society of the United States' anti-dog fighting campaign.
Vick has made at least two dozen appearances before students groups in at least five cities, including Philadelphia, since being released from federal prison 16 months ago for running an illegal dog fighting ring.