Archive: November, 2009
Amy Worden, Inquirer Staff Writer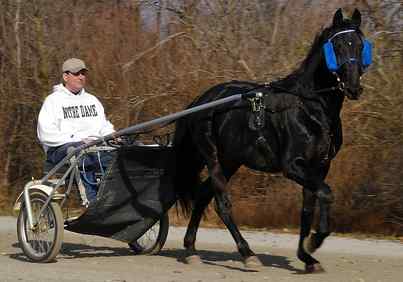 It's an all-too familiar story: A horse racing fan with stars (and dollar signs) in their eyes splurges on a high-priced yearling only to find out quickly the horse is not destined for the winner's circle.
The horse gets dumped at auction and ends up pulling an Amish buggy. A few years later, broken down from overwork and poor care, they get sold to the "kill buyers" for the price of a few bales of hay and are shipped to the slaughterhouse.
That was the fate that appeared to be awaiting the trotter Captain Zoom until his former owner - who happens to be ex-Phillies reliever Dan Plesac - stepped in. Read the full story published in the Inquirer here.
Amy Worden, Inquirer Staff Writer
It's been almost two months since the major provisions of the new Pennsylvania dog law took effect and the public does not yet know how many, if any, of the nearly 300 commercial breeders in the state are in compliance.
The law, which took effect on Oct. 9, was designed to end inhumane kennel conditions legal under the old law, among them, wire flooring, which causes painful paw ulcers, and the unsanitary practice of cage stacking. It also would give dogs considerably more space than the rabbit hutches shown at left and effectively ends outdoor-only kennels like those shown because there is now a temperature requirement.
Breeders had one year to make improvements, but it is unclear if they have done so because no commercial kennel inspection reports have appeared on the Department of Agriculture's online database dated after Oct. 9. In an email, a department spokesman told me on Nov. 1 that the agency was trying to fix software problems with the new inspection forms and that reports would begin to be posted that week. When I asked again this week, I was told they would be posted "soon."
Amy Worden, Inquirer Staff Writer
The Delaware County SPCA has a new executive director. Kerry Flanagan, a Chester County native and current vice president of operations for the Humane League of Lancaster County, takes over the leadership role at the shelter in January.
At the Humane League, Flanagan helped develop spay/neuter programs, increase adoptions, reduce the rate of euthanasia and strengthen community partnerships. Previously she was a kennel technician and later kennel coordinator at the Chester County SPCA. Flanagan developed an interest in animal welfare while volunteering with the Feral Cat Coalition in San Diego.
Flanagan said building stronger community relationships and developing new partnerships are among her top priorities and she plans to hold at least one public meeting to get community input.
Amy Worden, Inquirer Staff Writer
A Delaware police dog, wounded in the line of duty and hailed as a hero earlier this month, has recovered from pneumonia, is up and walking and eating solid food, his veterinarian said this morning. Diablo, a year-and-a-half old Belgian Malinois, was shot Nov. 11 as he apprehended a gunwielding suspect at a Wilmington apartment complex. My Inquirer colleague Sam Wood reports as the K-9 bit down on the gunman's arm, the man fired twice. A bullet ripped through Diablo's left shoulder. Another shattered the dog's left leg. Still, Diablo hung on to the man and released him only when his handler called out. The wounded K-9 was taken to a local hospital in Delaware before being transported by motorcade to the University of Pennsylvania's vet hospital. Diablo remains in intensive care, but is making a strong recovery.
An animal protection group is asking a federal judge to block the government's planned roundup of thousands of wild mustangs in Nevada next month. California-based In Defense of Animals says in a lawsuit filed Monday in U.S. District Court in Washington D.C. that the helicopter-aided roundups are illegal because they "traumatize, injure and kill" some of the horses, according to the Associated Press. Critics say the pending roundup in northern Nevada is by far the largest the U.S. Bureau of Land Management plans this year, involving as many as 2,700 wild horses. It's part of BLM's plan to remove more than 30,000 horses from federal lands in the West over the next three years to deal with soaring numbers of the animals and the growing costs to manage them.
New Jersey Gov. Jon Corzine signed legislation requiring all garments made of animal fur to be labeled as such. New Jersey now joins Delaware, Massachusetts, New York and Wisconsin as the fifth state with a fur labeling law, according to the Humane Society of the United States. Ongoing investigations by HSUS have revealed that many designers and retailers have sold unlabeled or mislabeled fur-trimmed jackets. The law will require all garments containing animal fur sold in New Jersey to be labeled with the type of animal fur and the country of origin.
Amy Worden, Inquirer Staff Writer
In case you missed them, two stories of note in recent editions of The Inquirer. Main Line Animal Rescue's Bill Smith took a veterinarian and three PSPCA agents on a road and air trip West to a dog auction in Ohio where Pennsylvania breeders were selling nearly 400 dogs. Twelve dogs bought at the auction are now getting treatment for their diseases and injuries and six Lancaster County breeders are facing animal cruelty changes. More on the "flight of mercy" here. For more information on a citizen effort to ban dog auctions in Ohio click here.
After a nearly one-year truce, the Bucks County pigeon shoot war has erupted again. As my Inquirer colleague Larry King reports, the Philadelphia Gun Club began shooting pigeons launched from boxes again earlier this month despite an agreement with Bensalem officials and animal welfare advocates to stop.
Amy Worden, Inquirer Staff Writer
The following are some of the recent cases investigated by the Pennsylvania SPCA. Headquartered at 350 E. Erie Avenue in Philadelphia, the PSPCA operates five branches throughout the state. For more information, call 215-426-6300 or visit www.pspca.org. To report animal cruelty call 1-866-601-SPCA.
Animals killed in suspected ritualistic sacrifice
Bingham St., 5100 block. Nov. 13. The PSPCA is investigating a suspected case of ritualistic animal sacrifice. The remains of one dog, one cat and several chickens were removed from a park area and were brought to the PSPCA. Necropsies are being conducted as part of the ongoing investigation.
Amy Worden, Inquirer Staff Writer
A Harrisburg-area man forced to leave his dog behind in Tennessee earlier this year after suffering a stroke was reunited with his beloved companion on Friday thanks to the joint effort of two mid-state rescue groups.

Neal Brooks of Steelton contacted the Central Pennsylvania Animal Alliance after learning that his dog Buster, whom he had left with a relative because of his health problems, had been tied outside without food, water or shelter. Brooks is wheelchair-bound and unable to drive, so he had no way to get his dog back.
CPAA contacted Dogs Deserve Better, an Altoona-based organization dedicated to ending the chaining of dogs, and founder Tamira Ci Thayne hit the road to get Buster.
Thayne said when she got to the house in Tennessee she found Buster, a Cocker Spaniel-mix dog, was 15 pounds underweight. The Hawkins County Sheriff¹s Department was notified about the dog's condition and is pursuing cruelty charges against Brooks' relative.
Amy Worden, Inquirer Staff Writer
The operator of the now-defunct Almost Heaven kennel in Lehigh County - the subject of multiple raids and seizures of hundreds of dogs over the past year - withdrew his guilty plea to animal cruelty charges today.
Derbe "Skip" Eckhart - whose kennel license was revoked in June - was to be sentenced today on cruelty charges in Lehigh County Court, but instead withdrew his plea offered in Sept., saying he was pressured into the plea deal by prosecutors.
Instead, Eckhart, 42, of Emmaus, will go to trial on on Dec. 23 on 23 counts of animal cruelty and as many as 216 counts of violations to the state dog law, said Jay Jenkins, Lehigh County chief deputy district attorney.