Archive: September, 2010
Amy Worden

, Inquirer Staff Writer
By far the most bizarre story to come out of Harrisburg recently is the one that broke yesterday about the Lancaster County district judge who was cited last week by police for handing out condom-stuffed acorns in a park behind the Capitol. Police said he told them he did it as a joke. Apparently it was no joke to the women who received the acorns and filed a complaint. You may wonder why I include this crime blotter item in a pet blog. The judge in question, Isaac Stoltzfus, has presided over some of the most notorious puppy mill cases from his chambers in Intercourse (we kid you not). Animal welfare activists have long accused Stoltzfus, who has spent 19 years on the bench, of going easy on animal abusers. A quick review of Stoltzfus' record shows some guilty verdicts, but many not guilty verdicts and dismissed charges against kennel operators whose licenses were later revoked. Most recently it was Loretta Wilson who operated Jenloren Kennel in Quarryville. Her kennel license was revoked this year after repeated inspections revealed unsanitary and inhumane conditions at her kennel and numerous veterinary exams were ordered on dogs with serious health problems. In July, Stoltzfus found her guilty of several dog law violations but not guilty of multiple cruelty charges.Now his disorderly conduct case goes before a district judge in Dauphin County and we may well see an investigation by the Judicial Conduct Board. (Photo/Patriot-News)
Things we didn't know... Hollywood legend Tony Curtis died today at the age of 83 and it turns out this matinee idol lent a helping hand to unwanted horses late in life. With his sixth wife, the horse trainer Jill VandenBerg whom he married in 1998, Curtis operated a nonprofit refuge for abused and neglected horses in Nevada.
Fall means football, fashion shows and, in central Pennsylvania, pigeon shoots. The first shoot at the Erdman Gun Club north of Harrisburg is scheduled Sunday. Club members will be there locked and loaded and so will animal welfare advocates who say they will be documenting the slaughter in their effort to get them banned. Pennsylvania is the last state where the events - launching hundreds of pigeons out of mechanical boxes to be shot at close range - take place openly and only in three counties (Berks, Bucks and Dauphin). Efforts in the courts to stop them have been blocked by district attorneys. The exception is Dauphin's Ed Marsico in whose county humane officer Johnna Seeton, who has rescued many wounded birds at pigeon shoots, is pursuing cruelty charges against Erdman. With the NRA supporting the shooters, advocates have failed to get a vote on the bill in the General Assembly in two decades. Pigeon advocates got a boost from ex-game show host Bob Barker who tossed in $1 million for the cause and they fight on. The issue takes center stage tonight at 7 p.m. on CNN Headline news I am told.
Amy Worden

, Inquirer Staff Writer
Before animal behavior experts met the 51 dogs who survived Michael Vick's horrific dog-fighting compound, they said they'd be surprised if five of them were salvageable as pets.
But the pit bulls proved them wrong. While some have succumbed to illness and fatal encounters with cars, the vast majority have made stunning turnarounds. They are beloved family pets. They nurture the elderly and the sick. They compete in agility contests. Sports Illustrated reporter Jim Gorant,chronicles their stories - and the stories of the handful of people who fought to save them and bring Vick to justice - in his new book, The Lost Dogs: Michael Vick's Dogs and Their Tale of Rescue and Redemption.
I had the good fortune to interview Gorant, who first wrote about the dogs for a wildly popular 2008 Sports Illustrated cover story, earlier this month. My story from today's Inquirer here. Also see a photo gallery of the Vicktory dogs courtesy of Best Friends Animal Sanctuary in Utah which took in almost half of the dogs.
Amy Worden

, Inquirer Staff Writer
Michael Vick made his triumphant debut as the Eagles starting quarterback in Jacksonville yesterday.
Elsewhere scientists are working on a new way to make it easier to prosecute individuals like Vick - who once ran the nation's most infamous dog fighting ring.
A National Public Radio report today looks at scientists busy swabbing cheeks of pit bulls seized in dog fighting busts in an effort to better track and prosecute people who breed dogs for violence.
Amy Worden

, Inquirer Staff Writer

Labrador lovers in several states are scrambling to care for and identify 101 dogs left stranded when the operator of the Pennsylvania kennel where they were housed was thrown in jail.

Patricia Gadaleta, of Lehighton, a breeder of champion Labrador Retrievers, was jailed Thursday after she was unable to post a $30,000 bond on several charges, including theft by deception and writing bad checks.

Gadaleta pleaded guilty to forgery, theft by deception and receiving stolen property on 2008. In 2003 she was found not guilty of animal cruelty.
Amy Worden

, Inquirer Staff Writer
Being a Pennsylvania state dog warden can be a thankless job. Long hours in the truck. Long hours in the courtroom. Hostile kennel owners. Public criticism.
Unfortunately, we don't often hear of their good works. So, bravo to warden Steven Stoehr of Allegheny County for rescuing a stray pit bull and his tiny guardian and most of all, for sharing his story.
Amy Worden

, Inquirer Staff Writer

An Amish kennel owner in New York Friday pleaded guilty to illegally gassing 74 dogs.

David Yoder, 45, of Romulus, was fined a total of $505 - considerably less than the cost of one of his puppies in a pet store.

The Seneca County Sheriff's Office charged Yoder with 74 counts of inhumane destruction of dogs. Under New York law gassing is illegal and euthanasia must be performed by a licensed veterinarian. An initial report by the U.S. Department of Agriculture said he had killed 94 dogs.
Amy Worden

, Inquirer Staff Writer

A battle royal is underway in Missouri - the undisputed puppy mill capital of the nation - where voters in November will decide whether to impose higher standards of care for hundreds of thousands of breeding dogs in commercial kennels.

On one side are local, state and national humane groups and the Better Business Bureau among others. On the other, the pet breeding and farming industries.

Prop B, as the referendum is known, would require larger cage sizes, ban wire flooring and mandate veterinary care for breeding dogs among other provisions. The precedent-setting 2008 Pennsylvania dog law served as the impetus for the Missouri ballot question, said Bob Baker, executive director of the Missouri Alliance for Animal Legislation.
Amy Worden

, Inquirer Staff Writer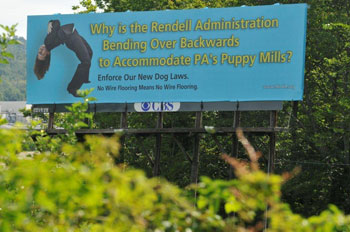 A bump in the road for Pennsylvania's dog law regs?
Attorney General Tom Corbett apparently has questions for the Rendell administration about the state's new dog law regulations. The controversial regulations - which govern conditions in commercial kennels including temperature, ventilation and flooring - were headed for final approval last month after winning support of the Independent Regulatory Review Commission.
But the 30-day review period with the Attorney General came and went yesterday without the seal of approval from Corbett. Spokesman Nils Frederiksen would not confirm Corbett had issues with the regulations, saying only the Attorney General has 30 days to review the regulations "unless there are additional questions for the referring agency."