Archive: September, 2009
Amy Worden, Inquirer Staff Writer
A federal judge today upheld the constitutionality of key provisions in the state's year-old law governing commercial dog kennels.

The Professional Dog Breeders Advisory Council, which represents Pennsylvania's commercial kennels, two New Jersey pet store owners (Susan Inserra and Nat Sladkin) and a Pennsylvania dog breeder (Nathan Myer), sued the Commonwealth on an array of constitutional grounds alleging, among other things, that kennel inspections constituted unlawful search and seizure and that the kennel license revocation procedure violates kennel owners' due process rights.

In a ruling yesterday, U.S. District Judge Sylvia H. Rambo, of the Middle District, rejected those claims and found that the state has the authority to conduct unannounced inspection of regulated industry such as dog kennel operations and that the Secretary of the Department of Agriculture has the authority to revoke licenses under appeal. The plaintiffs attorney said his clients had not yet decided whether to appeal.

Rambo struck down one section of the law regarding fees paid by out-of-state dog dealers as a violation of the interstate commerce clause. That means out-of-state dealers including pet stores, brokers and rescues will no longer have to pay the $300 fee. It was unclear if they would have to still apply for a license.

Outgoing Agriculture Sec. Dennis Wolff, who was named in the suit, did not return a call seeking comment.
[Wolff, who advocated for the legislation on behalf of Gov. Rendell, has joined Versant Strategies, the lobbying firm now representing the Pennsylvania Professional Dog Breeders Association, whose members include some 300 commercial kennels.]
The new dog law, which applies to breeders who sell 60 or more dogs a year or sell dogs to pet stores, establishes higher standards for large kennels among them, larger cage sizes, mandatory exercise, veterinary exams for breeding dogs. It also bans wire cage flooring and stacking of cages. The structural changes under the new law goes into effect on Oct 9.
Amy Worden, Inquirer Staff Writer
There will be no more Eagles predictions from Princess, the camel - at least not for a while.
The popular prognosticator of the Popcorn Park Zoo in Forked River, New Jersey has put her hoof down about Michael Vick.
Amy Worden, Inquirer Staff Writer
The Pennsylvania SPCA may be keeping mum on where it stands on Michael Vick and the Eagles animal welfare action plan, but it is sending out a strong - and graphic - video message about dog fighting.
The PSPCA, which says it is investigating an increasing number of dog fighting cases in Philadelphia, takes in thousands of pit bulls every year - many of them victims of abuse and many of which are euthanized.
Now the PSPCA is shopping around this public service announcement that lays bare the truth about dog fighting and its innocent victims.
Amy Worden, Inquirer Staff Writer
Facing a severe funding crisis, a highly-touted Philadelphia horsemanship program that puts disadvantaged youngsters in the saddle, sent out a desperate plea for help last month.
At the time, Work to Ride staffers wondered if they'd have enough cash to feed their 23 horses stabled in Fairmount Park, let alone continue riding lessons and its world class polo program. But their prayers were answered thanks to donors who gave $75,000 to keep the program afloat.
Amy Worden, Inquirer Staff Writer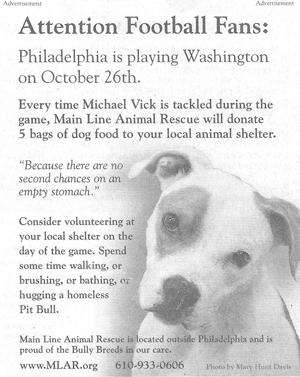 Main Line Animal Rescue in Chester Springs thinks Michael Vick should take a few hits for the dogs for a change.
The group is sponsoring this ad that ran in a NFL special section in the Washington Post today and plan to sponsor ads in other cities where the Eagles play to raise awareness about unwanted and abused pit bulls.
Amy Worden, Inquirer Staff Writer
The Michael Vick redemption tour made its first stop in Philadelphia today.
Speaking at a charter school in Feltonville, Vick warned students about the dangers of dog fighting and urged them not to succumb to peer pressure. The appearance was Vick's third on behalf of the Humane Society of the United State's anti-dog fighting campaign. HSUS president Wayne Pacelle joined Vick at the event.
Read the Inquirer story here.
Amy Worden, Inquirer Staff Writer
A record health care fraud settlement involving drugmaker Pfizer topped business headlines last week.
The $2.3 billion settlement resolved lawsuits by federal and state prosecutors that the drug company engaged in improper marketing for numerous prescription drugs and kickbacks to promote drugs.
Pennsylvania received $14 million as part of the settlement. According to state Attorney General Tom Corbett off-label marketing involves promoting a drug for uses that have not been approved by the U.S. Food and Drug Administration (FDA). Corbett explained while it is not illegal for a physician to prescribe a drug for an unapproved use, federal law prohibits a manufacturer from promoting a drug for uses not approved by the FDA.
Amy Worden, Inquirer Staff Writer
The Jewish High Holy days of Rosh Hashanah and Yom Kippur are ushered in every year with the traditional blowing of the shofar, or ram's horn.
Here Salt Lake City Rabbi Benny Zippel's solo shofar demonstration turns unexpectedly into a duet.