Archive: August, 2009
Amy Worden, Inquirer Staff Writer
Steve Hoffman of Lansdale never considered himself an animal rightist. He said he's just a regular animal lover with a rescue cat, who brings ribbon-tied cases of Milk Bones to his customers at Christmas and every now and then helps others who can't pay their vet bills.
What was his other passion? The Eagles. That was until Friday when he learned the team had signed convicted dog killer Michael Vick.
"This just freaked me out," said Hoffman, 62, who owns an auto parts business and has been a season ticket holder, since - as he put it - "the days at Franklin Field" - at least 40 years he figures. He and his now-grown daughter bonded over football when she was a small child and enjoyed games together for decades.
Amy Worden, Inquirer Staff Writer
A Philadelphia-based animal welfare group is asking the Eagles to put their money where their mouth is.
DogPac, a political action committee and advocacy group, sent a letter to Eagles owner Jeff Lurie today asking him to match every dollar he pays Michael Vick with a donation to area animal shelters.
That means a total of $6.6 million over two years.
Amy Worden, Inquirer Staff Writer
UPDATE: Tonight's press event has been cancelled due to inclement weather.
To spice up the summer adoption doldrums, Philadelphia Animal Welfare Society launches its "Wally's Week" adoption event Thursday.
With successes in other major cities, best-selling author Marsha Boulton is bringing "Wally's Week" to Philadelphia Animal Welfare Society (PAWS) in Old City. Anyone adopting a dog from PAWS between August 21 through August 28 will receive a canvas gift bag filled with "Wally's Week" sponsors' goodies to smooth the transition from shelter life to forever home for dog and adopter.
Amy Worden, Inquirer Staff Writer
It was a well-orchestrated break-in with a specific target.
The thief disabled the power, broke a padlock and pried off a window to get inside the Humane League of Lancaster County's shelter Tuesday morning. He then snatched a 7-month-old pit bull puppy from his pen and fled.
A witness saw a man wearing black fleeing with the puppy named Vega, but it was too late to stop him.
Amy Worden, Inquirer Staff Writer
The state House gave final approval (179-10) yesterday to animal cruelty legislation that would make it illegal for anyone other than a veterinarian to perform certain surgical procedures on dogs.

The bill (HB 39) would prohibit owners and breeders from performing debarking (cutting or destroying a dog's vocal cords) and Caesarean sections on the dogs in their care. It also specifies that only vets shall perform ear cropping and tail docking on a dog over five days old. [Breeders may perform the procedure from birth to five days.)

The bill, first introduced last session, was re-introduced in January by sponsor Rep. Thomas Caltagirone (D., Berks) who said he wanted to halt the practice of untrained individuals performing these complicated procedures.
"Hopefully this will stop these horrific practices from going on," said Caltagirone, who held up Senate bills in the Judiciary Committee which he chairs this spring, in order to pressure his counterpart in the Senate, Sen. Stewart Greenleaf (R., Bucks) to move the cruelty bill out of his committee.
Bill Smith, founder of Main Line Animal Rescue, has saved a number of dogs from Pennsylvania puppy mills with mangled ears and tails, broken jaws, cracked teeth, scarred vocal chords from debarking and organs tied together with baling twine from botched C-sections, evidence that no vet performed the procedures.
Amy Worden, Inquirer Staff Writer
Sparks flew on WHYY's Radio Times's discussion of the Michael Vick signing yesterday: There was Jeff Lurie's recent donation to a local animal rescue group, Gov. Rendell's comment about Vick serving his sentence with "grace and dignity" and his suggestion Vick and animal welfare crusader and Phillies star Chase Utley appear in a public service announcement together.
Here's what the Inquirer reported about that debate in today's paper:
Bill Smith, the cofounder of Main Line Animal Rescue, said yesterday on WHYY radio that Eagles owner Jeff Lurie made a $1,500 donation to the local animal welfare organization before the team announced that convicted dogfighter Michael Vick had joined the squad.
Amy Worden, Inquirer Staff Writer
Marsha Reines Perelman, a longtime animal welfare advocate from Wynnewood, has been named the new chairman of the board of the ASPCA.
"Marsha has shown an incredible dedication to animals since joining our Board 10 years ago," said ASPCA president and chief executive Ed Sayres. "She has personally and professionally committed herself to the ASPCA's mission of fighting animal cruelty, and we have no doubt that she will bring that commitment to her new leadership role."
Perelman, a member of Gov. Rendell's Dog Law Advisory Board, said the ASPCA is completing a major refocusing of its efforts in the areas of animal cruelty, animal health and community outreach. She said she looks forward to helping advance the anti-cruelty cause, particularly dog fighting, puppy mills and farm animal abuse.
Amy Worden, Inquirer Staff Writer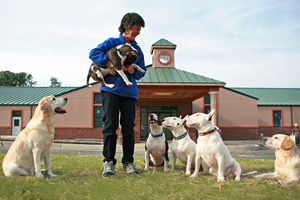 Mary Remer trains show dogs and family pets on the grounds of her family's Main Line estate, Ardrossan, former home to storied socialite Hope Montgomery Scott - an inspiration for Katherine Hepburn's character in "The Philadelphia Story." The circular driveway and sweeping fields are the backdrop to puppy classes, manners classes (preferable to "obedience," Remer says) and show training for about 150 dogs a week. Today, she's in the house at philly.com to answer your toughest behavior questions.