Archive: August, 2009
Amy Worden

, Inquirer Staff Writer

A Montgomery County woman, despondent about her finanacial woes and the care of 29 pets, is being charged with multiple counts of animal cruelty after trying to kill her cats and a dog with rat poison.

Here's the report from my colleague Bonnie Cook:

Linda Muchnick was charged yesterday with one count of cruelty by killing an animal, and 28 counts of attempted animal cruelty by poisoning, Montgomery County District Attorney Risa Vetri Ferman said.
Amy Worden

, Inquirer Staff Writer

The Gap goes cageless. Gap Inc. - parent company of the Gap, Banana Republic and Old Navy - has joined the list of leading California companies—like Google, Yahoo! and Bon Appétit Management Company—in switching to cage-free eggs for its corporate cafeterias. The decision came after the San Francisco-based company learned that factory farms confine most egg-laying hens in the U.S. in tiny battery cages where each hen has less space than a standard sheet of paper on which to live for more than a year before she's slaughtered. California voters last year passed the Prevention of Farm Animal Cruelty Act outlawing the confinement of hens in battery cages statewide (with a phase-out). National chains Burger King, Wendy's, Quiznos and Denny's have also started using cage-free eggs.

Dog my ride - Time was when cowboys tossed old Ranger in the back of the pick up and took off down dusty roads. Today - not only is that kind of riding illegal in most places - but many pet owners are thinking about car safety for their pets and there are all kinds of nifty features available including ramps, climate control and confinement systems. Now pet safety and automotive experts teamed up to come up with the Top 10 pet vehicles. Here's the list.

Crime and Punishment - It's been six weeks since a Northeast Philadelphia family's house was broken into and their beloved parrot Tex swiped, along with computers and jewelry and other items. Jackie and Barry Miller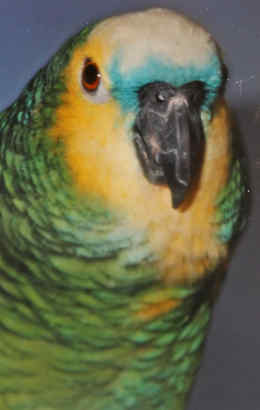 returned home from vacation July 7 to find their home ransacked and Tex - a 24-year old bluefront Amazon parrot gone. The Millers desperately want their family member to come home safely. My colleague Gloria Campisi of the Daily News has the story here.
Amy Worden

, Inquirer Staff Writer

Eagles president Joe Banner met with local shelter and rescue groups today in what animal welfare advocates hope will be the first step in the team's effort to respond to the plague of dog fighting in Philadelphia.

"It was a very good meeting," said Tom Hickey Sr., founder of DogPac political advocacy group and a member of the state Dog Law Advisory Board. "Ninety percent of the meeting was about what the Eagles can do locally."

The individual who prompted the discussion, Michael Vick, was not present, nor was he the focus of the discussion, Hickey said. Vick, who has pledged to be an anti-cruelty "ambassador" to inner city communities as part of his rehabilitation, is working with the Humane Society of the United States' anti-dog fighting campaign.
Amy Worden

, Inquirer Staff Writer

Almost a week after the Eagles announced they had signed America's best known convicted dog fighter, a Philadelphia man learned he will get prison time for dog fighting.

On Wednesday Common Pleas Court Judge Roger Gordon convicted Anthony Clark on two counts of felony animal fighting for his role in a Philadelphia dog-fighting ring. Clark was also convicted on three misdemeanor counts of animal cruelty and a felony drug charge of possession with intent to deliver.

He was sentenced to a total of four to eight years in prison: a mandatory three to six years for the drug charge followed by one to two years for the dog fighting case.
Amy Worden

, Inquirer Staff Writer

My colleague Troy Graham reports that today officers from the Pennsylvania SPCA uncovered a dog-fighting ring at an East Germantown home and rescued several badly injured pit bulls found there.

Here's his story:

Following a tip to an animal cruelty hotline, the officers discovered two dead dogs and five others at the home, in the 200 block of East Bringhurst Street.
Amy Worden

, Inquirer Staff Writer

Vega, the 7-month-old pit bull puppy stolen from a Lancaster shelter in a brazen break-in on Tuesday, is safe.

Authorities received an anonymous tip that a dog matching the description of the stolen puppy was seen tied up at a business in Lancaster and recovered him there, according to Fox 43 TV.

Police found Vega around 3 a.m. tied out with a bag of toys beside him.
Amy Worden

, Inquirer Staff Writer

More than a week after the Michael Vick deal became public, the nation's oldest animal welfare group has weighed in. In a stinging statement released yesterday, the ASPCA condemned "60 Minutes" for giving Vick a forum and said it was "extremely disappointed" with the Eagles owner Jeff Lurie for hiring him.

The group says that Vick's PR team approached them about working with him but the APSCA turned Vick down. [The Humane Society of the United States later agreed to give Vick an opportunity to work with their inner city anti-dog fighting campaign and he has so far made appearances in Chicago and Atlanta.]

Here is the statement released by Ed Sayres, the ASPCA president and CEO:
Amy Worden

, Inquirer Staff Writer

The Philadelphia Eagles have called for a meeting with area animal welfare groups Monday to discuss dogfighting in the wake of their signing Michael Vick.

When asked about the format, the Eagles said they would "just listen," said Gail Luciani, spokeswoman for the Pennsylvania SPCA.

She said the Eagles were going to invite a lot of animal welfare groups, seeking to be inclusive, including the Chester County SPCA, Delaware County SPCA and Main Line Animal Rescue.