Archive: July, 2010
Amy Worden, Inquirer Staff Writer
A Chester County veterinarian, who was convicted of animal abuse, can once again practice medicine.
A spokesman confirmed that the state Board of Veterinary Medicine last month lifted the temporary suspension imposed on Tom Stevenson of Honeybrook in May 2009.
Kevin Murphy, public relations director for the Department of State, said the board would issue its final order in the near future.
Amy Worden, Inquirer Staff Writer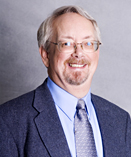 About our chatter: Dr. Randall Lockwood joined the ASPCA in 2005 and is currently Senior Vice President of the ASPCA's Forensic Sciences and Anti-Cruelty Projects. For more than 25 years, Dr. Lockwood has worked with humane societies and law-enforcement agencies, serving as an expert on the interactions between people and animals. He has testified in numerous trials involving cruelty to animals or the treatment of animals in the context of other crimes, including dog fighting, child abuse, domestic violence and homicide. Dr. Lockwood lives in Falls Church, Va., with his wife, daughter and one cat.
Amy Worden, Inquirer Staff Writer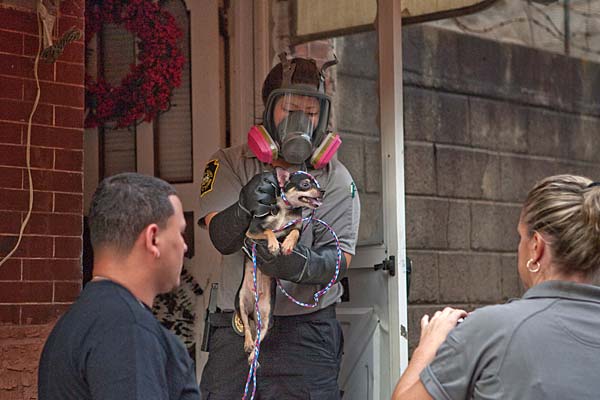 Photo David Warren/Inquirer
THURSDAY UPDATE - From my Inquirer colleague Peter Mucha: The PSPCA reports that a total of 85 live chihuahuas and chihuahua mixes were removed from Earp St., along with three cats. They also found the bodies of two dead dogs in the house. If neglect or abuse was involved, the homeowner could face misdemeanor charges, according to Liz Williamson, spokeswoman for the Pennsylvania SPCA.
For each of the 85 living dogs, and two cats also found, a summary offense of unsanitary confinement could be charged, with a possible 90 days in jail and a $750 fine, Williamson said. Lack of veterinary care, another potential charge for each dog, carries similar possible consequences, she said.
Amy Worden, Inquirer Staff Writer
CLARIFICATION - Bureau of Dog Law Enforcement spokesman Justin Fleming called to remind me that while state dog wardens do not have open access to a kennel property once a license is given up, they do, as exemplified in the case below, have the ability to enter a property after obtaining a warrant. Anyone with information about an unlicensed kennel or other kennel-related issue should call 1-877-DOG-TIP1. (1-877-364-8701) or submit a complaint through the Department of Agriculture website: http://bit.ly/dmGvyL
The state Bureau of Dog Law Enforcement has issued its first citation against a breeder gave up his license rather than comply with the new dog law but continued to operate a kennel.
Dog wardens cited Paul S. Ebersole, of Chambersburg, for illegally operating a kennel without a license and other misdemeanors.
Amy Worden, Inquirer Staff Writer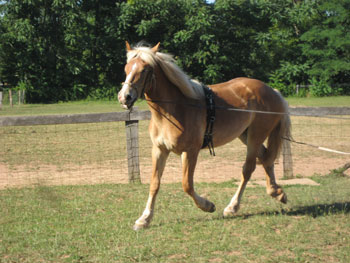 In the early 1970s - when I encountered my first horse - people rode horses, they generally didn't understand horses. I was seven and had signed up for lessons with my Brownie troop at Wheaton Park stables outside of Washington, D.C. In a freezing cold indoor arena one winter, a big, gruff, cigar-chomping man named Mr. Butts (of all things) tossed me on the back of an equally large horse, whacked his rump and away we went. We learned to ride with aids, heavy-handed methods of urging a horse to move (crop) or stop (jerk on reins).
Not anymore. Two decades ago trainers began to use subtler methods of communication and developed techniques for horse owners to build real relationships with their equine friends. This opened the door to the horse whisperers of the world, who travel the countryside like itinerent preachers spreading their gospel of horse training, generically known as "natural horsemanship."
Among them all, Clinton Anderson, a handsome, charismatic Aussie, is a mega-star.
Amy Worden, Inquirer Staff Writer
Gov. Rendell sent a stern message to his own Department of Agriculture today: No wire flooring means no wire flooring.
Eight days after the department released its controversial policy to allow adult female dogs in commercial breeding kennels to spend months on wire floors - in contradiction to the hard-fought 2008 dog law - Rendell has asked the agency's top official to pull the regulations and start over.
In a letter to Agriculture Secretary Russell Redding sent today, Rendell wrote:
Amy Worden, Inquirer Staff Writer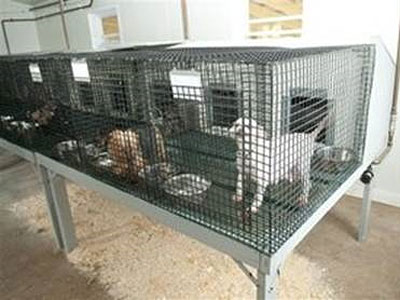 When Gov. Rendell signed the dog law outside a Philadelphia area veterinary clinic on Oct. 9, 2008, surrounded by lawmakers and animal advocates, he proclaimed it marked the end of wire cage flooring for adult breeding dogs.
Now the agency charged with enforcing the law has determined that breeding females can be housed on wire flooring for almost one third of the year. The policy also would exempt commercial breeders from the requirement for "unfettered access" to outdoor exercise for part of the year. The ban on wire flooring and exercise requirement were two of the most important components of the legislation sought by animal welfare advocates.
In a policy statement released yesterday, the Bureau of Dog Law Enforcement said it would allow female dogs to be kept on wire flooring one week before giving birth and until the puppies are weaned at five or six weeks. Then breeders would be required to return the dog to its solid floor cage.
Amy Worden, Inquirer Staff Writer
A compelling piece in the June 13 edition of the New York Times magazine, tells readers what shelter operators - both those that house animals and those that house women and children - already know: there is a strong link between animal abuse and domestic violence.
Among the startling statistics contained in the article: a 1997 survey of shelters in 48 of the nation's largest cities found 85 percent of women and children who sought help reported incidents of animal abuse at home.