Archive: July, 2009
Amy Worden

, Inquirer Staff Writer

Camden activists angry about city feral cat proposal - A coalition of NJ animal protection groups says an ordinance scheduled for consideration by the Camden City Council today will harm efforts to help feral cats. Animal welfare advocates say the ordinance purports to set up Trap Neuter Return (TNR) policy, but in fact places untenable restrictions on private groups who act as feral cat caretakers. The ordinance would restrict trapping to Camden residents only, place limits on the hours TNR can be done and set requirements for spay/neuter services. Private nonprofits already handle TNR in Camden at residents' request, finding homes for kittens and getting adult cats fixed and vaccinated at no cost. In 2008, Camden spent almost $60,000 trapping, impounding, and killing more than 1,000 street cats brought in by animal control officers, according to animal welfare activists.

Statehouse Watch -- HB 39 - otherwise known as the animal cruelty bill - is on the Senate Judiciary Committee calendar today. Does that mean the standoff between House Judiciary Committee Chairman Rep. Tom Caltagirone and his counterpart in the Senate, Sen. Stewart Greenleaf is over? Caltagirone, the bill's sponsor, had threatened to hold up all Senate bills before his committee until Greenleaf moved the cruelty bill. Suddenly Senate bills began appearing on the House Judiciary calendar and HB 39 turned up on the Senate calendar. Greenleaf's aides could not say if the bill would be voted out. To recap, the bill - which forbids anyone except veterinarians from performing certain surgeries, such as debarking and C-sections - passed the state House unanimously in March. It sat in the Senate Agriculture Committee before being voted out in May and sent over to Judiciary.

Tennessee Gov. Phil Bredesen last week signed legislation that for the first time requires basic humane care standards for dogs in commercial kennels and requires these facilities operate as legitimate businesses, subject to licensure and inspection. The Tennessee Commercial Breeder Act requires large scale commercial breeding operations with more than 20 unsterilized female dogs maintained for breeding purposes to acquire a license from the Department of Health, establish inspections as a prerequisite for licensure and implement humane care standards for dogs and cats. The bill also calls for commercial breeding operations to comply with state sales tax requirements, and it holds mass dog producers accountable to consumers by forcing adherence to the consumer protection act. In June 2008, the Humane Society of the United States was the lead animal welfare agency in the largest puppy mill bust in Tennessee history. More than 700 animals were rescued from deplorable conditions and put up for adoption at humane organizations across the country. The puppy mill owner was charged with 24 counts of felony aggravated cruelty and nine counts of misdemeanor animal cruelty.


Crime and Punishment - A 10-year-old Norristown boy was arrested last week and charged with animal cruelty for allegedly beating and seriously injuring a puppy, according to the Times Herald of Montgomery County. The boy reportedly at first lied to police suggesting someone older had hit the 12-week-old dog with a stick in an incident in June, but later admitted to committing the act, according to Norristown police Chief Russell Bono. The German Shepherd mix dog was taken to the Montgomery County SPCA with broken bones in two legs. SPCA officials said the initial surgery bill was $3,630, and that the puppy would need extensive additional care. A Norristown woman who stepped forward to claim she owned the puppy said she was unable to pay for its medical expenses and signed it over to the SPCA.

Convicted Virginia puppy mill operator Lanzie "Junior" Horton has been ordered not to own or operate a dog kennel. The order came Friday after Horton was found guilty on two counts of animal neglect and other charges. Horton was charged under Virginia's new puppy mill law. This is Horton's second conviction for animal-related neglect charges since 2007 when he was convicted of 25 counts of neglect and 14 counts of cruelty. The law, which went into effect on January 1, limits the number of breeding dogs at one kennel to no more than 50, and requires female dogs to be examined by a veterinarian prior to breeding. In January 2009, an unannounced inspection of Horton's property in Hillsville, Va. uncovered numerous violations of the law and resulted in charges against Horton. The charges included multiple counts of neglect, harboring too many adult dogs and failing to maintain adequate health records. In Nov. 2007 law enforcement and animal welfare groups raided Horton's Pups puppy mill and removed more than 700 dogs from deplorable conditions. In 2008 Horton was convicted of 14 counts of animal cruelty but was allowed to keep a maximum of 250 dogs. The conviction was appealed twice and was upheld both times.

Amy Worden

, Inquirer Staff Writer

A western Pennsylvania woman has pleaded guilty to multiple counts of animal cruelty more than a year after agents raided her property and found hundreds of cats - most of them suffering from highly contagious diseases - on her 29-acre property.

Linda Bruno, 47, of Tarentum, pleaded guilty to 12 misdemeanor animal cruelty charges and two other counts of tampering with evidence. Prosecutors withdrew more than 500 other charges based on the roughly 750 cats found on her property. Bruno, who operated Tiger Ranch sanctuary, will be sentenced Oct. 5 and could face jail time. A spokesman said the Allegheny County District Attorney's office will argue for incarceration at that time.

Under terms of the plea agreement Bruno, who was also known as Lin Marie, will not be able to own, control or possess any animals.
Amy Worden

, Inquirer Staff Writer

To insure or not, a question many pet owners face when considering the health care needs of their companions. Just like human health insurance plans, pet insurance plans come with a range of costs and coverages. Some only cover catastrophic illnesses or accidents others cover preventative care, even flea and tick treatment.

The Patriot-News of Harrisburg today examines the issues pet owners should consider before buying a policy and found one couple with a surgery-prone pit bull whose policy has paid off many times over.
Amy Worden

, Inquirer Staff Writer

An Iraq war veteran suffering from post-traumatic stress disorder was contemplating suicide before Tuesday.

Tuesday the Golden Retriever that is.

Luis Montalvan of New York now credits his three-year-old service dog with saving his life. Tuesday is a psychiatric service dog, a new kind of working dog trained to recognize moods and come to the rescue when their owners are feeling down.
Amy Worden

, Inquirer Staff Writer

Law enforcement officers this week executed the largest coordinated dog fighting raid in U.S. history, sending a message they said, of a zero tolerance policy on this illegal blood sport. Federal and state agents swept through five states on Tuesday, arresting 26 people and seizing nearly 400 pit bulls.

But what will become of the innocent victims? The Humane Society of Missouri is caring for many of the dogs seized this week. But urban shelters around the country are overloaded with pit bulls - whether part of dog fighting rings or backyard breeding or just status symbols, they are too often the victims of cruelty and neglect. Look at the Pennsylvania SPCA's list of adoptable pets. Easily 90 percent of the available dogs in Philadelphia's primary shelter are pit bulls, some with "urgent" notices next to their names, an indication that their days in the shelter are numbered.

Rehabilitating fighting pit bulls present enormous challenges for shelters and rescue groups. For instance, many of the dogs seized at Michael Vick's Bad Newz Kennel found homes, but some severely traumatized dogs will likely spend their lives in the care of trained staff at Best Friends Animal Society in Utah.
Amy Worden

, Inquirer Staff Writer
Animal rights activists say they will smash a giant bottle of "bloody" maple syrup today in front of the Canadian consulate in Philadelphia to protest the slaughter of baby seals.
People for the Ethical Treatment of Animals (PETA) has been staging the protests around the country - and calling for a boycott of Canadian maple syrup products - to try to pressure the Canadian government to stop the practice of clubbing baby seals for their fur pelts.
Amy Worden

, Inquirer Staff Writer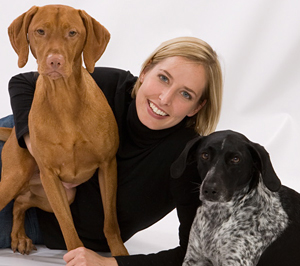 Leigh Siegfried began her work with dogs as a volunteer at a nonprofit animal shelter. Leigh is a Certified Pet Dog Trainer and her experience includes managing an award-winning dog daycare and training facility, as well as working as the Behavior and Manager for the Washington Animal Rescue League (WARL).
While at WARL she performed behavior evaluations, provided follow up support for adopters and implemented enrichment and training programs. She also had the unique opportunity to create enrichment protocols for 11 of the seized Michael Vick dogs while they were awaiting release to rescue. Currently when not working with dogs and their people, Leigh is on the road, speaking and training other folks. She's been a featured speaker at HSUS Expo and Petfinder Adoption Options.
She is an Associate member of the International Association of Animal Behavior Consultants and is a Member of the Association of Pet Dog Trainers. She conducts private behavior counseling sessions, group training classes in basic and advanced manners and agility, and a variety of workshops. Opportunity Barks classes are held in Philadelphia and Quakertown, PA. Visit www.opbarks.com for more info!
Amy Worden

, Inquirer Staff Writer

A former Lehigh County dog breeder is facing a $152,900 penalty for failing to meet the conditions of his state license revocation.

The Department of Agriculture fined Derbe Eckhart, owner of Almost Heaven kennel, $100 a day for each of the 216 illegal dogs in his possession after the period allowed to disperse the dogs. He also was charged for illegally obtaining 17 dogs while his license revocation was on appeal.

It is only the second time the agency has issued a penalty against a kennel operator since the passage of the amended dog law last October. The first penalty of $15,000 was assessed against Eckhart in June for acquiring 30 additional dogs in violation of his suspension agreement.