Archive: June, 2011
Amy Worden, Inquirer Staff Writer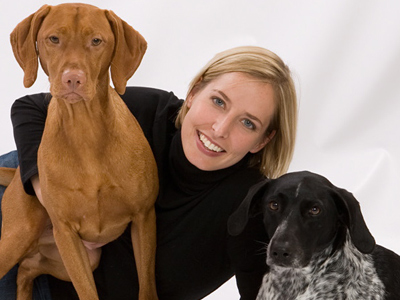 Leigh Siegfried is an Associate member of the International Association of Animal Behavior Consultants and is a Member of the Association of Pet Dog Trainers. She conducts private behavior counseling sessions, group training classes in basic and advanced manners and agility, and a variety of workshops. Opportunity Barks classes are held in Philadelphia and Quakertown, PA. Visit www.opbarks.com for more info.
On a mobile phone? Click HERE to join the chat!
Amy Worden, Inquirer Staff Writer
Back in the dark of ages of Pennsylvania dog law (circa 2002), long before Oprah Winfrey catapulted the state and its infamous "puppy mills" onto the world's stage, a small band of women set out to find out why so many breeding dogs were suffering in filthy kennels.
They quietly but persistently sent email requests for documents and questioned why inspection reports noted repeated violations yet so little had been done to hold the breeders accountable.
They asked then-gubernatorial candidate Ed Rendell if he would do something to help. He promised he would "immediately redress the problem" if elected.
Amy Worden, Inquirer Staff Writer
Gov. Corbett has replaced the head of the Bureau of Dog Law Enforcement and is restructuring the office just two weeks before the final regulations governing commercial kennels go into effect.
The news alarmed some members of the Dog Law Advisory Board who fear it could signal a reversal of the progress made toward humane treatment of dogs in a state once known as the "the puppy mill capital of the East."
But a spokeswoman for the Department of Agriculture said Corbett will continue to fight to protect dogs as he did as attorney general.
Amy Worden, Inquirer Staff Writer
We learned late this evening that our updated story on the decision to install a new chief of dog law enforcement would not appear in Thursday's print edition of the Inquirer for space reasons. With a news hole as deep as space here online, we bring you the story as it would have appeared.
Pennsylvania's top "dog cop" was replaced Wednesday in an agency shake-up that left animal welfare activists voicing concern about the fate of the state's model law governing commercial dog-breeding kennels.
Jessie Smith was appointed by Gov. Ed Rendell in 2006 as his point person in the fight to end Pennsylvania's reputation as the "puppy mill" capital of the East. In her role as special deputy secretary for the Bureau of Dog Law Enforcement, Smith was responsible for implementing the landmark 2008 dog law that toughened standards in large kennels, including mandating larger cage sizes, outdoor exercise, and veterinary care.
Amy Worden, Inquirer Staff Writer
We pause the Delco stray animal rescue clock (see right hand column on web page) at 15 days, 9 hours, 33 minutes to bring you the following bulletin:
The Delaware County Council has formally requested that the SPCA extend the cut-off date for animal control services beyond June 30.
The letter written by Councilman Mario Civera seeks an extension until Dec. 31 and invited SPCA officials to a meeting with county council members, according to the Delaware County Times.
Amy Worden, Inquirer Staff Writer
A major tax victory for an Oakland woman who cares for 70 stray felines proves one thing: the federal government should never underestimate the power of cat ladies.
Jan Van Dusen took her case to a U.S. Tax Court judge and a team of Internal Revenue Service lawyers - who tried to portray her as a crazy cat lady - more than a year ago, seeking to deduct expenses for caring for dozens of cats in her home for an IRS-approved charity, according to the Wall Street Journal.
She said she spent more than $12,000 of her own money to help cats for a group called Fix Our Ferals.
Amy Worden, Inquirer Staff Writer
Johanna Hale devoted much her 50 years on this planet to animals of all sizes. She once dreamed of being a cowgirl. Living on a ranch out west with her horses and dogs.
When the devastating tornado struck Joplin, Missouri on May 22, Hale died trying to save her beloved mutt Star.
Amy Worden, Inquirer Staff Writer
How many cats and dogs are given up to shelters each year because of children's allergies? A lot.
Now there's good news for expecting parents and family pets: having a dog or cat around when your child is an infant helps prevent kids' allergies later in life.
Resarchers say parents often worry whether having animals in the home will increase the risk of their children developing pet allergies.