Archive: June, 2010
Amy Worden, Inquirer Staff Writer
The death toll from the BP oil spill is 597. And that's just the number of dead birds found along the Gulf Coast so far.
Animal care teams - armed with cases of Dove soap - are hard at work throughout the Gulf Coast region cleaning birds and other wildlife victims of the worst oil spill in the nation's history. Some critics call the effort futile and say the human hours would be better spent restoring wildlife habitats.
Amy Worden, Inquirer Staff Writer
A Lehigh County dog breeder and American Kennel Club judge was cited by the state for operating a kennel without a license.
Dog wardens, acting on an anonymous tip, found 69 dogs and puppies on the Coopersburg property of attorney M. J. Cohen on Monday. Records show Cohen also sold 37 puppies since January.
State law requires anyone keeping or transferring more than 25 dogs in a year to have a kennel license.
Amy Worden, Inquirer Staff Writer
(Photo: KYW)
A Philadelphia carriage horse is recovering tonight after being attacked by a dog in Old City. The dog, a pit-bull mix, broke free from its collar after being spooked by traffic and noise lunged at the Belgian draft horse, biting its upper leg. The horse was taken back to the stable for treatment. The dog was rescued recently after its owner threw it from a moving car, said Melissa Levy, executive director of Philadelphia Animal Welfare Society, which took in the dog from the Pennsylvania SPCA two weeks ago.
Amy Worden, Inquirer Staff Writer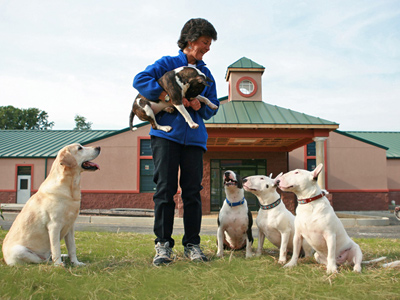 Amy Worden, Inquirer Staff Writer
There will be no hog flooring in Pennsylvania's commercial dog breeding kennels.
After fierce letter-writing campaigns, endless debate and even a vigil at Gov. Rendell's East Falls house, the board responsible for conditions in commercial kennels voted to reject so-called "hog flooring."
Amy Worden, Inquirer Staff Writer
Five months ago Hailey, a six-year-old Boxer, and Kilo, a five-year-old Husky, were living at the end of their chains in several feet of snow in north-central Pennsylvania.
When anti-chaining activist Tamira Ci Thayne brought them food and straw the owners had her charged with trespassing.
On Sunday, in what Thayne calls "a miracle," the dogs' owners turned them over to her. Thayne runs Dogs Deserve Better an Altoona-based group that advocates for anti-chaining laws nationwide.
Amy Worden, Inquirer Staff Writer
When the Canine Health Board meets Tuesday the topic is clearly stated on the agenda: decide what, if any, alternative kinds of flooring besides solid or slatted floors will be acceptable in commercial dog kennels.
What's not clear is who's going to be sitting on the board.
Amy Worden, Inquirer Staff Writer
A new hospital for horses and new housing for pigs at the University of Pennsylvania's School of Veterinary Medicine.
On Saturday, Penn Vet celebrated the opening of the new James M. Moran Jr. Critical Care Center on the campus of its famed New Bolton Center in Kennett Square (where, you may recall, veterinarians worked valiantly for months to try to save the life of Kentucky Derby winner Barbaro). The $14.2 million facility is designed to provide state-of-the-art care and the highest level of biosecurity to minimize the spread of disease.