Archive: June, 2009
Amy Worden, Inquirer Staff Writer
Humane officers last night seized dozens of additional animals - including monkeys, birds, cats and horses - from the Lehigh County kennel where 216 dogs were removed 24 hours earlier.
Agents from the Pennsylvania SPCA and Lehigh County Humane Society executed a search warrant at Almost Heaven kennel, the problem-plagued facility ordered shut down by state yesterday, where they found more sick and injured animals.
A PSPCA veterinarian was on the scene evaluating animals late tonight, so the count of animals removed is preliminary, but it is believed about 20 cats, five dogs, two horses, "a roomful of birds" and as many as five spider monkeys were taken to shelters.
Amy Worden, Inquirer Staff Writer
Officials close Lehigh County kennel, seize 216 dogs
By Amy Worden
Inquirer Staff Writer
Animal welfare officials, acting under a new law, moved in today and shut down a Lehigh County dog breeding kennel with a history of abuse and filthy conditions.
Agents of the state Bureau of Dog Law Enforcement and the Humane Society of the United States are removing 216 dogs from the Almost Heaven Kennel in Emmaus.
Amy Worden, Inquirer Staff Writer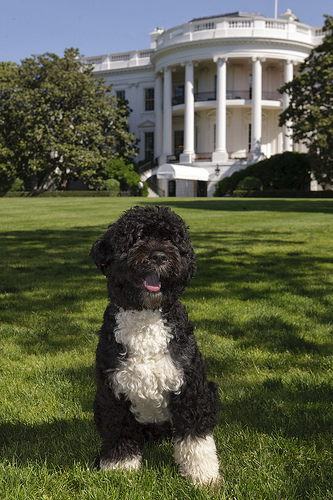 Brangelina's got nothing on BObama.
The spunky seven-month-old Portuguese Water Dog puppy who joined President Obama and his family in April is everywhere: he's got his official White House portrait, his own baseball card, made appearances on NBC and CBS. There are books featuring Bo's adventures and Bo Beanie babies on the store shelves. Snap shots of Bo running down the White House halls trailing his Master in Chief, taking the First Lady for a walk. The puparazzi just love him.
And then Bo's found the spotlight on national TV, bounding about for the cameras. The president said this to CBS News' Harry Smith, for a Father's Day interview that aired Sunday morning: "Bo's a teenager. He's a puppy still. And he, every once in a while, does get a little frisky. But I would not want just a passive dog. I want a dog with a little bit of spirit. And he definitely has some spirit."
Amy Worden, Inquirer Staff Writer
Bringing home a dog that has spent its life in a cramped cage with little human contact presents unique challenges. Scarred by abuse or neglect they often have trouble with the simplest of activities: putting on a harness, walking on a leash, settling into a confined space.

Two trainers who have helped rehabilitate puppy mill dogs seized during raids conducted by the Humane Society of the United States have brought their knowledge to the public in a new DVD, "Adopting a Puppy Mill Dog (everything you need to succeed)."

Leigh Seigfried, of Quakertown, is a professional dog trainer who has managed an award-winning dog day care and training center. Elizabeth Marsden, of Chaplin, CT, is a professional dog trainer who has worked in nonprofit animal shelters. Together they are Mission Dog, offering enrichment training sessions and workshops for shelters and rescue groups.
They discovered that enriched dogs - those provided with proper exercise, socialization and mental stimulation - are successful and relaxed, while under-enriched dogs are more stressed, exhibit behavior problems, and simply are frustrating for owners or staff who aren't sure how to meet their needs.
Their DVD is aimed at the puppy mill survivors, the least enriched dogs of all. The 20-minute DVD introduces timid dogs who have never been walked to a harness and leash, coaches them through their first walk and offers tips for dealing with stress and providing a comfortable confinement area.
Amy Worden, Inquirer Staff Writer
Pigeon bill gets lift from lawyers - Pennsylvania Bar Association delegates, who represent over 29,000 lawyers in the Commonwealth, voted recently to support legislation to outlaw pigeon shoots in the state. It is believed to be the first time in the history of the association that it has endorsed legislation related to the humane treatment of animals. Bills are perched in both chambers (H.B. 1411 and S.B. 843) to end to live pigeon trap shoots in Pennsylvania, the last state where they are openly practiced. Participants compete for prizes to shoot live birds launched from mechanical boxes only a few feet from the shooters. Thousands of birds are killed and many more who are maimed die slow deaths from their injuries.
The bills will also stop block shoot events where live, tame, white turkeys have had their feet tied to bales of hay to be shot with arrows by people standing a few away. The bills have received near universal support from newspaper editorial pages, but face stiff opposition from the NRA and the Pennsylvania Flyers Association, the lobby for pigeon shooters. Both groups claim the passage of a law banning pigeon shoots would open the door to banning hunting.
Amy Worden, Inquirer Staff Writer
The Pennsylvania SPCA's Medical Director Dr. Rachel Lee's chat on exotic pets has been cancelled. Sorry for the inconvenience!
Dr. Rachel Lee, a native New Yorker, received her BS in Animal Science from Cornell University in 2003 and her DVM from the Atlantic Veterinary College at the University of Prince Edward Island in 2007. After graduation, she spent a year in private practice in Annapolis, Maryland. Her true passion, however, has always been working for underserved populations.
It was this love that brought her to The Pennsylvania SPCA in July 2008. Since then, Dr. Lee has worked numerous animal fighting and puppy mill cases as a member of the Animal Cruelty Investigations department. In October 2008, she took on the role of Director of Shelter Medicine and oversees the health of thousands of animals left in the PSPCA's care after seizure by humane society police officers or surrendered by their owners. In March 2009, she became Medical Director at the Animal Care and Control facility and has extended her oversight to the more than 30,000 homeless or unwanted animals in Philadelphia. In addition, Dr. Lee continues to see exotic pet patients including small mammals, birds, reptiles, amphibians and fish.
Amy Worden, Inquirer Staff Writer
Compiled By The Inquirer Staff (6/20)
State officials are investigating whether a veterinarian used a gun to euthanize a racehorse at Philadelphia Park, a possible violation of track rules and racing-industry standards.
The probe involves Thomas J. Lurito, a track veterinarian. According to a report in the Daily Racing Form, the injured filly, 4-year-old Rich and Mean, was allegedly shot in her stall about two weeks ago, according to Ralph Riviezzo, her trainer.
Amy Worden, Inquirer Staff Writer
Legislation to prevent dog breeders from performing crude surgical births, debarking procedures and tail docking on puppies older than five days, was pushed off the legislative calendar last year in favor of the sweeping changes to the dog law. Now the bill's sponsor is taking unusual action to help secure its passage this session. Here is my story from today's edition of The Inquirer:
By Amy Worden
Inquirer Harrisburg Bureau