Archive: May, 2013
Amy Worden

, Inquirer Staff Writer
Philadelphia-based Aramark, the nation's largest food service company, has won a top award from an animal welfare group for its commitment to improve conditions for animals in its supply chain.

Aramark has been named recipient of the 2012 Henry Spira Humane Corporate Progress Award from the Humane Society of the United States for the company's work in its supply chain to help improve conditions of farm animals confined in crates and cages.
"Working in partnership with our suppliers, Aramark is taking steps to help move the entire food industry toward improved conditions for animals," said Kathy Cacciola, Aramark's senior director of environmental sustainability. "These actions exemplify Aramark's long-standing commitment to responsible business practices in the industries we serve."
Amy Worden

, Inquirer Staff Writer
A City Council proposal to extend hours that horse-drawn carriage operators can provide rides to tourists around Independence Park is drawing opposition from animal rights activists.

Brandon Gittelman, legislative director for Peace Advocacy Network (PAN), is asking Councilman Mark Squilla to drop his proposal to extend the operating hours for horse-drawn carriages.
"The horse-drawn carriage industry is a dangerous and harmful practice that puts tourists, residents, drivers, and horses at imminent risk of serious injuries," said Gittelman, who points to Philadelphia's several horse-drawn carriage accidents in recent years that have left horses and drivers injured.
Amy Worden

, Inquirer Staff Writer

The Pennsylvania SPCA confirmed late yesterday that the individual arrested in Saturday's dog fighting bust was Antoine Talley, who was convicted of animal cruelty in connection with a dog fighting operation in 2000.

PSPCA spokeswoman Wendy Marano said the group had a few complaints about barking dogs but explained that barking is a city ordinance and not a cruelty ordinance, which are enforced by its officers..

"Officers had been by on a couple of occasions, however we were never granted permission to inspect the property or no one was home," she said. And the property was surrounded by a high wall so activities that would have allowed the PSPCA probable cause to obtain a warrant were not visible.
Amy Worden

, Inquirer Staff Writer

Humane officers on Saturday arrested an unidentified individual on dog fighting charges and rescued five pit bulls at a home owned by a convicted animal abuser.


Pennsylvania SPCA officers arrived at a home on the 300 block of Van Kirk Street Saturday in the Lawndale section to investigate a suspected dog fighting operation.

"We've had this place on our radar for quite some time," George Bengal, director of law rnforcement for the Pennsylvania SPCA told NBC 10. "Today we obtained enough probable cause to get a search warrant and make entry into the property."
Amy Worden

, Inquirer Staff Writer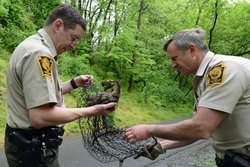 UPDATE: The eleven birds rescued from the fuel-polluted waters of Wildwood marsh yesterday have died. Officials said the seven goslings and three young mallard ducks were "in bad shape" when they were pulled from the polluted water.

Conservation officers have so far rescued a dozen geese and goslings in a fuel tanker explosion in Harrisburg that spilled into a wildlife sanctuary, threatening a number of endangered species.
The tanker accident and explosion on an overpass above I-81 Thursday sent 2,000 gallons traveling through a storm drain to Paxton Creek and into the Wildwood marsh, an important habitat for wildlife and plants, including endangered egrets and herons.

Amy Worden

, Inquirer Staff Writer

With signs suggesting that the federal government will give the green light to the opening of the nation's first horse slaughter plant since 2007, U.S. Rep. Patrick Meehan (R., PA) is heading to Philadelphia to urge fellow lawmakers to pass his bill banning the killing of horses for human consumption.


Meehan is expected to join representatives from animal welfare organizations Friday afternoon at the headquarters of the newly-revived Philadelphia Police Department's Mounted Unit
Amy Worden

, Inquirer Staff Writer
In case you missed it, I wanted to share a fascinating piece by my colleague Sam Wood at philly.com on efforts by researchers at the University of Pennsylvania to target ovarian cancer using the latest technology: the highly-developed sniffers of a trio of Labrador Retrievers.

In the battle against ovarian cancer, three puppies at the University of Pennsylvania will be on the front lines.
Amy Worden

, Inquirer Staff Writer
It was one of those quirky paid obituaries that appears from time to time of someone who qualifies as a true character.

Antonia W. "Toni" Larroux of Bay St. Louis, Miss., was remembered as a loyal customer at the Waffle House who died, the obit said, of "lupus, rickets, scurvy, kidney disease and feline leukemia."
It turns out most of the contents of the obituary - though not Larroux's actual death - were an inside family joke.The obit ran in the New York Times and went viral on the internet.