Archive: May, 2011
Amy Worden, Inquirer Staff Writer
A Chester County pet rescue wants animal lovers to put their money where their mouths are.
Pet Adoption and Lifecare Society (PALS) has opened a restaurant in Tredyffrin to raise money for its rescue services, the Daily Local reports.
The Black Cat Cafe, at 40 Berkeley Rd., serves up homemade soups, baked goods and quiches among other food items, and uses the proceeds to fund the rescue.
Amy Worden, Inquirer Staff Writer
UPDATE: Our friends at the Animal Farm Foundation, a New York-based group which advocates for "pit bull breed" dogs, produced a neat little training video below for UPS drivers with some simple tips for delivering a package safely when there's a dog in the yard.
Animal Farm Visits UPS from Animal Farm on Vimeo.
Amy Worden, Inquirer Staff Writer
UPDATE - Kaiser the Boxer has a home! He was reunited with his owners on Tuesday, according to the Delaware County SPCA. The Delaware County Times has more. We wonder if this dog's owner would have found and claimed him in time under the post-June 30 scenario. Consider the possiblity that municipalities may well be contracting with many different rescues or shelters all over the region. With a 48-hour hold the norm in Pennsylvania, the longer it takes to track down a dog the lower the chance an owner will find their pet alive.
CORRECTION - The Delaware County SPCA will not accept all owner-surrendered animals after June 30. The policy according to spokeswoman Justina Calgiano is this: "We will most likely be able to take in more owner turnover pets than we do now because we will have more space, but each will still be manager approved, meaning we will accept owner turnover animals based on the eventual adoptability factor."
There was a happy ending Monday for a Boxer found stranded, up to his neck in water, in Marcus Hook Creek.
Amy Worden, Inquirer Staff Writer
What happens when a curious cat meets a nosy dolphin?
You'd be surprised.
(hat tip to Ohmidog)
Amy Worden, Inquirer Staff Writer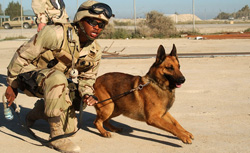 With all the chatter about the mystery K-9 who news reports say accompanied the Navy SEALS on their mission to capture Osama bin Laden, we bring you an exquisite photo essay looking at the role of dogs in modern warfare.
Foreign Policy magazine's managing editor Rebecca Frankel, who writes a War Dog of the Week column for the publication, shows us K-9s in training and on the battlefield, risking their lives for their handlers and, every now and then, sneaking a little R&R.
Amy Worden, Inquirer Staff Writer
A mind-boggling distortion of the democratic process has played out in Missouri over the past several months. Ever since voters approved a referendum - Prop B - that introduced tough new regulations to improve conditions in commercial kennels, Missouri lawmakers - backed by breeders and the farm lobby - were hellbent on undoing the will of the majority of voters.
Five months later they succeeded, sending to the governor a bill that virtually gutted the proposition's language requiring addtional kennel space, exercise, vet care and limiting the number of breeding dogs (something that Pennsylvania law does not have).
Amy Worden, Inquirer Staff Writer
The sudden flurry of media attention around the hero K-9 who cleared the path for the Navy SEALS so the team could reach the compound of Osama bin Laden had the folks at Slate digging into the Pentagon's photo archives to find out how felines have aided our fighting forces.
Now revealed - from Normandy to Nasiriya - is the heretofore secret story of the Cats of War.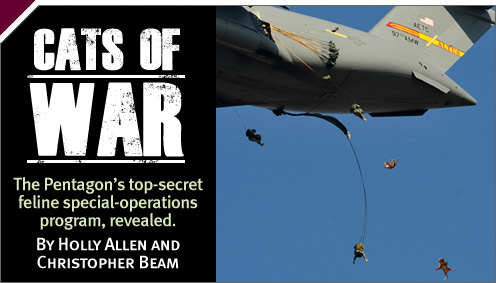 Amy Worden, Inquirer Staff Writer
An Illinois company is recalling its pig ear treats because the product may be contaminated with salmonella.
Keys Manufacturing Company said in a press release that it issued the recall for its Pig Ears for Pets Treats after a Missouri dog became ill.
The product was distributed in 13 states, including Pennsylvania. It was shipped between Sept. 27 and Oct. 6 2010, Nov. 1 and Nov. 29 2010 and Jan. 3 to Jan. 25 2011.