Archive: April, 2013
Amy Worden

, Inquirer Staff Writer
The pet food maker Natura has expanded its recall of products to include all its dry dog, cat and ferret food over concerns about possible salmonella contamination.

A limited recall issued March 18 by the Freemont, Nebraska-based company was expanded yesterday after testing showed the presence of salmonella.
Food brands included in the recall:
Amy Worden

, Inquirer Staff Writer

UPDATE: The couple has relinquished all animalsthat were removed except five, reports Bucks County SPCA executive director Anne Irwin. That will allow the shelter to find adoptive homes for the animals quickly once they are healthy and ready to go. The couple says they want to keep three dogs a cockatoo and a grey parrot. That doesn't mean they will get them back. Those animals will remain in SPCA custody for the duration of the court proceedings. In addition, a pregnant cat that was removed from the home gave birth to "a few" kittens today. There are other pregnant cats, so officials say the rescue numbers will rise. An African parrot recovering at the shelter, had a few kind words for its caretakers today, squawking "Praise the Lord," Irwin said, adding " I second that."

Humane officers in Bucks County on Thursday removed 118 animals, including cats, dogs, chickens and snakes, from a filthy Bedminster home.
Amy Worden

, Inquirer Staff Writer

Pennsylvania's Capital city is poised to become the largest municipality in the state to ban 24/7 dog chaining.

A Harrisburg City Council committee yesterday approved an ordinance that would make it illegal to leave a dog outside for extended periods of time, The full council is expected to consider the proposal at its May 14 meeting.
Amy Worden

, Inquirer Staff Writer
When tragedy strikes, count on the K-9 Parish Comfort Dogs to be close behind.
Amy Worden

, Inquirer Staff Writer
The Pennsylvania dog law was written for the likes of John Esh and his son, Daniel.
The Lancaster County duo tops the list of the worst offenders of federal and state laws governing dog breeding kennels.
Their run-ins with the law over the past two decades include:
Amy Worden

, Inquirer Staff Writer

Hundreds of miles separate the lakefront shorelline of Burlington, VT and the storm-battered oceanfronts of New Jersey and New York City.

But leave it to a kind-hearted Vermonter to start a group up north to help Hurricane Sandy victims - people and pets.

it's easy for the rest of the world to think that the storm debris has been cleared and people's lives are back to normal. One need only look to mega-storms like Hurricane Katrina to know that rebuilding - whether it's your house or your life or both - is a long, long process.
Amy Worden

, Inquirer Staff Writer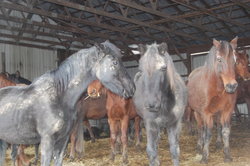 A Harrisburg area horse breeder was found guilty today on 30 counts of animal cruelty after two hours of graphic testimony by veterinarians who examined the horses.
Magisterial District Judge Lowell Witmer issued a swift verdict against Rebecca Roberts, a Palmyra attorney and Morgan horse breeder, finding her guilty on all counts involving 29 horses that were seized from her farm four months ago and one found dead among them.
"I'm just stunned," he said after hearing testimony from three veterinarians and viewing scores of pictures showing filthy, dangerous conditions in which the sick, wounded and malnourished horses were found and of the carcasses and skeletal remains of six other horses on the property.
Amy Worden

, Inquirer Staff Writer
A resource conservationist in Pike County has been charged with animal cruelty after his mixed breed dog was found with her muzzle and legs duct-taped.

Russell Seese, 26, of Greentown, who works for the Pike County Conservation District, in northeeastern Pennsylvania, is facing two cruelty charges in the March incident, according to the Pike County Courier.