Archive: April, 2009
Amy Worden, Inquirer Staff Writer
Anti-tethering bill introduced in state House
Rep. Mario Scavello (R., Monroe) has introduced a new version of the anti-tethering bill he sponsored last session. The bill would ban the chaining of dogs between the hours of 10 p.m. and 6 a.m. Mary Jo McClain, director of the Pennsylvania Legislative Animal Network, said the new bill includes a prohibition on chaining during periods of extreme hot and cold weather and when weather advisories are in effect. It also includes a 15 minute exemption for late night potty breaks. The bill, HB 1254, has 50 co-sponsors so far, and has been referred to the House Judiciary Committee. Supporters of the legislation argue that not only is tethering inhumane, but it can lead to aggressive behavior in dogs that can have fatal conseqences for humans, particularly children.
Amy Worden, Inquirer Staff Writer
Shall we call him Bo-Bama?
The Portuguese Water Dog formerly known as Charlie will now and forever be known as Bo. That's the name the Obama girls have chosen for their new puppy who was expected to arrive at the White House as early as today.
Amy Worden, Inquirer Staff Writer
The Obamas no doubt considered lots of names before picking "Bo" for their new Portuguese Water Dog. Blogger John Woestendiek of ohmidog worked up his own list of recommendations last week. It was unknown if any of John's suggestions were in the running, but before the presidential puppy phenomenon fades from the headlines here they are:
1. Ah-choo (or Gesundheit )– in honor of all the sneezing that, since the dog is allegedly hypo-allergenic, won't be going on
2. Vasco – in honor of Vasco Bensaude, the Portuguese shipping magnate who kept the breed from going extinct.
Amy Worden, Inquirer Staff Writer
When a Commonwealth Court judge shut down Pennsylvania's most problem-plagued kennel last week, it left open the question of what was to happen to the puppies and adult dogs on site at CC Pets LLC.
Now we learn the fate of 84 puppies and 19 adult dogs housed in the Lancaster County kennel: They will be transferred to a commercial breeder, Jonathan Peachey, owner of Rocky Creek Kennel in Belleville, according to Department of Agriculture officials.
Rocky Creek is licensed to hold more than 500 dogs and had 144 dogs at the time of the last inspection in November 2008.
Amy Worden, Inquirer Staff Writer
Auto maker Honda has unveiled the first-ever dog friendly vehicle. The newly designed Honda Element (that funky, box-shaped mini-SUV) features the following:
* a cushioned pet bed in the cargo area with an elevated platform;
* second row and cargo area pet restraint systems;
* an extendable cargo area load-in ramp;
* a 12V DC rear ventilation fan;
* second-row seat covers with a dog pattern design (matches the bed fabric);
* all-season rubber floor mats with a toy bone pattern;
* a spill-resistant water bowl; and
* Dog Friendly exterior emblems.
Amy Worden, Inquirer Staff Writer
The Portie's out of the bag. Meet the newest member of the Obama family: Charlie, a six-month-old Portuguese Water Dog from a Texas breeder that has supplied the Kennedy family with its dogs for years.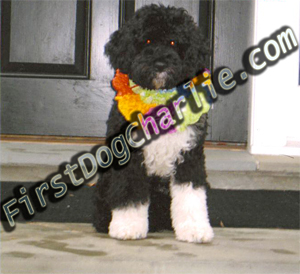 The Website TMZ reports Charlie will make his public debut on Tuesday (in a Rose Garden ceremony perhaps?) when Sen. Kennedy will formally present the dog - who has the same lineage as the Kennedy canines - as a gift to the Obamas. But word is that Malia and Sasha will be greeting their new friend at the White House on Easter.
Charlie, who even has his own Website already - was given up by its original owners (for reasons not yet known) and returned to the breeder. He is being "rehomed" with the Obama family. Soon no doubt the debate will begin over the issue of the president getting a dog from a breeder rather than adopting a homeless shelter dog. Remember the December blow up over then Vice President-elect Joe Biden's decision to purchase a puppy from a German Shepherd breeder in Chester County? Amid the outcry Biden quickly said he would be adopting a second dog from a shelter. (Philly Dawg queried Biden's press office last week to find out whether that adoption had taken place but has yet to get a response.)
Amy Worden, Inquirer Staff Writer
This Easter season, before adding a real live rabbit to your child's Easter basket, consider a chocolate one instead. Too many unwanted Easter bunnies end up at the shelter after children tire of them (and parents tire of cleaning up after them). Animal welfare advocates caution that rabbits, like all pets, not be an impulse gift.
I asked Heather Redfern, director of outreach programs at the Pennsylvania SPCA, for some advice. She told me that because rabbits have very fragile bones they need to be handled gently, which means they don't make good pets for small children. Here are some other considerations:
*Rabbits live 10 years or longer with proper care. They should be spayed or neutered so they no longer reproduce, um, like rabbits, and also to prevent reproductive cancers and unwanted behaviors. They need a variety of foods, including Timothy grass hay, dark leafy vegetables and berries.
Amy Worden, Inquirer Staff Writer
The world has waited for months with bated breath for word of the presidential pooch pick. Now, President Obama's former Senate colleague Dick Durbin says the family has chosen a dog and he will be arriving at the White House as early as this week.
The Illinois Demo
crat told a Chicago radio station today that the Obamas selected a male Portuguese Water Dog puppy to join their family. Durbin said the family met the dog at the White House a few weeks ago. The Obamas were looking for a non-shedding breed for their first pet like the Portuguese Water dog because of daughter Malia's allergies.
Think only Americans care about which lucky dog will get to call 1600 Pennsylvania Avenue home? The question of whether the dog had arrived yet even came up at a town hall meeting in Strasbourg last week during Obama's first European tour. At the time the president promised the questioner the dog would "be there soon."