Archive: December, 2010
Amy Worden, Inquirer Staff Writer
An animal rights group has filed a criminal complaint with the Berks County District Attorney's office after rescuing 21 injured pigeons left for dead following a shooting contest at a Hamburg hunting resort on Sunday.
A video produced by SHowing Animals Respect and Kindness (SHARK) documents a five-hour live pigeon shoot that was held at Wing Pointe, a luxury hunting resort, which advertises pheasant and quail hunts but does not mention pigeon shoots on its website.
Wing Pointe is one of only four sites left in the state (one of them is Philadelphia Gun Club in Bensalem) where hunters still shoot live pigeons launched from spring-loaded boxes at close range.
Amy Worden, Inquirer Staff Writer
The Michael Vick redemption tour returns to Philadelphia today as Vick addresses students at Juniata Park Academy on the evils of dogfighting.
Vick will be appearing as part of his arrangement with the Humane Society of the United States to speak out against animal abuse and encourage young people to be kind to animals. HSUS is set to launch its new End Dogfighting campaign this month in Philadelphia, as it has in other cities, where at-risk students learn alternatives to dogfighting and how to humanely care for their dogs.
Despite Vick's high-profile dog fighting conviction in 2007 and subsequent two-year jail sentence, the message hasn't gotten through in Philadelphia. The Pennsylvania SPCA receives an average of 60 dogfighting complaints a month. In 2009, the PSPCA investigated a total of 903 complaints of animal fighting across Pennsylvania.
Amy Worden, Inquirer Staff Writer
Mourners will gather Thursday to remember the hero K-9 Schultz, the German Shepherd killed last week in Gloucester Township, New Jersey while apprehending a robber. The 3 1/2 year-old dog had sunk his jaws on the suspect's arm during a chase on Wednesday when the suspect swung his arm throwing Schultz into the path of a car. The dog's handler, Gloucester Township Police Cpl. Mark Pickard, watched as a car struck the dog who died on the roadside within minutes.
Schultz joined the force in 2008 and was named after Dave "The Hammer" Schultz, a tough hockey player for the Philadelphia Flyers in the 1970s. He lived with Pickard - who is on administrative grief leave - his wife and three children. The suspect was charged with cruelty to animals and inflicting harm on a law enforcement animal, for which he could serve five years in prison. The memorial service will be held at 2:00 PM at Gloucester Township Community Park, 400 Hickstown Road, Erial. (Photo: Gloucester County Times)
On the topic of hero dogs, a memorial service was held in Tuscon over the weekend for Target, the dog brought to the U.S. from Afghanistan by one of the soldiers whose lives she was credited with saving — only to be accidentally euthanized by an animal shelter. Target was a stray befriended by a group of American soldiers who ended up a hero, keeping a suicide bomber who was trying to enter a building on a military base from gaining access. The bomb went off in a doorway and five soldiers were injured, several of whom credited Target with helping save their lives.
Amy Worden, Inquirer Staff Writer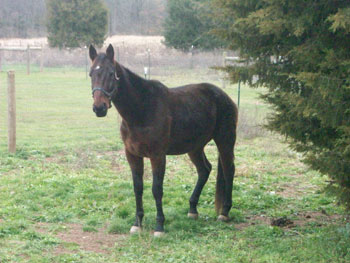 The tale of the horse named Give Chrome just went from Dickens to Disney.
Nearly a month ago the 12-year-old standardbred gelding was found hitched to a cart near Gettysburg, bleeding from deep wounds across his hind end caused by an ill-fitting harness. His owner was beating him with a whip.

Next week he will be shipped to Kentucky's bluegrass horse country and live on an historic 560-acre farm, Walnut Hall, owned by Meg and Alan J. Leavitt, a director of the United States Trotting Association and Hall-of-Fame standardbred breeder.
Meg Leavitt says when her husband heard about Chrome's plight he called her and said:
Amy Worden, Inquirer Staff Writer
Amy Worden, Inquirer Staff Writer
It was a scene out of a Charles Dickens novel right in Philly Dawg's backyard and it is now making international news.
A 12-year-old standardbred horse was seized near Gettysburg two weeks ago after humane officers found his owner whipping him as he was pulling a cart and bleeding from multiple lacerations, including deep wounds from an ill-fitting harness.
The horse was identified through a tattoo as a former pacer (or trotting horse) named Give Chrome, who raced 56 times in his career in two countries. The owner, Wilbur Frost, convicted of abusing two draft horses in March in Kansas, told humane officers he planned to drive the horse to Oklahoma, according to a report in Harness Link, which covers international news in the harness racing industry.
Amy Worden, Inquirer Staff Writer
After nearly two years of work and debate Pennsylvania's commercial kennel regulations - the last piece to the revised state dog law - are now official.
The Pennsylvania Department of Agriculture issued the announcement today:
Harrisburg – Conditions in commercial dog kennels across Pennsylvania are slated for a substantial improvement now that the state has finalized a new set of standards that will take effect July 1, 2011, Agriculture Secretary Russell C. Redding said today.
Amy Worden, Inquirer Staff Writer
Two Lehigh County dog breeders and American Kennel Club judges have been sentenced to a 60-day probationary program after being found guilty of multiple counts of animal cruelty.
Miriam "Mimi" Winkler, 71, and James R. Deppen, 46, of New Tripoli, were placed in an Accelerated Rehabilitative Disposition program, or ARD for first time offenders. If they complete their probation they could have their records expunged, according to the Morning Call of Allentown.
District Judge Rod Beck in September found Winkler and Deppen, who operated Judges Choice of Ironwood Kennels, guilty of three cruelty counts involving bichon frise dogs, one cruelty count involving a border collie and one count of operating an unlicensed kennel. Winkler was also found guilty of making a false statement to a dog warden.