Archive: December, 2010
Amy Worden, Inquirer Staff Writer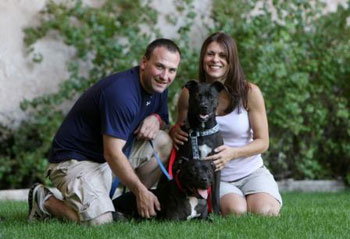 As 2010 draws to a close we thought it fitting to highlight an animal "comeback" story of the year.
Amid the seemingly endless string of headlines about animal cruelty, there are many stories in Pennsylvania and New Jersey and beyond of dogs, cats, horses and many other animals given second chances at new lives.
Sports Illustrated columnist Don Banks has nominated a Pennsylvanian, Michael Vick, and his return to NFL stardom as the sports world's "redemption story of the year."
Amy Worden, Inquirer Staff Writer
Few things are as crushing as receiving a cancer diagnosis for your beloved animal companion. It happened to me several years ago with my Canadian calico cat, Katya, and now my Inquirer colleague Mari Schaefer is facing a similar trauma. In October she learned her cat, Mouse, had a terminal - and aggressive - form of the disease. In the course of learning all she could about Mouse's condition and treatments she stumbled on word of drug trials for pets at the University of Pennsylvania Veterinary Medical Center. I'll let Mari take the story from here.
The minute I saw the look in the veterinarian's eyes, I knew the news about the marble-sized lump on my cat's upper jaw was going to be bad.
A biopsy confirmed Mouse had feline oral squamous cell carcinoma - a disease that is terminal in cats. Once the diagnosis is made, cats usually only live about 60 days.
I found Mouse in my Tucson, Arizona backyard on a hot July day about 15 years ago. When I first saw her from a distance, I thought she was a rat - hence the name Mouse.
It was only when I saw her up close a few days later as she was drinking out of the potted plant I just watered, I realized she was a stray kitten. She was between five and 10 weeks old at the time and probably tossed into the dry river bed behind my home - a noted coyote highway through town.
She was emaciated, with just wisps of dirty fur on her tail and very little on her ears and body. I could count her ribs. Those dark spots on her white body, I would later find out, were colonies of stick-tight fleas.
It took about a week to gain her trust and get her to a veterinarian. With a little nutrition she grew like a weed and has been healthy ever since.
Then in early October, I saw a pronounced lump in the top left side of her face.
After absorbing the bad news and finding out radiation and surgery were not a good options, I looked online just to read more about the disease.
The Matthew J. Ryan Veterinary Hospital at the University of Pennsylvania website had a link for clinical trials for both dogs and cats.
I clicked.
They listed a drug study for Feline Oral Squamous Cell Carcinoma, the exact disease Mouse had.
I emailed the researcher, Dr. John Lewis for more information. My regular vet, Dr. Curt D. Heyde at Pets First in Bryn Mawr, faxed over all the records and biopsy results and we had an appointment a few days later.
Dr. Lewis, Assistant Professor of Dentistry and Oral Surgery, explained the study was already in Phase II.
They were investigating how a drug could impact the tumor cells. (The study is currently on hold and not recruiting new patients.)
A combination of two study drugs were used to target compounds in cells called polyamines, which play a role in cell replication and growth. The hope was the drugs would prevent the polyamines from working and delay or halt the tumor growth.
It was not a "magic bullet," Lewis said, but it might give Mouse more quality time. There were a few cats, with similar tumors who lived more than 200 days on the study medication. Other cats, some who had tumors in the bottom of their mouth, did not do as well, he said.
I would have to agree to administer the drugs three times a day, keep a log, and agree to an autopsy at Penn once Mouse died.
Mouse would undergo testing under anesthesia at the beginning and end of the four week trial. I would also have to bring her to Penn for a blood test every two weeks while she is on the medications. The drugs, vet exams, medical tests and procedures, euthanasia and cremation would be provided at no cost if Mouse was admitted to the study. She would be able to continue on the drugs once her obligation is over.
And - this is big - parking at Penn is free when I visited.
I agreed to the conditions. It was not a hard choice to make knowing Mouse would soon die. If something good could comes from this down the road, I know I will feel better. And, if my little friend could maintain a quality of life for a bit longer, it would be worth it all.
After a quick exam, Mouse was admitted to the study.
Just before Thanksgiving Mouse completed the four week trial and was immediately admitted to Phase III for another round. In the new phase, the drug combinations changed and I only have to administer the dose twice a day - a huge relief to us both. On December 20, she completed her second four-week trial.
The effects of the clinical trial on Mouse have not been unbearable.
She was a little groggy after her "big test" days when they knock her out for the biopsies and CT scans. Mouse did developed an infection a few weeks into the the Phase II trial and needed antibiotics. She has continued with those every since. There has been occasional vomiting.
Mouse clearly does not like the medications and does hide behind a chair when she knows it is time. I give her three medications - one for pain, the antibiotics and the study drugs. I usually give her the pain meds about an hour before the other two.
There have been days when Mouse seemed a bit tired and not as peppy. Her left eye is clearly affected by the growth of the tumor. And, she is starting to drool a bit from one side.
But, mostly she is still - Mouse. She plays with her toys and spars with Lily, my other cat. She loves the Christmas tree and plays around that at night. Always a big fan of TV, Mouse likes to settle in on the couch and watch the action. She still eats on her own and comes running for whipped cream when she hears me shake the can. (Clearly the medication didn't affect her hearing.) And, she still crawls into my bed at night to snuggle.
I continue to give her the study drugs and bring her down to Penn for every other week blood tests. The staff, including her nurse Dana Durso, have been professional, helpful, and honest about her future.
There is no getting around the fact Mouse will soon die. Participating in the study has given me some comfort knowing I did the best for her.
Penn Vet has a number of trials in progress including one for bone cancer in dogs and a study on hypertension in cats with chronic kidney disease.
Call 215-573-0302 or email vcic@vet.upenn.edu for more information on the trials or visit their website.
Amy Worden, Inquirer Staff Writer
For some, a little donated kibble can make the difference between keeping a pet and having to give him up. Loaves and Fishes Food Pantry in Prospect Park, Delaware County serves 15,000 people. Now the pantry - one of a growing number in the region - is opening its shelves to struggling pet owners too. My colleague Mari Schaefer reports on their good deeds here.
In Washington, President Obama has signed two pro-animal bills that were closely watched by animal welfare advocates. He signed the Truth in Fur Labeling Act, requiring that all animal fur trim be labeled by species and country of origin. The bill was prompted by a series of investigations by the Humane Society of the United States that revealed that major retailers and manufacturers were selling fur-trimmed garments that were unlabeled, incorrectly described as faux fur, or labeled as the wrong animal. It was more than a decade ago that The HSUS discovered the killing of millions of dogs and cats for their fur, which was then sent to western markets as trim.
Also this month, Obama signed the new law banning so-called "crush videos." The original - more broadly written - animal cruelty law was overturned by the Supreme Court as an unconstitutional violation of free speech. The Animal Crush Video Prohibition Act criminalizes the creation, sale, and marketing of these specific kinds of videos, which lawmakers had labeled as "obscene."
Amy Worden, Inquirer Staff Writer
UPDATE: A 46-year-old man who lived with Dawn Scheld is being charged in connection with the Dec. 18 raid on their property. Middle Township Police arrested Leroy Thomas last night on animal cruelty charges. NJ SPCA officer Theresa Cooper said Thomas, as co-owner of the property, is equally culpable in the abuse and neglect of scores of animals. "He is just as responsible because they reside together," she said. "Based on my investigation he had knowledge of everything that was going on. He could have put a stop to this."
He was taken to Cape May County jail before being released on $25,000 bail. Scheld remained jailed last night. Both have Jan. 6 arraignment dates.
=============
Amy Worden, Inquirer Staff Writer
When we first met Stanley last year he was a mangy guy with serious eye problems locked in a high kill Los Angeles shelter. Thanks to two small rescue groups and a gripping video, things are looking far brighter for Stanley this Christmas.
For all the homeless animals with no family to call their own this holiday season and for anyone who does not believe one person can't make a difference, let Stanley's story be a symbol of hope.
(For those who missed part one of Stanley's story click here.)
Amy Worden, Inquirer Staff Writer
A commercial dog breeder in Kansas last week euthanized 1,200 dogs after customers at a Wyoming pet store purchased puppies infected with distemper, a highly-contagious viral disease.
The mass euthanasia came after state authorities twice ordered the kennel be placed under quarantine since mid-October but tests indicated the disease was still present. The kennel owner, Jeff Fortin, said he had to destroy the dogs because he could not sell them and could no longer afford to pay his staff and feed the animals.
So how did an outbreak occur in a kennel inspected by both the Kansas Department of Animal Health and the U.S. Department of Agriculture, both of which require "a program of veterinary care?"
Amy Worden, Inquirer Staff Writer
A New Jersey woman is under arrest tonight on charges of animal cruelty after humane officers raided her Cape May County home and removed 63 dogs and one cat from deplorable conditions following a months-long investigation.
The New Jersey SPCA entered the six-acre property in rural Goshen belonging to Dawn Scheld, 46, this morning. There they found dozens of sick and malnourished dogs living in feces-and-urine-filled cages in Scheld's house and outside in pens without adequate shelter. They also found a litter of puppies in a closet, frozen water bowls and little evidence of food.
Agents dug up the bodies of six dogs buried in the backyard. One dead dog, found lying under a cloth cover next to a shallow hole, had a visible tumor near a hind leg, according to the Press of Atlantic City.
Amy Worden, Inquirer Staff Writer
By now you've have probably heard about the gift to avoid during the holiday season: a pet.
Dogs and cats, small animals too, need training, socialization, veterinary care and love. Making the decision to bring them into your home- for many years don't forget - should not be made in haste. Consider the breed, age, temperament and health needs of the animal. Consider how they would mesh - or not- with your own lifestyle before taking the plunge.
So, instead of getting a puppy or kitten to "unwrap" on Christmas morning, consider a pet bowl, leash or collar instead (that tip from Karel Minor over at the Humane Society of Berks County. Then, sometime after the holidays (even Dec. 26) take a trip to the shelter, your local PetsMart or other store adoption center (among them, Doggie Style's Oporation Ava), or let your fingers do the clicking on Petfinder.org to find your perfect pet. The Humane Society of the United States keeps a list of pet stores that help shelters with adoption programs. If you have your heart set on a specific dog breed there are many breed rescues or check out your local kennel club for a recommendation for a responsible breeder.