Archive: November, 2011
From the apparently endless stream of stories of animal cruelty in Pennsylvania comes this:
Adams County, home to Gettysburg and Philly Dawg, has now seen its worst case of horse abuse.
Officials with the Rick and Sally Meyers Animal Shelter/Adams County SPCA seized 21 starving thoroughbred horses - all of them weanlings and foals - from a farm in Littlestown. Some were so emaciated and dehydrated they had to be carried out. One dead mare was found in the field and two severely ill foals - including the one in the video below - died after efforts to save them failed.
Authorities have charged the owner of a young emaciated pitbull found Delaware County on Halloween.
Lamont Alexander, 28, of Morton, was charged with two counts of animal cruelty for wantonly failing to provide care (otherwise known as starving an animal) and animal abandonment.
When a rescuer picked up the half-dead orange tabby cat in a gutter in West Philadelphia's Clark Park there was little hope of ever finding out who was responsible for him being there.
After all the park is a popular dumping ground and it's probably not often the evicted cats are able to be identified.
Talk about an unusual animal round-up.
A police officer manages to herd a frightened dog as it bolted into traffic on a multi-lane highway in Phoenix.
Watch the live video taken by a news helicopter as the officer first uses his motorcycle and then his feet to corral the little dog while traffic zooms all around.
Remember Patrick, the emaciated young pit bull mix, who was tossed down a trash shoot in a NJ apartment building and left for dead? His owner was indicted for animal cruelty on Friday. A grand jury charged Kisha Curtis with tying her dog to the railing of her apartment and leaving the state, according to news reports. Patrick is in good hands now, living in the vet's office that saved him, though sadly the vet practice and the animal shelter are in a battle over custody of the celebrated dog. Terribly unfortunate when you consider the resources devoted to this battle could have been used to help save more Patricks.
Barn owls have returned to the southwest corner of the state. PA Game Commission biologists say they have confirmed the presence of a barn owl near Washington, Washington County, the first such sighting in nearly a decade. Once a common bird on Pennsylvania farms, barn owls have been declining in Pennsylvania and across the United States but more than 100 nest sites have been recorded in south-central and southeastern regions. While several barn owls nested in the state's southwest corner during the first Pennsylvania Breeding Bird Atlas, which covered the period of 1984-89, none were recorded in the area in the most recent Breeding Bird Atlas, which was conducted from 2004-09. Game commission biologists blame loss of habits and changes in farming practices for the decline. To learn more about barn owls, visit the Game Commission's website (www.pgc.state.pa.us), click on "Wildlife" in the menu bar at the top of the homepage and then click on "Barn Owl Conservation Initiative."
The director of the Elmwood zoo in Norristown has resigned after just under three years on the job. The Inquirer reports Bill Konstant resigned to focus on wildlife conservation around the world. Under his direction the zoo opened new exhibits, created "green" public spaces and expanded parking. The zoo is conducting a nationwide search for his replacement.
Happy news for a nursery full of orphaned baby fruit bats in Australia.
Rescuers in Brisbane have wrapped 98 infant bats in mini-blankets and are bottle feeding them around the clock after a cyclone left them stranded in a forest in Queensland earlier this year.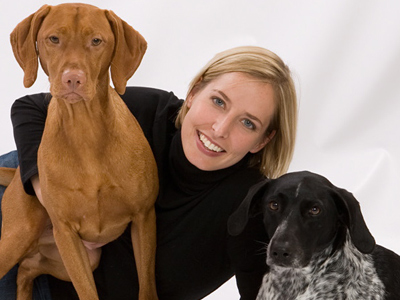 Leigh Siegfried is an Associate member of the International Association of Animal Behavior Consultants and is a Member of the Association of Pet Dog Trainers. She conducts private behavior counseling sessions, group training classes in basic and advanced manners and agility, and a variety of workshops. Opportunity Barks classes are held in Philadelphia and Quakertown, PA. Visit www.opbarks.com for more info.
On a mobile phone? Click HERE to join the chat!
Bad news for unwanted horses, good news for the protection of show horses in the federal budget moving through Congress.
Without funding to pay U.S. Department of Agriculture inspectors, horse slaughter has been effectively outlawed in the U.S. since 2005.
But a House committee stripped out that language, which means tax dollars could once again fund inspectors and that could be the first step toward reviving slaughterhouses in this country.