Archive: October, 2010
Amy Worden, Inquirer Staff Writer
Without question Gov. Rendell has been more vocal on animal welfare issues than any other governor in state history, crusading for and winning passage of legislation toughening the state dog law governing licensed kennels and signing into law changes to the animal cruelty law that makes it illegal for a non-veterinarian to perform surgeries on dogs including tail docking, ear cropping and Caesarian sections.
Will the new governor stand up for animals?
We asked the campaigns of Democratic candidate Dan Onorato and Republican candidate Tom Corbett for their position statements on animal welfare issues in general and for specific positions on certain issues likely to resurface in the legislature in the coming years.
Amy Worden, Inquirer Staff Writer
How does your dog really feel about that pink tutu you squeezed him into? Or the funny wig? Or the taco shell? The oohs and aahs and baby talk? Probably wishing he was pretty much anywhere else.
That's the conclusion of Alexandra Horowitz, author of Inside of a Dog, who writes in a blog post that to dress up a dog ignores "his essential dogness."
Amy Worden, Inquirer Staff Writer
My colleague Mari Schaefer reports that the Delaware County SPCA has been temporarily closed because of a disease outbreak:
Officials say the shelter, located in Media, is closed until November 6, to combat a ringworm outbreak.
The common fungal infection of the skin was brought into the shelter by cats from Upper Darby and dogs from Chester, said Justina Calgiano, shelter spokesperson.
Amy Worden, Inquirer Staff Writer
With Halloween fast approaching, pet owners should consider how to best protect their animals from potentially dangerous tricks and treats.
Here are some tips for keeping your pet safe this Halloween:
Amy Worden, Inquirer Staff Writer
The battle over wire flooring in the state's 111 remaining commercial dog breeding kennels continues in Harrisburg.
Attorney General Tom Corbett - who is required to sign off on all proposed state regulations - is pressing the state Department of Agriculture to justify its rationale for allowing nursing mothers in commercial kennels to stand on wire flooring - a legal interpretation that some animal welfare activists contend is in direct violation of the new dog law.
Amy Worden, Inquirer Staff Writer
The Pennsylvania SPCA wants to know who chopped up a large dog and left it on a woman's porch in northeast Philadelphia last night.
Officers were called to a grisly scene last night on the 200 blick of Byberry Rd. in the Somerton section where a woman found the head and paws of a husky dog on her porch.
PSPCA officials told the Daily News it appeared as if the dog had been sawed in half.
Amy Worden, Inquirer Staff Writer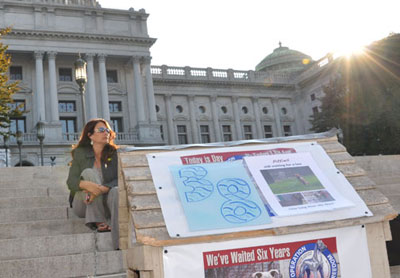 After 52 days chained to a dog house outside the state Capitol an Altoona-based activist returned home without a state law banning 24/7 dog chaining. But Tamira Ci Thayne, founder of Dogs Deserve Better, is vowing to return next year.
"I sought to bring the suffering of chained dogs to the legislators, who live privileged lives in privileged settings, and do not understand the pain that is occurring on a daily basis," said Thayne, who called her effort Operation Fido's Freedom.
Amy Worden, Inquirer Staff Writer
WARNING: This video contains graphic images of a large bully breed dog savagely loving an orphan kitten.
Click at your own risk.
More details from PeoplePets.com.