Amy Worden, Inquirer Staff Writer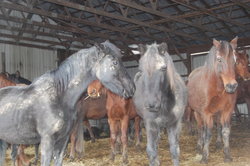 A lawyer representing a Dauphin County woman found guilty on 30 counts of animal abuse, tried an unusual tactic to clear his client: he turned his sights on the 15-year-old criminal record of the humane society police officer who charged her.

Eric Winter, of Berks County, asked a judge to oust the officer, William Sandstrom of the Humane Society of Harrisburg Area, over a 1999 drunken driving case in Erie County.
Amy Worden, Inquirer Staff Writer
Superstorm Sandy was a wake-up call for communities in the northeast that hurricanes can threaten our shorelines too.
Amy Worden, Inquirer Staff Writer
The Pennsylvania SPCA is offering a reward in the case of two dead pit bulls found in the back of a car in an auto body shop.
Humane law enforcement officers responded to the scene at 4831 Duffield Street in the Frankford section of North Philadelphia, They discovered the bodies of the dogs inside a car at PSK Custom Collision Center, an auto body shop It is unknown how long the dogs were deceased, how they died, or how they ended up inside the vehicle. The dogs were brought to the PSPCA for examination by forensic veterinarians. Humane officers are investigating and seeking tips from the community regarding this incident. A reward of $1,000 is being offered for information leading to the arrest and conviction of those responsible for the dogs' deaths. Anyone with information is urged to call the PSPCA Anti-Cruelty Hotline at 1-866-601-SPCA.
Amy Worden, Inquirer Staff Writer
Three times is a charm for one Philadelphia shelter, and the next step, its supporters say, toward making the city kill free.
PAWS on Wednesday is set to open its latest adoption center and low-cost spay/neuter and wellness clinic, this one serving Northeast Philadelphia.
Amy Worden, Inquirer Staff Writer
For most dogs, a diagnosis of a particularly aggressive form of bone cancer is a death sentence.
Sixty percent of dogs with osteosarcoma die within one year of diagnosis.
But a vaccine may soon change that - and perhaps your dog or the dog of someone you know can help.

Amy Worden, Inquirer Staff Writer
Two weeks ago state authorities busted two Lancaster County dog breeders for running an unlicensed kennel. The conditions of the filthy, matted dogs found there were so bad that they referred the case to the Pennsylvania SPCA which investigates animal cruelty.

Dog wardens root out illegal breeders every day. But on that occasion they netted John Esh, who with his son Daniel, own adjoining properties in Ronks.
The two have amassed more violations of state and federal law in the past two decades than any other dog breeder in Pennsylvania. Licensed kennels owned by both were shut down in 2009.

Leigh Siegfried is an Associate member of the International Association of Animal Behavior Consultants and is a Member of the Association of Pet Dog Trainers. She conducts private behavior counseling sessions, group training classes in basic and advanced manners and agility, and a variety of workshops.
Opportunity Barks classes are held in Philadelphia and Quakertown, PA. Visit www.opbarks.com for more info.
Amy Worden, Inquirer Staff Writer
Stop the presses! (Yes, presses, those old-fashioned machines that crank out words on paper.)
A Philly bookstore cat has won international honors. Amelia, the lovely calico denizen of Spiral Bookcase in Manayunk, was chosen as the best Bookstore Cat in a global contest hosted by Quirk Books.
The store receives a $100 prize, which Quirk Books assumes will be spent on cat treats.