Leigh Siegfried is an Associate member of the International Association of Animal Behavior Consultants and is a Member of the Association of Pet Dog Trainers. She conducts private behavior counseling sessions, group training classes in basic and advanced manners and agility, and a variety of workshops.
Opportunity Barks classes are held in Philadelphia and Quakertown, PA. Visit www.opbarks.com for more info.
Amy Worden, Inquirer Staff Writer
Thousands of dogs (and I would bet a few cats) will be making the commute to the office Friday for the annual Take Your Dog To Work Day. From its inception 16 years ago, the event has grown and so have the number of companies welcoming pets into their work spaces all over the country.
Here at the Pennsylvania State Capitol only three kinds of dogs get past the big bronze doors: service dogs, bomb sniffers and Very Important Pets (those belonging to governors and their lieutenants.)
So Olivia will be stuck at home with the cats tomorrow but we wish everyone a fun-filled day.

Amy Worden, Inquirer Staff Writer
Equine advocates are working two fronts on Capitol Hill this week to protect America's horses.Outside the Capitol supporters of humane treatment of Tennessee Walking Horses will rally for legislation, while inside lobbyists will be working the halls to prevent the inclusion of funding for horse slaughter in the budget bill.

Amy Worden, Inquirer Staff Writer
When an animal advocate writes and says they have a "situation," it's usually not good news.

But this time it was The Spayed Club Spay/Neuter Clinic asked if I could please help spread the word about their low cost kitten and puppy spay/neuter program because the clock was ticking. They needed to use up their special grant funding by the end of the month.
Amy Worden, Inquirer Staff Writer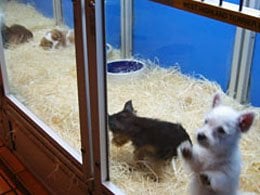 New Jersey may beat Pennsylvania when it comes to requiring pet stores provide vital information for consumers buying puppies.

Amy Worden, Inquirer Staff Writer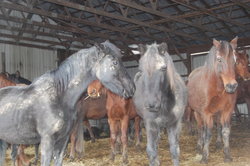 A lawyer representing a Dauphin County woman found guilty on 30 counts of animal abuse, tried an unusual tactic to clear his client: he turned his sights on the 15-year-old criminal record of the humane society police officer who charged her.

Eric Winter, of Berks County, asked a judge to oust the officer, William Sandstrom of the Humane Society of Harrisburg Area, over a 1999 drunken driving case in Erie County.
Amy Worden, Inquirer Staff Writer
Superstorm Sandy was a wake-up call for communities in the northeast that hurricanes can threaten our shorelines too.
Amy Worden, Inquirer Staff Writer
The Pennsylvania SPCA is offering a reward in the case of two dead pit bulls found in the back of a car in an auto body shop.
Humane law enforcement officers responded to the scene at 4831 Duffield Street in the Frankford section of North Philadelphia, They discovered the bodies of the dogs inside a car at PSK Custom Collision Center, an auto body shop It is unknown how long the dogs were deceased, how they died, or how they ended up inside the vehicle. The dogs were brought to the PSPCA for examination by forensic veterinarians. Humane officers are investigating and seeking tips from the community regarding this incident. A reward of $1,000 is being offered for information leading to the arrest and conviction of those responsible for the dogs' deaths. Anyone with information is urged to call the PSPCA Anti-Cruelty Hotline at 1-866-601-SPCA.