Archive: July, 2012
Amy Worden, Inquirer Staff Writer
This is one of my favorite animal images of all time. Why? Because it shows that when modern technology fails and the weather is threatening to win, animals save the day.
One icy winter's morning a year or two ago in central Pennsylvania a milk truck slid into a ditch. Wait for the gas-powered tow truck to arrive? Nope. Belgian tow team to the rescue!
Amy Worden, Inquirer Staff Writer
UPDATE - I called both White Dog locations and discovered that only the Philadelphia location has a pet-friendly patio. Curiously, neither location knew whether the other one was pet friendly or not. Get with it White Dog! You have a national rep to defend here! If you have a favorite outdoor cafe that welcomes you and you pet, please post a comment and let folks know.
A Philadelphia eatery has won a spot on Petside.com's nationwide list of Top Ten Pet-Friendly restaurants.
White Dog Cafe, with locations in Wayne and University City, boasts its own pet-friendly patio catering directly to pet lovers looking to dine out. The cafe recommends a leash but won't evict you if your dog is well mannered.
Amy Worden, Inquirer Staff Writer
Animal lovers are invited to join the Pennsylvania SPCA and Philadelphia District Attorney Seth Williams (and his dog Henry) for a rally tonight - "Justice for Chloe and Hercules" - to shine the spotlight on animal abuse.
The rally comes after a string of horrific crimes against cats and dogs in the city, among them Chloe and Hercules (pictured above), two young pit bulls who were set on fire in the street and left to die.
Amy Worden, Inquirer Staff Writer
The nation's oldest and largest dog breed registry has opposed scores of legislative initiatives across the country aimed at improving the welfare of dogs, including a federal bill to crack down on Internet puppy sellers, according to a report released Monday by the Humane Society of the United States.
In the past five years the American Kennel Club has lobbied against 80 measures in a number of states, including bills requiring dog breeders to comply with basic care standards, banning 24/7 dog chaining, outlawing debarking without a medical reason and making it illegal to leave a dog in a hot car, the report found.
The report contends that the AKC allowed puppy mill operators charged with animal cruelty to continue to sell dogs and gave passing inspections to filthy, overcrowded kennels later raided by humane rescue teams.
Amy Worden, Inquirer Staff Writer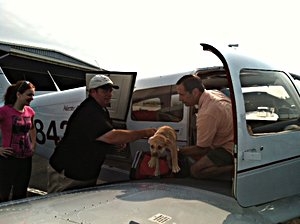 UPDATE: Five of the puppies have found forever homes with approved adopters in the Albany area, including little Mickey pictured above.
They come from the worst of circumstances, wandering the back roads of Kentucky and Tennessee, locked on chains or dumped at the shelters by the box load.
Not so long ago most of these highly adoptable dogs, met a grim fate - gassing at the shelter, starvation or target practice.
Amy Worden, Inquirer Staff Writer
The thermometer topped 100 degrees this afternoon as I was sitting in my air conditioned house with cats sprawled across the cool wood floor and some unexpected guests: three very lucky puppies.
The puppies landed at my house in this near record-breaking heat after their private plane made an unscheduled overnight stop in Carlisle because of storms in its path moving through upstate New York. They are part of a 10-dog (eight puppies, plus mom, plus an extra puppy) transport from rescues that pull dogs from high-kill shelters in Tennessee to a rescue in near Albany.
The pilots are part of a nationwide charity called Pilots n Paws, a remarkable network of extremely generous private plane owners who volunteer their time, their wings and their gas to rescuing animals in need.
Amy Worden, Inquirer Staff Writer
Philadelphia is suffering from an epidemic of arson. Only the target is living creatures not buildings.
For the fourth time in six weeks animal control officers have responded to the burning of a pet. In the latest case, a young male pitbull puppy was brought to Philadelphia Animal Care and Control Team after he was found by a passerby on West Cheltenham Ave. in the West Oak Lane neighborhood.
The approximately 4 month old pup, named Hercules by PSPCA staff, suffered extreme burns on his legs and back and possible smoke inhalation. The veterinary team at the Pennsylvania SPCA stabilized the dog and administered pain medications.
Philadelphia News, Weather and Sports from WTXF FOX 29
Amy Worden, Inquirer Staff Writer
Wolf-dog of Pennypack Park captured. Starving cats pulled from stifling hot SUV adopted.
Happy endings to two animal rescue cases that made headlines in the past two weeks.
But in certain respects, neither story really ends there.