Archive: April, 2012
Amy Worden

, Inquirer Staff Writer

The Humane Society of the United States released a scathing undercover report this week exposing unsanitary and cruel conditions at a Lancaster County poultry facility.

The investigator, filming inside a giant hen house at Kreider Farms documented tightly crammed cages, live birds housed with mummified carcasses, birds trapped in wire and automatic feeders, a "blanket" of dead flies on the floor, a barn so dark workers needed headlamps and ammonia so potent workers need masks.

The video report drew national attention, broadcast on ABC World News Tonight and the New York Times. The HSUS says the deplorable conditions and extreme animal cruelty is evidence for national standards at egg farms where birds are kept in so-called "battery cages" so small they cannot stretch their wings.
Amy Worden

, Inquirer Staff Writer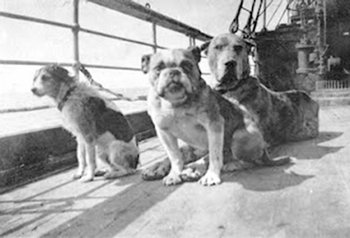 Before 24-year-old Margaret Hays and her girlfriends fled their cabin, as the ship Titanic began its descent to the sea floor, she made sure to take one treasured possession: Lily her Pomeranian.
Standing on deck - 100 years ago on Saturday - they put on their lifejackets before boarding the lifeboats. One passenger commented, "I suppose we ought to put a life preserver on the little doggie too."
When Hays stepped into the lifeboat she held tight to her ball of fluff wrapped in a blanket. The two would both survive the most storied maritime disaster in history.
Amy Worden

, Inquirer Staff Writer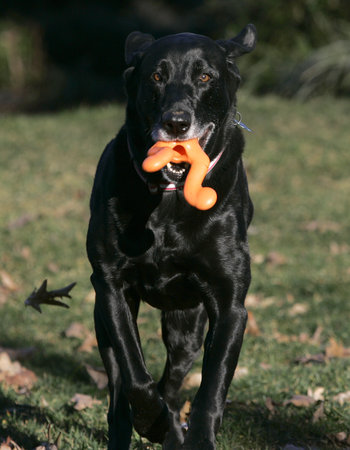 When it comes to retrieving toys, it's often tough to find toy that is both, well, tough and easy to throw long distance.
The Tizzi by West Paw Design fits that bill.
The Tizzi is one of a line of dog toys by West Paw that use a recyclable material called Zogoflex. It is nontoxic, buoyant and pliable.
Amy Worden

, Inquirer Staff Writer
What happened to the bill banning the use of gas chambers in animal shelters in Pennsylvania?
The legislation cleared a major hurdle last month, passing unanimously in the Senate after years of failed attempts to bring similar bills to the Senate floor.
Amy Worden

, Inquirer Staff Writer

Cold cash for anyone who can help crack a heinous animal crime in York County, Pa.

The Humane Society of the United States is offering a reward of up to $2,500 for information leading to the identification, arrest and conviction of the person or persons responsible for the mutilation, neglect, and abandonment of a 7-foot male Burmese python.

The snake was stabbed twice, shot, and released in York Haven.
Amy Worden

, Inquirer Staff Writer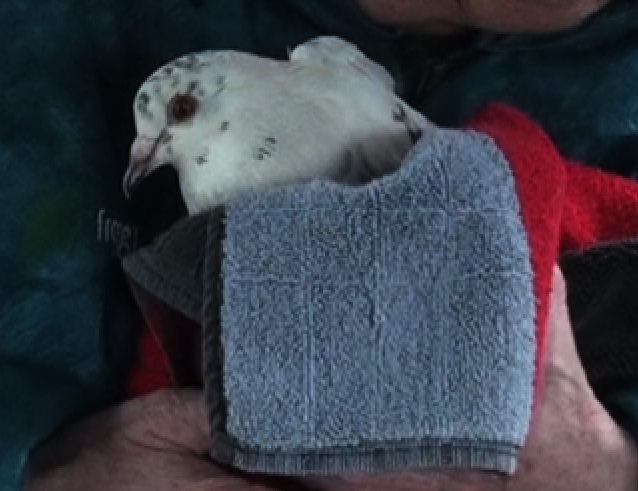 (A rare pigeon shoot survivor rescued from Delaware River)
Amy Worden

, Inquirer Staff Writer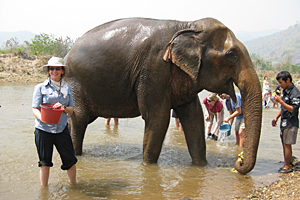 In February my sister, Andrea, travelled to Thailand for business, taking a day at the end of her trip to spend a day with the residents at the Elephant Nature Park (ENP), a non profit sanctuary for abused, injured and neglected elephants (and dogs). She chose the park because it allows elephants to live as elephants. The organization eschews the practices of so called "elephant camps" where elephants are taught tricks and give visitors rides. Here's Andrea's account of her experience:
Founded in 1995 by the diminutive Sangduen "Lek" Chailert, who has received numerous awards for her work, ENP's mission is to rehabilitate and nurture rescued elephants and to educate Thais and the world about the plight of Thailand's elephants. At the start of the 20th century, there were an estimated 100,000 elephants in Thailand; today the number of elephants is less than 4,000. There are currently 35 elephant residents at ENP --32 females and three males--who roam freely in their self-selected family groups, though their mahouts (handlers or caretakers) keep a watchful eye on them when visitors are around. Lek (with the help of donors) buys elephants who have suffered abuse or neglect in connection with the logging industry, street begging, and the tourist industry.
I signed up for the one-day visit (titled "Learning Elephant"), which costs about USD$80 and begins with a morning pickup at your hotel in Chiang Mai for the one-and-a-half hour drive to the park. Once the van was full and we were on the main highway heading north out of the city, our guide, a delightful young woman named "Bee," explained what was in store and who we were about to meet. She told us the stories of a few of the elephants (or "eles" as they are affectionately called), like Jokia, who is in her 50s, and blind. The family that originally owned Jokia had to sell her off when logging was banned in Thailand in 1989. She was the family's source of income, and when she became unemployed, the family could no longer afford to feed her (eles need up to 200 pounds or more of food a day.) As punishment for some sort of "misbehavior," a subsequent owner blinded Jokia in both eyes. After Jokia arrived at the park, one of the oldest of the "old ladies" befriended her and is now her constant companion.
Amy Worden

, Inquirer Staff Writer

d Happy Easter! Not so much for baby chicks in Florida.