UPDATE: U.S. District Judge Harvey Bartle did indeed issue an opinion - 12 pages to be exact - in his dismissal of the lawsuit brought by dog breeder John Blank. His ruling found that the PSPCA worked within its rights as a law enforcement agency when it conducted the search and seizure at the Blank kennel and that if Blank believed his rights were violated he should not have pleaded guilty and instead taken up his case with the state courts.
"We cannot now allow him to undermine this legitimately obtained conviction through a civil lawsuit," Bartle wrote.
Bartle also found that there was no conspiracy between Main Line Animal Rescue and its founder, Bill Smith, and the PSPCA and that the rescue group and Smith had, in fact, acted within their rights in reporting what they believed constituted animal cruelty to the PSPCA.
"Private citizens are always free and indeed encouraged to report crimes to state authorities. Doing so and making comments to the media about the events in question do not transform a person into a state actor," he wrote.

More news from the busy area "dog docket" to report…
A federal judge in Pennsylvania has dismissed a lawsuit filed by an ex-kennel owner against the Pennsylvania SPCA and others.
Nearly two years after his Chester County kennel was raided, John Blank sued the PSPCA and Main Line Animal Rescue claiming his constitutional rights were violated.
The PSPCA raided Blank's Limestone Kennel in July 2008 after an agent bought sickly, underage puppy (three weeks old) which later died. During the raid agents found more than 100 dogs crammed in filthy, undersized cages, panting heavily from the heat. Many were suffering from severe illnesses and injuries. Among the most horrific images this reporter has ever seen was the video of a Shiba Inu with a gaping neck wound, bleeding profusely in its cage.
In addition to the multiple cruelty charges, Blank also pleaded guilty to harassing a female SPCA agent.
Then in June 2010 Blank sued the PSPCA and Main Line Animal Rescue which prior to the raid was given nine dogs suffering from a variety of ailments and injuries – including eye, ear diseases and severe tooth decay - reported dogs in the kennel were filthy, appeared to have no water and were lying in urine-soaked bedding.
Blank surrendered roughly 140 dogs in all and his kennel license was revoked.
Among the breeding dogs not surrendered were nine that belonged to Pennsylvania's most notorious puppy broker, Joyce Stoltzfus of CC Pets (formerly Puppy Love.) Court documents show that nine dogs were returned to Stoltzfus, whose kennel license was revoked in 2009 following revelations she had violated a consent order with the Attorney General's office for which she was fined $166,000.
On Oct. 5 Judge Harvey Bartle III, of the U.S. District Court for the Eastern District of Pennsylvania, dismissed all of the counts against the PSPCA and Main Line Animal Rescue without comment.
The Blank suit is the latest in a rising number of lawsuits by dog breeders – most of them represented by Lancaster County's Clymer, Musser Brown, the go-to defense attorneys for those charged with animal abuse - filed against the PSPCA , the state and other humane groups seeking to prosecute animal cruelty and clean up or close inhumane kennels.
The suits now extend to citizens seeking to expose breeders and brokers who they say have committed consumer fraud. [See Philly Dawg, Donna Roberts v. Clifford Mintz report]
"Clearly the Blank suit was frivolous," said Howard Nelson, who was the PSPCA's chief executive officer at the time and called it backlash from increased enforcement. "He pleaded guilty to animal cruelty and the animals were in very bad shape. Every time someone is arrested they are going to fight back and they're not winning."
In other news, cruelty charges against Philadelphia kennel owner Wendy Willard were withdrawn early this month and both sides are claiming victory. The charges were dismissed after Willard complied with a court order issued nine months ago. In July 2009, the PSPCA raided the Roxborough property of Willard, owner of Murder Hollow Bassets and filed 22 citations against her for failing to adequately care for 23 dogs on her property, 11 more than allowed under city ordinances.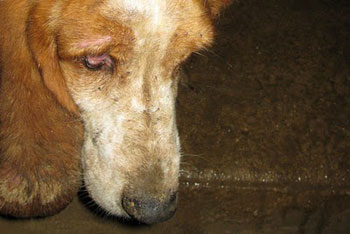 Under a consent order negotiated by Philadelphia Community Court Judge Joseph J. O'Neill, Willard installed drainage system, agreed to keep her kennel "reasonably free of feces," make clean water available at all times, repair the kennel ceiling and have the dogs examined by a veterinarian.
Willard surrendered 11 dogs to the PSPCA. Ten were placed with rescues and one died during a spaying surgery at the PSPCA.
Willard's case drew widespread support from the sporting dog community, which organized a defense fund on her behalf. Willard was well-known in sporting dog circles for her award-winning hunting pack and some of Willard's supporters may have been engaged in Internet death threats made against the PSPCA, whom O'Neill admonished in court.
Willard's attorney, Charles Geffen, maintains his client was the victim of "illegal activity" by the PSPCA and Bureau of Dog Law Enforcement and the settlement was not an admission of guilt.
"The search was illegal the seizure was illegal and the charges have no merit," said Geffen last week. "They trespassed to obtain evidence for a warrant and forced a surrender agreement under threat of taking other dogs."
The Philadelphia District Attorney's office and the PSPCA said they were satisfied with the results of the case.
"She was ordered to comply with all applicable statutes meaning she had not done so before the prosecution," said assistant district attorney Barbara Paul, citing the repair of the "the hovel" the "tick-covered" dogs were housed in. "What kind of sporting dog "lover" would have to be legally compelled to provide clean housing and proper vet care for her animals in the face of criminal prosecution? She should be embarrassed."
Paul called Willard nothing more than a "wealthy, entitled hoarder with a hobby."
Sue Cosby, chief executive officer of the PSPCA, said the consent order reflects the improvements her organization and the DA's office tried to negotiate prior to filing charges without success. She said the agency was seeking to bring the care of Willard's animals up to the "standard of all applicable statutes."
"In this case the search warrant was based on probable cause due to unsanitary conditions and not the number of dogs or her reason(s) for having those dogs," said Cosby. "It is our opinion that the judge showed a lot of grace to Ms. Willard in allowing her to bring the conditions of her property and her animals into compliance without imposing fines and penalties for the violations."
Geffen still argues the city had "no right" to say Willard was over the limit because the dogs were housed in a barn, not a residence as specified under Philadelphia ordinance.
Paul said in her analysis of the ordinance the pet limit does indeed apply to Willard and that the barn had no city zoning approval.
Geffen declined to say whether Willard is considering filing suit against the city and/or the PSPCA as blogs and Internet forums have suggested she might.