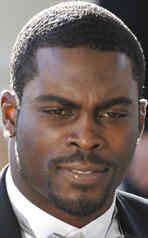 Quarterback Michael Vick returns today to the starting lineup for the first time since 2006 when his role in a major dogfighting ring was revealed.
Vick arrived on the scene in Philadelphia to great protest from animal lovers a year ago. Under fire for their controversial decision to sign Vick, shortly after his release from federal prison, the Eagles plunged into the world of animal welfare philanthropy.
They launched a $500,000 program, Treating Animals with Kindness (TAWK) and dispensed a good portion of it - but not all yet - to various animal causes. Among the projects now underway are the new low-cost animal clinic in Grays Ferry operated by Philadelphia Animal Welfare Society (PAWS) and a mobile wellness van providing low cost vet services operated by the Humane Society of Berks County. Grant funding also helped establish the Humane Society of the United States' End Dogfighting campaign in Philadelphia.
We have not heard anything for the better part of a year about Vick's community service. (You may recall he made several appearances last year with HSUS to speak out against dog fighting in various cities, including Philadelphia.) The Eagles also promised to recruit dog-loving team members and cheerleaders to appear at community events. According to the TAWK website, local animal trainer Chris Carr appeared at John Wister elementary school last year to chat with kids about responsible pet care, but that was it.