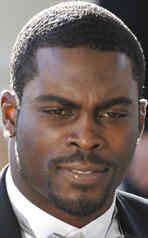 Quarterback Michael Vick returns today to the starting lineup for the first time since 2006 when his role in a major dogfighting ring was revealed.
Vick arrived on the scene in Philadelphia to great protest from animal lovers a year ago. Under fire for their controversial decision to sign Vick, shortly after his release from federal prison, the Eagles plunged into the world of animal welfare philanthropy.
They launched a $500,000 program, Treating Animals with Kindness (TAWK) and dispensed a good portion of it - but not all yet - to various animal causes. Among the projects now underway are the new low-cost animal clinic in Grays Ferry operated by Philadelphia Animal Welfare Society (PAWS) and a mobile wellness van providing low cost vet services operated by the Humane Society of Berks County. Grant funding also helped establish the Humane Society of the United States' End Dogfighting campaign in Philadelphia.
We have not heard anything for the better part of a year about Vick's community service. (You may recall he made several appearances last year with HSUS to speak out against dog fighting in various cities, including Philadelphia.) The Eagles also promised to recruit dog-loving team members and cheerleaders to appear at community events. According to the TAWK website, local animal trainer Chris Carr appeared at John Wister elementary school last year to chat with kids about responsible pet care, but that was it.
As Vick takes the field some might wonder what happened to the victims of his cruel enterprise, where many losing dogs met horrible ends, drowned or hanged or electrocuted or beaten with a shovel.
Most of the 51 survivors have made amazing recoveries from years of abuse. Sports Illustrated author Jim Gorant chronicles their stories in a new book. "The Lost Dogs: Michael Vick's Dogs and their Tale of Rescue and Redemption." It's a great, if heart-wrenching, read.
In other news...just because a kennel owner is being advertised as selling American Kennel Club-registered dogs does not mean that the owner has any kind of humane care stamp of approval. In fact, every month the AKC cites members for violations from improper paper work and poor sportsmanship to animal cruelty. Offenders can be banned from the registry for a period or months or years. Unfortunately, finding out who was cited and for what requires some digging deep in the AKC website. (Hint: Look for the secretary's page). Libby Williams, founder of New Jersey Consumers Against Pet Shop Abuse, has compiled all of Pennsylvania's recent offenders and posted them on her website. ...The billboard king of the Commonwealth, Main Line Rescue's Bill Smith, has a new message for PA Turnpike drivers and a question for the governor. "Why is Gov. Rendell Bending over Backwards to Help PA Puppy Mills?" the billboard reads. This time it's about the new dog law regulations that will allow nursing mothers and their puppies to stand on wire-flooring in cages without access to "unfettered" outdoor exercise for months out of the year, contrary to what the law stipulates, Smith says, barring adult dogs from standing on any surface except solid or slatted flooring. ...A fire at a Lancaster County property housing Plain and Fancy Animal Rescue claimed the life of the husband of the rescue's owner and killed several animals, according to the Lancaster Intelligencer Journal. Rescue operator Linda Harrower was reported in critical condition. Harrower also operates Sing Along Kennel in Denver, where she breeds and sells pugs and Cavalier King Charles Spaniels...Tragedy and cruelty in the horse world, Philly Dawg was on her way to Warm Springs, Va. for a little R&R when she stumbled upon this headline "Cruelty charges filed in vet case" in the Northern Virginia Daily. Turns out a Berryville-area veterinarian, Gwendolyn Jeanne Pfouts, had been charged with multiple counts of animal cruelty after authorities seized 18 starving horses. The seizure comes after neighbors reported seeing the bodies of dead horses, including foals, at the farm last winter. The most troubling line in the story, from criminal complaint: "The horses were thin and needed vet care." And more tragic headlines from the same part of the region, in Martinsburg, WV authorities seized 56 horses from Hidden Meadows Horse Rescue after they were found without food or water. The bodies of six dead horses were also found. As of midweek last week all but 12 of the horses had been adopted, according to the Herald-Mail newspaper. On its website the rescue said it regularly took in retired race horses from Charles Town Races. The owner has not yet been charged. And then this: a fast- moving fire consumed two barns outside Charles Town on Sept. 6, killing 27 thoroughbreds.
And finally, a happy headline from an advertisement in The Recorder of Bath County Va. "Don't Litter Bath County." It was placed by the Bath County Animal Welfare Foundation promoting their new spay-neuter program: free sterilization for all hounds and pit bulls. Boardmember Jean von Schilling of Warm Springs, tells us Virginia is loaded with hounds and owners who cannot afford to sterilize their pets. So the foundation decided to offer free services with the help of a $10,000 grant from the Alleghany Foundation. So far 200 spay-neuter certificates have been issued to local residents. What happens when the funding is exhausted? "We'll find more," says von Schilling. No such program exists in Pennsylvania as far as we know (although Philly PAWS tells us they are now offering a really low cost spay-neuter program for pits at a flat rate of $40, compared with up to $120 for large dogs - and that's the discount over the retail rate that can soar up to $400 or more.)