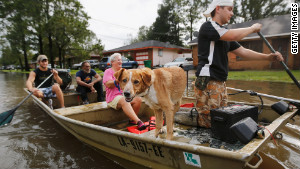 This time they got it right.
New reports say more than 200 Louisiana shelter animals were evacuated to east Texas ahead of Hurricane Isaac. Dozens of Mississippi shelter pets headed eastward to Broward County, Fla. before the storm.
Many more were safe in their beds near their owners at their local disaster shelter or hotel thanks to post-Katrina mandates that municipalities plan for pet evacuation during disasters and thanks to the wave of pet-friendly policies adopted by many - but not all - hotel and motel chains.
In other cases, those that stayed behind in low-lying areas with owners who thought they could ride out the storm found places in life boats, like the cute pup above.
No doubt thousands of animals perished during Katrina. Some died with their owners who refused to leave them. Others died because they were left behind. Dozens died in their cages when the poorly-sited Gulfport, Miss., shelter was flooded.
Some 15,000 cats and dogs that survived were rescued by the Humane Society of the United States, the ASPCA and other groups. Many of those non-microchipped animals may never have been reunited with their families because they couldn't be found, or perhaps families were homeless and couldn't keep them.
In the week after Katrina, I saw long lines of residents at the pet triage center in Gulfport. One by one they handed over their pets because they no longer had homes themselves. It was heartbreaking.
Other pets miraculously survived the storm, but found they had no home or owners to return to. I interviewed one couple as they cleaned out their badly flooded home in Ocean Springs, Miss., half a dozen dogs swarming around them. Two were not even theirs. The dogs had been locked in a house a few hundred yards away that had been swept into a back bay on the Gulf of Mexico. The couple found the dogs sitting on the threshold of what had been their house. All that was left was a concrete slab.
"If there was a silver lining in Katrina, it is that we have become so much more prepared and so much better aware for animal issues," Dick Green, a disaster-response director for the ASPCA told USAToday.
"Katrina was a great stimulus for all of us and a catalyst for change."
Photo/Getty Images