Five years ago Gov. Rendell made a dramatic step to improve conditions for breeding dogs in Pennsylvania's prolific puppy mills: he fired the Dog Law Advisory Board calling it ineffective. From there he would go on to fight for the new dog law which became a reality in 2008.
Now as the nation's most outspoken governor on animal welfare prepares to leave office he is speaking out in favor of Michael Vick owning a dog.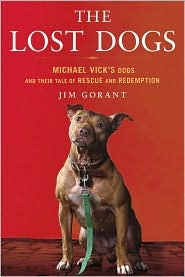 Rendell told reporters on Tuesday that the Eagles quarterback would make a fine pet owner.
"I think when he's off probation, I would like to see him get a dog, because I think that dog would be treated awfully nice," Rendell said at a ribbon cutting ceremony in Chester.
Rendell noted how Vick - sentenced to two years in federal prison for his role in a dog fighting ring - has taken the anti-dog fighting message to children with regular visits to schools and youth centers in Philadelphia and other cities.
Should a pedophile be allowed to be in contact with children?
Animal welfare advocates say Vick is no different. His crime was not a random hit-and-run killing of a dog on the highway. It was the systematic torture and destruction of animals who did not win for him in the fighting ring. Vick told a young audience recently that he would still be fighting dogs if he had not gotten caught.
Some animal welfare activists suggest someone give Rendell a copy of Jim Gorant's book The Lost Dogs: Michael Vick's Dogs and their Tale of Rescue and Redemption as a going away gift. In it, Gorant delivers not simply a police report on the crimes, but masterfully digs into the psyche of the dogs who survived Vick's compound of horrors.
Rendell told reporters this week the "the ASPCA says [Vick's] doing great things." Not so. It is the Humane Society of the United States which entered into an agreement with Vick to make appearances at schools and has praised his work.