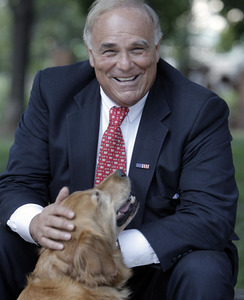 In the waning days of Gov. Rendell's eight years in office, news organizations across the state have dedicated thousands of words to assessing the Democrat from Philadelphia's legacy as the Commonwealth's chief executive.
None that I saw noted Rendell's victory in ending Pennsylvania's reputation as the "puppy mill Capital of the East." Rendell himself issued a list of accomplishments to reporters two weeks ago and failed to mention the dog law.
His controversial proposal to overhaul the state dog law stipulated that commercial kennels provide higher levels of care for dogs that spend their lives as breeding machines. From the get-go it faced widespread opposition not only from kennel owners, but the agriculture industry, the state's leading veterinary organization and sportsmen. But it had plenty of support too; from allies in the legislature, the Humane Society of the United States and the ASPCA and their members - tens of thousands of animal lovers in Pennsylvania.
No single issue in Harrisburg in the past five years stirred as much public debate. From the packed hearing rooms in the Capitol to studios of The Oprah Winfrey Show, Rendell's push to pull the plug on an industry that put profits before animal protection registered on a global scale.
"Pennsylvania would have had nothing without Rendell," said Bob Baker, who helped draft the 1982 dog law that first required kennels with more than 25 dogs be licensed by the state. "He galvanized activists across the country."
Rendell, who owns two rescued Golden Retrievers, made the first move against puppy mills in March 2006 when he fired the entire Dog Law Advisory Board, calling it ineffective. Among its members was one of the largest commercial breeders in Pennsylvania, Nathan Myer of Lancaster, who at one time housed more than 800 dogs on his property.
He replaced them with animal welfare advocates, Marsha Perelman, Douglass Newbold, Nancy Gardner and Tom Hickey. Members of the board, along with leaders of humane organizations, helped draft the bill what would institute the first major changes to the dog law in almost a quarter century.
The proposal touched off two and a half years of ferocious debate - rallies, standing-room only hearings, record numbers of emails and phone calls and back-room wrangling. Rendell and his allies faced powerful opponents in the American Kennel Club, the sportsmen's groups, the Professional Dog Breeders Association and Pennsylvania Veterinary Medical Association - which forced some modifications to the bill.
In a last-ditch attempt to derail the bill, Rep. Art Hershey (R.,Chester), then the ranking Republican on the House Agriculture Committee, and his deputy Kerry Golden, attached more than 80 amendments to the bill, including one that banned anyone from putting a dog in a dishwasher. That highly questionable manipulation of the legislative process was an attempt to mock the work of Main Line Animal Rescue's Bill Smith whose anti-puppy mill billboard campaign stretched from the Pennsylvania Turnpike to Chicago, where it caught the attention of dog lover Oprah Winfrey who dedicated show to the issue of Pennsylvania's puppy mills.
The dishwasher amendment, the breeders' lobbyist Ken Brandt told me, grinning deviously before a key vote, "was for Bill Smith." It, and virtually all the other bill-weakening amendments, failed.
In the end, the bill signed into law by Rendell in Oct. 2008, required Pennsylvania's commercial dog breeders - those transferring more than 60 dogs a year or who sell one puppy to a pet store - must comply with stricter rules, among them mandatory veterinary care for breeding females, larger cage sizes, exercise, and the elimination of cage stacking - and, in most cases, use solid flooring. The legislature created a Canine Health Board to set standards for humidity, ventilation, lighting and flooring.
Animal welfare advocates were dismayed last year when Rendell agreed to a wire flooring exemption for nursing mothers that could subject the female dogs with puppies to months of living on wire.
Still, the legislation survived multiple court challenges and has indeed made an impact in Pennsylvania and beyond with at least half a dozen other states following suit with similar bills.
"The Pennsylvania bill for the first time set humane standards of care for dog breeders," said Baker, who as executive director of Missouri Alliance for Animal Legislation helped win passage of a referendum in November to boost standards in puppy mills in that state. "Before that there were only survival standards."
Both Rendell - who leaves office today - and Senate Majority leader Dominic Pileggi (R., Delaware) cited the change in the dog law as one of the top legislative actions in 2008. Today two-thirds of the commercial kennels have closed their doors, among them Nathan Myer's kennel. The 100 or so left have until July to comply with the final requirements under the Canine Health Board's regulations.
At the same time Rendell advocated for a second animal welfare bill, one banning the practice of canine surgeries, including debarking, ear cropping and tail docking (on dogs over five days old) by anyone who is not a licensed veterinarian. He signed that legislation into law in August 2009.