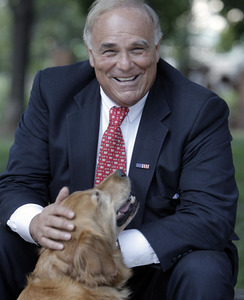 Gov. Rendell and his Golden Retriever Maggie/Inquirer Akira Suwa
In the waning days of Gov. Rendell's eight years in office, news organizations across the state have dedicated thousands of words to assessing the Democrat from Philadelphia's legacy as the Commonwealth's chief executive.
None that I saw noted Rendell's victory in ending Pennsylvania's reputation as the "puppy mill Capital of the East." Rendell himself issued a list of accomplishments to reporters two weeks ago and failed to mention the dog law.