When you think about it, it just makes sense that dogs should make their appearance in photobooth pictures, a place to record the things that are important to you. - From the introduction to Photobooth Dogs.
Remember the photobooth?
Before the cell phone camera, the Instamatic and the Polaroid, there was the photo booth. Omnipresent at fairs, boardwalks, the five-and-dime and the train station, the photo booth beckoned. You dropped in a quarter (or two), your best friend or sweetheart in tow, giggling smushed together on a squat bench. Pull the curtain. Pose. Flash. Pose. Flash. Pose. Flash. You left with a strip of sometimes goofy, always memorable images.
Seems animal lovers too have taken their best friends to photo booths to pose for posterity for as long as there have been photobooths. In fact, the inventor of the Photomaton machine himself was one such dog devotee.
How do we know this? Cameron Woo, co-founder and creative director of Bark magazine, amassed a collection of these rare images dating from the mid-1920s that provide the foundation for a confection of a new book, Photobooth Dogs (Chronicle).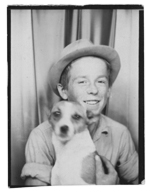 Woo had long been interested in historic photos and dog-themed art. Fourteen years ago he embarked on a quest to find photobooth dog images, scouring flea markets and yard sales and online sites. He even put a query out to readers of his magazine.
The result was a shoebox-size collection of more than 100 images of people and their dogs (sometimes just the dogs, often with a stray hand holding the harness) in that recognizable photo booth setting. As mass-market entertainment, photobooths were great
societal levelers. There are women in pearls and men with stogies, bright-eyed children and sailors on leave.
Woo said he was intrigued by the idea that people might have searched out photobooths with their dogs.
"I imagine most people set out purposefully to do it, maybe break a few rules, get stared at. People be damned," says Woo.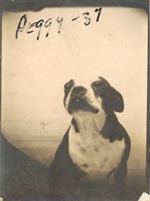 Woo says he's fascinated too by the photobooth technology, popular at one time and now obsolete. But maybe not.
There are about 1,000 photo booths left in this country, Woo says.
Perhaps there is a comeback underway. I was at the multiplex last week and there, amid the high-tech video games, was a brand new photobooth. Even in the age of the cell phone, where you can snap a picture, drop it on your Facebook page and be seen around the world instantly, you can still slide into a photo booth, drop a dollar in the slot, get your giggle on and take away a memory on a little strip of paper.