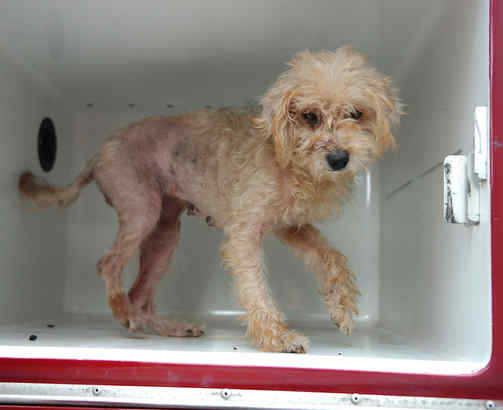 A Philadelphia judge threw the book at an animal abuser today who last October was found with 21 cats and dogs in a trash filled house - several clearly suffering from skin disease.
My colleague Joe Slobodzian has the story:
Defiant to the end, a 70-year-old Port Richmond "animal hoarder" was sentenced today to 6- to 12-months in prison on animal cruelty charges.
"I've never hurt any animal in my life," Virginia Wetzel told Philadelphia Municipal Court Judge Karen Yvette Simmons. "I have never intentionally even killed a roach."
But Simmons cited the 12 cats, nine dogs and four skeletal cats found last October in Wetzel's malodorous, trash-filled Monmouth Street house - and Wetzel's prior arrest in 2004 for the same thing.
The judge barred Wetzel from owning any animals for 15 years; ordered her to reimburse $32,304 to the Pennsylvania Society for the Prevention of Cruelty to Animals, which took the animals and cleaned out Wetzel's house; and to allow the SPCA to regularly inspect Wetzel's home to ensure she doesn't again bring in stray animals.
The last condition became an immediate problem when Wetzel, a diminutive woman with bowl-cut gray hair wearing a burgundy windbreaker, refused to give her current address.
"Your honor," said Assistant District Attorney Barbara Paul, "Ms. Wetzel says she doesn't remember her address.
Simmons, who had planned to let Wetzel have 30 days to surrender and begin her prison sentence, look exasperated and then ordered Wetzel to be taken immediately into custody.
"Take her back until she remembers her address," Simmons told sheriff's deputies.
Defense attorney Scott P. Sigman said he did not know if Wetzel, a state welfare caseworker, would appeal the sentence.